RED Hydrogen One: Everything you need to know!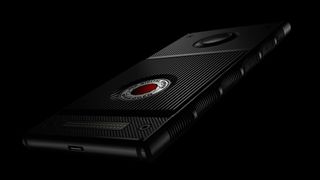 There are few names in cinematography more recognizable than RED. The California-based company makes high-end cinema cameras that reach upwards of $50,000 and beyond in price, and you've almost undoubtedly seen RED footage before in Hollywood productions and even videos from some popular YouTubers.
So you can imagine our excitement when RED announced the Hydrogen One last year, its first-ever smartphone. Initially giving very little information on the phone, details have slowly been trickling out as we get closer to its official launch later this year.
What is the Hydrogen One?
The Hydrogen One is anything but conventional. Its industrial design is unlike any other phone we've seen, with the back split up into three sections; kevlar on the top and bottom portions, and a metal panel in the middle that almost looks like a heat sink. There are pins along the bottom section for modular upgrades, and the rubberized sides of the phone are scalloped to presumably make for a comfier grip. Like the rest of RED's product lineup, the Hydrogen One is by no means cheap — a baseline model will run you $1295, or you can step it up to titanium for $1595.
So what kind of specs do you get for that kind of money? The Hydrogen One was announced nearly a full year ago, so don't expect the latest Qualcomm chipset — instead, it will ship with the still plenty-capable Snapdragon 835, though we're not yet sure how much RAM or storage it will offer. We do know that it features a 5.7-inch QHD display in the traditional 16:9 aspect ratio, for which RED has been teasing a new "holographic" technology. Positioned as a media-focused device, the Hydrogen One retains a 3.5mm headphone jack and support for microSD expansion, and contains a large 4500mAh battery to keep things running.
Camera maker RED just announced a $1200 phone — the Hydrogen One
RED Hydrogen One will have a 4500mAh battery and carrier support
About that holographic display
One of the phone's most teased features for the last year has been its holographic display, which can play back what the company calls "4V" (or 4-view) content. But what does that mean, exactly? RED says that in regular 2D mode, the Hydrogen One will look just like any other phone, but when switching to 4V mode, the display gets a bit dimmer and begins to display a "better than 3D" image without requiring 3D glasses. The few people RED has shown this feature to haven't been allowed to film it or discuss it in length, but glasses-free 3D, in general, hasn't been touched on by a phone manufacturer in years, so it'll be interesting to see where this goes.
This doesn't mean that 4V mode will magically make everything you do on the Hydrogen One appear in 3D. You'll need content specifically shot in 4V — RED is already showing the Hydrogen One to content creators and partners to preemptively build the HYDROGEN Network, a central hub for 4V content. You'll be able to shoot 4V video of your own with the Hydrogen One, and upload footage to your own channel on the HYDROGEN Network for others to watch and even buy.
RED announces exclusive partnership with holographic display maker for Hydrogen One
Most importantly: the cameras
RED has big plans for the cameras on the Hydrogen One. By default, there's a dual camera assortment on the back (though it's unspecified whether those cameras will be wide-angle, telephoto, or something else), but RED will make use of the phone's pogo pin connectors to allow users to attach modules that expand the capabilities of the Hydrogen One's cameras. You'll even be able to attach a lens mount for interchangeable lenses and even expand the phone into a full-blown video rig. According to Marques Brownlee, who was the first to go hands-on with a Hydrogen One prototype, RED believes that only its own cinema cameras will be able to outperform this phone.
The dual cameras allow you to shoot 4V content directly on the Hydrogen One without needing any additional camera modules — there are even two cameras on the front to ensure that you can film in either direction. While filming in 4V, the Hydrogen One will also save a 2D version of your video for sharing outside of the HYDROGEN Network, though this does mean that you'll be eating up a considerable amount of space with each video. You'll likely want to invest in a high-capacity microSD card or two.
Where can I buy one?
RED is no longer accepting pre-orders, nor has it finalized an official release date, but we know that the Hydrogen One will be available through AT&T and Verizon in the U.S. AT&T is demoing the Hydrogen One at Warner Bros. Studios in Los Angeles on June 2 and 3 as part of AT&T Shape, though you might be better off putting the $100 attendance fee toward your order instead.
In addition to carrier deals, RED will be selling the Hydrogen One unlocked, and founder Jim Jannard has stated that unlocked orders will ship earlier than AT&T or Verizon models.
RED Hydrogen One delayed until August to add even more impressive cameras
AT&T and Verizon will carry the RED Hydrogen One
What are your thoughts?
Would you buy the RED Hydrogen One? Or is it simply too much to ask for from a brand that's never made a phone before? And what do you think about RED's 4V content? Let us know in the comments below!
Get the Android Central Newsletter
Instant access to breaking news, the hottest reviews, great deals and helpful tips.
Hayato was a product reviewer and video editor for Android Central.