These are all the Huawei phones getting EMUI 10 this year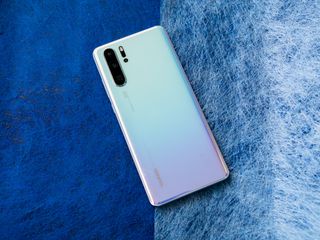 (Image credit: Android Central)
What you need to know
Huawei has confirmed the list of devices slated to receive the Android 10-powered EMUI update in global markets.
The company's flagship Mate 20 and P30 series will be the first to receive the new skin starting this month.
The list also includes phones from the nova lineup and previous models of the Mate and P series.
Huawei is fulfilling its promise of updating its existing global smartphones to EMUI 10, its newest custom skin built atop Android 10. As expected, the company's latest flagships — the Mate 20 and P30 series — are starting things off and are expected to receive over-the-air updates starting this month.
Alongside its older flagships, the Chinese giant is also promising updates for some of its midrange nova and P Smart series. These, however, will receive the software update in "later months."
The full list of phones is provided below, courtesy of GSMArena:
Huawei P30 Pro
Huawei P30
Huawei Mate 20 Pro
Huawei Mate 20
Huawei Mate 20 X
Huawei nova 5T
Huawei Mate 20 RS Porsche Design
Huawei Mate 20 X 5G
Huawei P30 Lite
Huawei nova 4e
Huawei P20
Huawei P20 Pro
Huawei Mate 10
Huawei Mate 10 Pro
Huawei Mate 10 Porsche Design
Huawei Mate RS Porsche Design
Huawei Mate 20 Lite
Huawei P Smart 2019 (sold in Japan as Huawei nova lite 3)
Huawei P Smart+ 2019
Huawei P Smart Pro
Huawei P Smart Z
Huawei nova 4
Since these phones were sold before the U.S. ban, you can also rest assured that they will continue to have access to Google Mobile Services.
If you count them all, that's 22 devices, a little shy of the 30 Huawei had promised us back in September. However, that list combined phones sold under both the Huawei brand and the Honor brand so, rest assured, the company is not reneging on its promises. The company's been testing EMUI 10 for Mate 20 Pro users in the Netherlands since October, for example, and Honor phones are also rocking beta variants of Android 10 already (check out the full list here).
Based on those tests, the update should be around 4-5 GB when it's finally available for your phone and will include changes to the user interface, a system-wide dark mode, and more.
EMUI 10 is horrible. Cannot set launchers anymore. Stuck with stock huawei EMUI launcher that's not customizable. Already want to revert back.

I have the Microsoft Launcher beta running just fine.

I've been using the Microsoft Launcher since I got the P30 Pro. When I use it now on EMUI 10, it won't let me set it permanently and constantly closes it. It's driving me up the wall.

Try the Microsoft Launcher Beta instead.

Not true I had set multiple different launchers on EMUI 10.

I still can't set any. When you press the link to set the default launcher the option has been completely removed.

Hey, Martin, is your phone the international version or the China version? If it's anything like the M20X variants, the only versions that allow you to change the launcher are the ones released outside of China.

UK version. Never had a problem before.

I just got the update on my Mate 20 Pro last week. Great experience combined with the Microsoft Launcher beta. I had already been happily using gestures navigation on Android 9, but on 10 it is much smoother. A couple of little annoyances with notifications, for example I can't get rid of the notification showing that my audio is going to Bluetooth headphones. It's a silent notification, but I wish I could choose not to have it show up in the notification center at all.

Anyone know if there are requirements to be in a certain country to get the update? In the US

Go to Hi care app. Change your location to Singapore. Check your update again. That helped me. I got my EMUI 10 update since November. I live in WA state

Which phone do you have? I have a mate 20 pro and p30. Tried this and no luck yet

Got it on my Mate 20x along with Android 10... Very happy with it... :-)

Got it last night on my M20X L29 in the US. So far, so good.

It's just infuriating that the nova 3, a one year old phone, will not get the update although it is very similar to the p20 series, mate 10 series, honor 10, and honor View 10. However, slower and lower specked phones like the p30 lite and honor 8x will be updated. 😔 I am just disappointed in Huawei. I should have bought a samsung instead. But credits should be given where credit is due. The december security patch smoothened out the navigation gestures' animation. In addition, this is the first phone I own that doesn't feel laggy and still holds a charge after 16 months of use.

This update was finally sent to my phone (P30 Pro, UK, single-SIM, unlocked) today (February 1, 2020).
Android Central Newsletter
Get the best of Android Central in in your inbox, every day!
Thank you for signing up to Android Central. You will receive a verification email shortly.
There was a problem. Please refresh the page and try again.