These 6 car mounts support the Samsung Galaxy Z Fold 3 when open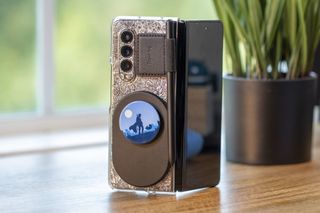 (Image credit: Andrew Myrick / Android Central)
The latest version of Samsung's popular foldable phone is the Galaxy Z Fold 3 — its best yet, with a comfortable, foldable design, wonderful performance, and excellent battery life. Like other mobile devices, you might want to mount this smartphone in the car while driving for navigation, controlling music, or safe hands-free phone calls. That requires a secure mount, but since this smartphone has unique needs due to its foldable design, not every car mount will work. You'll want one that can secure the device while it's open to its full size, which is an impressive 7.6-inch spread. There are tons of great accessories you can get for the Galaxy Z Fold 3, and a car mount is an often overlooked, but an important one to consider. We rounded up the best Galaxy Z Fold 3 car mounts you can buy right now.
Which car mount for the Samsung Galaxy Z Fold 3 should you get?
The best Galaxy Z Fold 3 car mount for you depends on how you want to use it, where you want to place it, and what type of car you have. I love the concept of air vent mounts since they keep your windshield and dashboard free, and the APPS2Car Universal Car Mount secures nicely while offering a full rotation of the device.
But I also love a good gooseneck design, so that mount, also by APPS2Car, would be my choice, especially since I could theoretically snake it to the passenger side then twist it to face others for a better view without having it right up close (also great for folks who are far-sighted). That said, the long neck could be an eyesore when you aren't using it.
When it comes to a sleek look, magnetic mounts are the obvious winner. They're great since you can simply pop the phone atop without worrying about securing it within the arms (or removing it from them). However, keep in mind that since the Galaxy Z Fold 3 has a hinge, you'd have to mount the phone on one side or the other instead of keeping it centered. You could grab two of these considering how inexpensive it is, putting a magnetic pad on either side of the phone, then mounting the phone to both, with one mount securing each side of the phone. Then, if you decide to mount the phone while closed, you can use one or the other.
Keep in mind that many of these car mounts will work to secure the phone even when it's in a protective case, so don't forget to grab one of the best cases for the Galaxy Z Fold 3 as well.
Christine Persaud is a freelance writer for Android Central who has been writing about tech since long before the smartphone was even a "thing." When she isn't writing, she's probably working on her latest fitness program, binging a new (or old) TV series, tinkering with tech gadgets, or spending time with her school-aged son. A self-professed TV nerd, lover of red wine, and passionate home cook, she's immersed in tech in every facet of her life. Follow her at @christineTechCA.
Android Central Newsletter
Get the best of Android Central in in your inbox, every day!
Thank you for signing up to Android Central. You will receive a verification email shortly.
There was a problem. Please refresh the page and try again.