There is one way to get an unlocked Galaxy S7 in Canada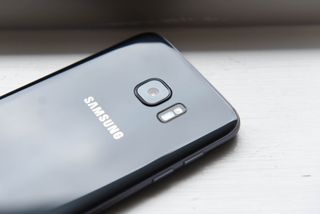 Every year, with the release of a new Samsung flagship in Canada, we hear appeals for unlocked versions, free of carrier bloat and SIM restrictions. Every year, Samsung fails to deliver.
While Samsung refuses to comment on the record about its reticence to sell devices fully unlocked, either through its online store or branded retail outlets, we've heard through various sources that the company has no intention of disrupting its furtive and positive relationship with Canada's largest carriers, namely Rogers, Telus and Bell, which sell through the majority of the company's handsets.
This year, however, Samsung is allowing a small loophole through this carrier barrier (say that ten times) — as long as you're in Toronto, Burnaby, Richmond or Edmonton.
Every Galaxy S7 or S7 edge that is sold throughout Canada is unlocked until a SIM card is inserted, which then locks to that carrier's network. This way, Samsung can cut down on the number of models it distributes, since all carriers' assets are loaded onto every device, and install once a SIM is loaded.
But when a device that same device is purchased from one of Samsung's four so-called Experience Stores (opens in new tab), located in Toronto's Sherway Gardens, Burnaby's Metrotown Mall, the Richmond Centre Mall, or the famous West Edmonton Mall, the company includes two unlock codes (in case one doesn't work) with each retail box, a gesture that should alleviate any ill will (and, for some, justify the cost of buying the $900 to $1,000 phone outright).
Samsung is also sweetening the deal by, in addition to bundling a Gear VR like other carriers, a 128GB microSD card, just to reinforce the return of that important feature.
Of course, there is one downside: even with the unlock code, the phone will still load carrier bloatware once the SIM is installed. Fortunately for us Canadians, neither Rogers, Bell, Telus, nor any of the smaller regional providers, force unwanted advertisements in the notification shade. The most egregious addition is, perhaps, the unwanted installation of Amazon's Android app, which happens to be quite useful. Moreover, all of them can be disabled should they prove unwanted.
According to a Samsung Experience Store employee I spoke to, pre-orders for the Galaxy S7 and S7 edge are considerably higher than they were for the Galaxy S6, perhaps because many Canadians are ending contracts around now and looking to upgrade aging Galaxy S4s or S5s. This is all good news for those who pre-ordered the new phones from one of Samsung's official retail outlets. For everyone else, though, there are always other ways of getting their phones unlocked.
Are you in that boat, and does this deal for an unlocked Galaxy S7 interest you? Let us know in the comments below!
Android Central Newsletter
Get instant access to breaking news, the hottest reviews, great deals and helpful tips
Daniel Bader was a former Android Central Editor-in-Chief and Executive Editor for iMore and Windows Central.
Is there any way to get the unlocked version in the US as well? Samsung should actually copy from HTC who does a great job in delivering unlocked phones through its online store. Posted via the Android Central App

No warranty in the U.S., but here you go: http://www.amazon.com/Samsung-Unlocked-Smartphone-International-Black/dp...

Dat price! Posted via the Android Central App

That's not same as Samsung selling direct or even ships & sold by Amazon. Some third party seller on Amazon selling for crazy mark up price. Posted via the Android Central App

I'm well aware of that, but the OP only asked if there was a way to get the unlocked model in the US :)

Why not buying an unlock code instead ?? With 40$ or so, you can easily unlock your phone using an online service. I ordered my S7 Edge from AT-T and of course it was locked...i did my research and found a few unlocking companies that do exactly this. The first one failed to deliver the code but I had luck with the second(unlockscope.com). Piece of cake if you ask me.
Also, it doesn't affect your warranty at all! Stop listening to the carrier providers because it is a big lie.
Cheers!

It's the usual deal - pay us full price (don't get a warranty) and oh-by-the-way it's GSM-only so forget about Verizon. When manufacturers start producing a device that I can use on any carrier, without the usual load of crapware, they can give me a ring. (This was intended to be a comment on the previous post about the availability of the International version of the device.)

I believe Google has what you are looking for. Posted via Nexus 6 running on any data plan I want

Really? Google has a 5.1" phone with a Snapdragon 820 that is water resistant, with an SD card slot and wireless charging? Where do I buy it?

I have an LG G4 from Verizon, and I am using it on Telus.

It's only a matter of time until the CRTC -- I am starting to hear rumblings from people I know who work for that part of the government -- steps in and mandates that all cell phones sold in Canada must be unlocked, like the FTC did in the US.

I really wish there was some way to get them other than at one of the 4 stores in Canada. They service less than 1/4 of the population! (Mostly I'm annoyed that there's one in crummy old Edmonton). I will just sign up for a new line with Rogers, get the new phone, cancel the plan, pay the subsidy, and buy an unlock code online for ~$8.

costco.ca is selling unlocked S7 and S7edge. it is sold out currently, but more will be in stock soon. no worries about being in edmonton, they will ship to you.

Nice I may have to pick one up in canada, Various reports are showing the exynos variant is vastly superior in performance battery life and heat.

I recently acquired the distribution for the unlocked S7 although my markets are south america, these phones work perfectly fine on US carriers. They should be arriving early next week. Probably not the best place to do this but if you want to talk email me. lui_lui97@hotmail.com

i'll stick with my s5 thanks, only a few more months, and it's mine... then i can install a new rom on it and trash the bell bloatware.

So, is the same applicable to the Edge version? I think more people would want to buy the Edge instead of the regular version because of the bigger 5.5 inch which is now rather becoming the norm, and the curved screen sides. The Edge also happens to have a larger battery as seen here https://versus.com/en/samsung-galaxy-s7-vs-samsung-galaxy-s7-edge . Too bad Canada can't get a lot of phones unlocked by default, locking a phone to a sim is like restricting the users of what they can do with their OWN phones.

Will this work for Verizon or it's the same thing here in the States?

I actually traveled an hour away from my location to pre-order a sliver S7 edge at one of the Experience Stores here in Canada. Salesman said that the Silver edge will come available most likely April. Managed to get the VR headset and a free 128 gb card, along with an unlock code as well. A bit of a drive, but better deal than through my carrier. By the sounds of things, i may be in for a bit of a wait.

If I had the money to buy a Note 6 outright when it comes out, I'd gladly travel eight hours to buy one unlocked and make a weekend of it. Posted via the Android Central App

Every manufacturer needs to make a phone with absolutely no bloat ware.. Sell unlocked and give everyone what they want.. Samsung is good but I swear the bloat ware makes them garbage.. Just my opinion.. Terrible

Made the drive into the Samsung store in Toronto. I ask about the offer in this article and the CSR says yes we have that. I say I'll take it. Sorry no you won't the phones on back order. Cool no worries deposit on backorder $50 I'm good with that. No extras though on backorder! WTF.... That's buying the phone outright. Guess I'll wait until my S5 dies then buy something. At this point hopefully not Samsung but I don't want a Nexus in a zip lock to stay dry. Posted via the Android Central App

Well, I was seriously considering the S7. After seeing how easy it is to break and the performance in real world tests doesn't beat the older iPhone 6S, although the 7 kills in the camera department I will have to wait for the iPhone 7. Besides, there have been negative reports on the Dragon 820 as well. The S7 uses liquid cooling so that's scary.

I'd specifically like one of these Canadian unlocked S7 Edges. The unlocked ones on Amazon are for Asian & European markets, hence they have incompatible chargers, which force you to use an adapter. I'm in the States (California, specifically). Can anyone point me in the appropriate direction to buy a CANADIAN unlocked S7 Edge?
Android Central Newsletter
Get instant access to breaking news, the hottest reviews, great deals and helpful tips
Thank you for signing up to Android Central. You will receive a verification email shortly.
There was a problem. Please refresh the page and try again.