The apps we use and the apps we love [Roundtable]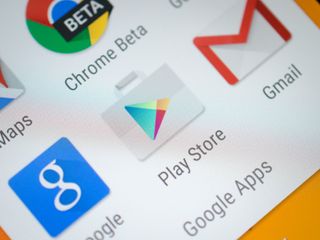 Everyone loves apps! The success of Google Play makes that clear; we love to use smartphones and tablets because of the apps we can install. And there are a lot of apps you can install.
It's easy to go overboard, especially when you first get a new phone and visit Google play with it. All those apps in your list that might want are there wanting a place on your phone. But when all is said and done, how many apps do we really use? That's this week's question for the AC staff. Check out the answers below.
Andrew Martonik
Picking up my Galaxy S8, which I've been using for a couple of weeks now, I have 107 apps installed. My Pixel XL, which has obviously been in use longer, has amassed 120 apps. I'd say that's about normal for me, to land somewhere in the low 100's — if I were to trim back the very rarely used apps, I could probably sneak under 100.
How many do I actually use on a weekly basis, though? Shoot, only about 25. On a daily basis, that number probably drops to about a dozen core apps: the ones that populate my home screen. Apps like Pocket Casts, Twitter, Instagram, Maps, Hangouts, Slack, Dropbox, and Chrome are all used daily, plus core services like Gmail, Google Photos, Google Calendar and Google Now are constantly there.
Ara Wagoner
Google Play tells me I have 140 apps installed. On a given day, I use about 40 of them. Yes, 40, including every app that contributes to my home screen theme, from my launcher to my widget apps to my icon pack. With two jobs, I have about eight work apps I switch between on a regular basis (and I rue the day I installed Outlook on this thing for work email). Google Play Music is always used, and I dip into Play Movies and YouTube at least three or four times a day.
A number of the apps I have downloaded are media apps that I only pull out when the stars align and I am both A) free and B) bored. Another 15-20 apps are theming related, like icon packs that aren't being actively used but I keep in case I use them next time and live wallpapers and widget apps. If I need to skinny down, I could maybe get down to 80, but what would be the point? I've got plenty of space on my phone, I'm not seeing much if any lag and most of these apps are something I'll use every now and again. I prune my app list when I switch phones or factory reset, and that's about it.
Marc Lagace
I currently have 95 apps on my Google Pixel, which I've used as my daily driver since it's release. Of those, nearly a third of them are games or gaming related, which are typically rotated in and out as new games have released that catch my interest or when I need to free up more space. Even if I wasn't covering Android games as part of my daily job, my phone would still be brimming with games to play for any occasion because I'm a gaming addict. There, I said it.
Of the non-gaming apps on my phone, I probably have about 15 or so apps that I use on a daily basis and fall under three categories: social media (Facebook, Instagram, Snapchat and Twitter), multimedia apps (Camera, Google Photos, Apple Music, Google Play and Netflix) and the slew of stock apps I rely on (Clock, Calendar, Chrome, Gmail, and Messages).
Harish Jonnalagadda
I have 108 apps installed on my Galaxy S8+, which I've been using for just over a week now. My Pixel XL has 162 apps that have amassed over the course of the last six months. On a daily basis, I probably use around 30 to 35 apps — WhatsApp and Facebook Messenger for staying in touch with friends and family, Twitter and Instagram for social media, Slack for work communication, Simplenote to quickly jot down notes, and Pocket Casts for podcasts.
I rely heavily on Google's apps and services, including Photos, Maps, Gmail, Chrome, Duo, Keep, Gboard, Android Messages, and YouTube. Then there's Pushbullet for notification mirroring, Netflix, Hotstar, and Spotify for multimedia needs, and Relay for browsing Reddit.
When it comes to India-specific apps, I have BookMyShow installed for movie tickets, iMobile for banking needs, Paytm as a digital wallet service, and Zomato for restaurant recommendations. The rise of a mobile-first economy has led to an increase in hyperlocal services, including Faasos, Swiggy, and Zomato Order for food delivery, and BigBasket and Grofers for delivering groceries to my doorstep.
I have several smart home products by Xiaomi, and the company's Mi Home app is a mainstay on my home screen as it lets me easily manage all the connected devices throughout my house. Starting with the Galaxy S8+, I started using Samsung Pay, and it has been a revelation. The service's convenience combined with ease of use and wide acceptance has led Samsung to dominate the mobile payments segment.
Daniel Bader
When I get a new phone, I tend to use an old phone to populate its apps and settings, and I've reached an equilibrium at 107 apps, give or take seven apps.
But I had a realization a few months ago that instead of stuffing my face home screen full of folders, I should simplify my life and place only the apps I truly need on that all-important screen. Turns out that number is 15:
Phone
Messages
Newton (email)
Chrome
Camera
Maps
Hangouts
Slack
Twitter
Play Store
Instagram
Newsblur (RSS)
Trello (project management)
Spotify
Google Photos
Of course, those aren't the only apps I use, but I find that I generally spend most of my day in one of those apps, the most popular being Slack and Instagram, followed by Twitter and Newton. Shows how much my life revolves around work.
I do use others: I spend quite a lot of time in Facebook Messenger with my friends planning outings, or WhatsApp talking to family overseas. And my smart home consists of three regularly-opened programs, including Nest, which oversees my heat and cooling along with my three connected security cameras; Ring, which lets me see who's at my doorbell from anywhere in the world; and Kevo, which lets me open and lock my front door deadbolt.
1Password and Authy are also completely indispensable, especially in the hours after setting up a new phone, which happens quite often. I don't know how I lived without this dynamic duo — well, I do, but I guess I don't know how I wasn't more regularly hacked while using such insecure authentication methods.
For fun — what's that, again? — I relax with music from Spotify and podcasts from Pocket Casts, though lately, I've been spending a lot of time in the excellent NPR One app, which I dismissed offhand upon its launch a few years ago until I actually dug around and learned to love it. And while I don't play many mobile games, some sort of quick-hit title is always nearby. Lately, that has been PinOut, the amazing "endless runner" pinball game from the makers of Smash Hit.
Alex Dobie
After a couple of weeks with the Samsung Galaxy S8+, I've got 72 apps installed. Some context for that number — I've disabled some of the built-in Microsoft apps that I don't use, and I'm using a European unlocked GS8, so there's less preloaded crapware than U.S. carrier models have. Google Play tells me I've used 31 of them in the past day, including staple messaging apps like WhatsApp, Slack and Hangouts, and social apps like Twitter and Instagram.
There's nothing too out of the ordinary in my list of daily apps — the likes of Chrome, Gmail, Trello (for editorial planning), and the Google app, which I'm dipping into more often since Google Assistant took over the long-press home shortcut. I'm using Google Photos as my main photo app, not Samsung's Gallery app, so that's one of my dailies too. Google Fit and Samsung Health for various activity tracking — using a Gear smartwatch pretty much forces me to use Samsung's app as well as Google's. My streaming app of choice is Google Play Music, And then there's YouTube and YouTube Creator Studio for keeping an eye on the video side of AC.
There's not a lot on there I don't frequently use, perhaps because this is a relatively new phone, perhaps because I'm just used to setting up what I need and getting on with it. Travel stuff makes up much of my "occasional" app usage — Trainline for train travel within the UK, Skyscanner and Concur for flights, AirBNB for accommodation, as well as CityMapper and Uber (yeah, I know). Other occasionals include Pocket Casts — I usually only fire this up when I'm traveling — and a revolving selection of games. Right now I'm getting reacquainted with Need for Speed: Most Wanted and the original Sonic the Hedgehog.
Florence Ion
On the phone that I use every day, I have 127 apps installed. That's actually quite a bit, and I thought the number would be lower. But then I realized it's because I recently took a trip, and I still have a host of photography apps installed.
For the most part, each one on my Home screen is carefully curated and placed in a space based on its importance. Any other app lives in the drawer, where it's stowed away until I need it next. There's even a spot on my Home screen specifically devoted to a folder that holds the I use them enough to have them on the Home screen apps. These include apps like my banking app or the app devoted to the nearby transit system that I ride only a few times a month.
Everything else is placed based on importance; the daily-use ones are on the first page and the sub-tier to the right. Of the apps I use daily, a majority of devoted to messaging and social media. This includes the Android Messages (opens in new tab) app, Snapchat (opens in new tab) (Beta!), and my absolute favorite, Allo (opens in new tab), which lives in the center on the first Home screen so that it's always the first thing my thumb hovers above.
Jerry Hildenbrand
I do things a bit differently than most people because I am 100% a multiple-device guy. I only have 40-ish apps on my phone in total because I can use a Chromebook for anything that's a better experience in a proper web browser on a bigger screen. If you count the various Chrome and Android apps I have on my Chromebook, then I'm near that 100-app line like everyone else. Those count, right?
Anyhoo, on my phone, I stick to just a handful of apps I use every day. One of those will be my casual game of the moment (right now that's Let's Get High (opens in new tab) which has nothing to do with whatever you're thinking) but mostly I use apps to communicate. Work stuff includes Slack, Trello and the various apps for all the Mobile Nations sites as well as Google Drive, Docs, and Gmail. I'm a project Fi user so Hangouts is a must on phones that aren't a Pixel to make calls and send messages using one number, and my family and close friends use Allo for instant messaging since they broke down and tried it.
I also have my personal email through the ProtonMail app and use Signal for SMS and to chat with other folks who use it. Toss in apps that are needed so the other gadgets in my house work (Nest, Google Home, etc.) and that's it. All in all, a pretty boring selection. Thank goodness for my Chromebook!
Russell Holly
Doesn't really matter what phone I'm using, I have 46 apps that I use over the course of a given week.
I've got my streaming apps — Netflix, Amazon, Hulu, HBOGo, Plex, Comedy Central, Google Play, YouTube, TiVO, and The CW
My Google Apps — Gmail (for work), Inbox (for personal), Gboard, Android Wear, Device Manager, Voice, Calendar, Drive, Sheets, Docs, Photos, G+, Hangouts, Chrome, Home, Fit, Wallpapers, and Maps
My Smart Home apps — Nest, Nanoleaf, Hue, IFTTT, Alexa
Google Play Music, Pocket Casts, and 98Rock for music. Authy for 2FA. Daydream or Oculus for VR. Uber for when I'm travelling. Slack and Trello for work management. Eat24 on the rare occasion that I want to order in. Twitter to annoy everyone. Camera and Settings because I can't remove them from my app drawer. Pokémon Go because I have a problem.
Your turn
What are some of your favorite apps and games? Which ones can't you live without? Sound off in the comments!
Alex was with Android Central for over a decade, producing written and video content for the site, and served as global Executive Editor from 2016 to 2022.
Oh crap. Google Play tells me I have 196 apps installed. How in the world did that happen! I swear I just went through and pruned several apps just the other day! I typically only use about 30-35 on a regular basis. Granted I do have a lot of overlap (I tend to hoard apps...I have 6 weather apps...because I can't find one with all the features I like)

97 Installed. About 15 used every day. Most frequently: Evernote, Pocket Informant, Today Weather, Outlook, PocketCasts, Youtube, RPN Calculator and Words with Friends.

Wow this was very interesting to read. I have 53 apps and I use most of them often. Most are social media apps. Outside of those, I use Spotify, OverDrive, Nine and Tapatalk the most.

Surprised to see Daniel pays for Newton, I used to love that app until it went $50/yr or so, I know we're all different, but I would be interested to hear what is so compelling to you, maybe I'm missing something.

Honestly, I didn't think it would be worth it, either, but it is. I'll put my thoughts into words one of these days, but the tldr is: simplicity, speed, the ability to sync settings across devices; and superchargers are all really useful.

I used to use CloudMagic until they pulled all that nonsense with Newton without giving any notice or anything. It's not that I don't think it's worth the money (though I don't think it is - they are charging for pretty basic functionality), but they way they handled it was awful. I'm not gonna support a company that works like that.

151 currently installed, I use about 30 on a regular basis (daily or at least weekly). There's about 50 I use regularly for work as I work for a mobile app developer. A few of my personal must have's: Good vpn client (BlackVPN for me), Nova Launcher, Pocket Casts, Pocket, LastPass, tinyCam Monitor Pro, Dashboard for Tesla, and Habits. The rest are the standard social media stuff, inbox, google apps.

Wow - Google Play says I have 149 apps, really? That many? Might be pruning time. Although, in fairness, at least a dozen of those are OEM bloat that I can't uninstall without root. Of those, the ones I use on a weekly basis: Launcher and UI elements: Nova Launcher, KWGT, #1 Profile, Notification Toggle, Gboard, Google Wallpapers, plus three or four icon packs (one for most apps, and the others to cover one or two strays each). News and Entertainment: gReader Pro, Weather Underground, Pocket Casts, Play Music, Amazon Prime Video (the only app I use which was installed from the Amazon App store), YouTube, Google Now, Pocket. Travel and weekends: Google Maps, Spot Hero, WSDOT. Shopping: Amazon Shopping, Google Rewards, Samsung Pay. Social, communication, and calendar: Facebook, Instagram, Life360, Facebook Messenger, Android Messages, Samsung Email app, Business Calendar 2, Pushbullet.

I have 130 on my pixel I use about 10 apps daily
Facebook
Twitter
Instagram
Snapchat
Spotify
Pocket cast
Nova on other devices other than the pixel
Zynga poker
Deliveries
Google +
BBM

Around 96 apps (including the ones that came pre-installed), I think I use 20 or so on a daily basis. And some apps just run in the background doing their thing (does that count as using them), like Tasker, Lightflow, Foldersync, ACR among others.

I'm a little surprised the password manager of choice isn't mentioned more prominently. Or does everyone use 1Password like Daniel? And Russel did mention authy for 2fa

I use Enpass. But it's not one that I'm opening on a daily basis. After I'm signed into my apps and websites the first time, I don't need to go hunting for the passwords every time I use them.

Most using gmail over inbox huh...
Maybe I need to look at gmail again...

96 on my S7 replacement. Prior to this, I remember counting 134. I still have some trimming to do, especially if I decide on the S8.

I show 135...some are redundant because I need two similar apps for separate duties. I use at least 3 email clients, Nine, Hub, and Sammy email that is pre installed. Two music apps for books vs music plus Spotify, biz cal 2 and BB Cal, groupme & textra, G Voice and G phone. I use at least 50% weekly.

140 apps... Nova
Microsoft Outlook
CalenGoo
AlarmPad Pro
Amazon
Tasks Astrid
Tasker
DW Contacts
GBoard
Google Play Music
Image shrink
Last Pass
Maps
Navigon
Waze
Various icon packs
Various wallpaper apps
RadarScope
Weather Timeline
Weather Underground
PYKL3 Radar
Textra
SoundHound
Shazam
SD Maid Pro
Starbucks
Current Wildfire - for summertime travel on the road
FlightView Elite for air travel
Flamingo for Twitter
ES file explorer

48 installed. Everyday use I might use 5 or 6 and i'm including something like Light Flow and Textra. My Groceries once a week. Most of mine that I can't remove and I don't use at all have been disabled.

Today only 177. The following 7 most important apps get installed each time a flash a ROM or activate a new device: B-Folders; Solid Explorer; PowerAmp; Podcast Addict; ToMarket Pro; Note Everything Pro and Google Keep. With those and the basic apps & ROM the phone is usable until I get everything else loaded/restored.

At most a dozen apps but it's often half that as I like to keep things lean and mean only installing what's absolutely needed. It's a carry over from how I run my computers, reduces complexity and churn on the device keeping things running smooth.

I have 107 apps installed. I'm actually using 22. I may get rid of the ones I don't use eventually.

90 apps total. ESPN, iHeartRadio, Tidal, SoundCloud, Chomp, Gmail, Android Central, Kodi, Play Movies, Starbucks, DD Perks, Opinions, Facebook, Instagram, YouTube, Snapseed and Camera.

I have 53 plus Amazon Prime Video and the Pixel Launcher on my Nexus 5X. So 55 total. If you go by the Apps section in the settings, then it is 73. I am always looking for ones to remove.

60 but i use only 17 dayly and around 35 weekly.

Looks like the team averages at 100 apps.

Between 95 and 110 apps installed on my Nexus 6P. Usually a consistent 97 - 99 are there, and then I'm always checking out new apps--which most I grow tired of, and delete.

Months ago, when I upgraded my phone, I didn't reinstall a lot of my rarely used apps and games, so I currently have 119 apps installed. I use half of them several times a week. The others I use often enough to want the convenience of keeping them on the phone anyway (except a few messaging apps I can't get my friends and family to consistently use).

Interesting how many of Android Central writers use Hangouts and that Google is slowly making this unavailable to consumers. Google should take note of the success of Hangouts for everyone.

I have 277... Yes, I have a hoarding problem. No, I don't care.
Android Central Newsletter
Get the best of Android Central in in your inbox, every day!
Thank you for signing up to Android Central. You will receive a verification email shortly.
There was a problem. Please refresh the page and try again.