10 Amazon Prime Video Channels you need to know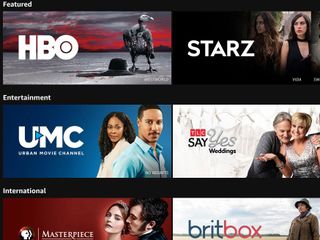 Amazon Video has video. A lot of video. Amazon Prime Video has a lot of video that's free along with your Amazon Prime membership. And for everything else — a whole lot of everything else — there's Amazon Prime Video Channels.
These are a series of channels to which you'll subscribe monthly and then have available on your Amazon Fire TV, or Fire tablet, or on the web. You get a free seven-day trial for each channel, and then you start paying after that. (Conveniently, through your Amazon account.)
It's a great complement for whatever streaming services you already have through Amazon Fire TV. And it's a brilliant way to check out video that otherwise is off the beaten path.
Here are just a few of the better channels we think you should check out — but by all means definitely cruise through the entire Prime Video Channels section, too. (All prices listed are monthly, and remember that you'll need an Amazon Prime membership, too.)
HBO ($14.99)
You know HBO, of course. ... Game of Thrones. Westword. Documentaries. Comedy specials. Boxing. And so, so much more. Amazon doesn't shave anything off the coast here — it'll be $14.99 a month pretty much no matter where you subscribe. But if you're way into Amazon Fire TV and the Amazon ecosystem in general, it'll jst make sense here.
Or if you're just looking to binge on something, take advantage of that seven-day free trial. Just sayin'.
Starz ($8.99)
Come for the hotness that is Outlander (it's OK, we know you watch it), and stay for the huge list of movies that maybe you'd forgotten about but love to watch whenever they're on.
Like most other premium movie channels, there's a ton of original content that's worth checking out. You could spend the better part of the free weeklong trial just doing that, if you want.
Showtime ($8.99)
When you think of Showtime you think of Billions. You think of Homeland. (Which is starting to wind down, but has definitely regained its footing after a couple of questionable seasons.) You think of Shameless, which is definitely worth your time. And you have got to check out Benedict Cumberbatch in Patrick Melrose.
Plus plenty of movies, and comedy, and sports — all the things that make up a really good premium channel, right?
Cinemax ($9.99)
You can sort of think of Cinemax as the little brother of HBO. But it definitely complements it with its own stable of original content. (Banshee and Strike Back are worth a look), and a whole smattering of movies once you're out of unfamiliar territory.
If you can't find it there, chances are you'll be able to find it here, right?
CBS All Access ($9.99)
There's a really good reason to check out CBS All Access — which is only available as a standalone channel and not bundled into any other service. And that reason is Star Trek: Discovery. while the newest incarnation in the Trek world is imperfect, it's also not available anywhere else. Only on CBS All Access.
Beyond that you'll also get streaming access to everything else CBS has to offer. And of course that means staples like The Big Bang Theory and NCIS. And NCIS: New Orleans. And NCIS: Des Moines. (This is the point in which we see just how many people are paying attention.)
But at the very least hit up the free trial for the Trek.
PBS Masterpiece ($5.99)
If it was born in Britain — that is, the actors, and the accents, and the shows — there's a good chance that you'll be able to find it here. (Especially if it involves that Cumberbatch guy.)
Just can't get enough Downton Abbey? This is where you want to turn. Or learn about all things Royal (because we're very much into that these days here in the States), then yeah. PBS Masterpiece is where it's at.
PBS Kids ($4.99)
Do you have kids? Are you thinking about having kids? Do you, on occasion, borrow kids for one reason or another? Do kids stand at your window and watch your TV when they could be doing other things like raking leaves or washing cars? (Just mine? OK.)
Then at some point you're going to end up watching one of the shows that's available on PBS Kids. It's inevitable. Don't fight it. While some of the shows are available free on Amazon Prime, a good number require a full subscription to PBS Kids — and that's where this channel comes in.
Just give into it. You'll thank us later.
Brown Sugar ($3.99)
Watch TV for more than 2 minutes and you'll quickly realize (or not, which is kind of the point here) that things often take a particular turn for the paler shade of life. Brown Sugar looks to work on that imbalance ever so slightly. And the simple truth is there's a ton of great shows of this sort that you've probably heard of but may not have watched. (Fun fact: I wanted my wedding reception entry music to be the theme from Shaft.)
And for less than a cup of coffee a month you can have access to it all through Brown Sugar. Done.
BritBox ($6.99)
For everything British (but not Cumberbatch), there's BritBox. For starters, there's a ton of Doctor Who. That in and of itself justifies the $6.99 a month, right?
Along with that there's EastEnders and Antiques Roadshow (as it was meant to be seen, for sure), and Coronation Street. It doesn't get much more British than this without having to eat mushy peas.
Daily Burn ($14.95)
It's not all fun and games (and Benedict Cumberbatch) at Amazon Prime Video Channels. Daily Burn brings you high-quality workouts from some of the top trainers in the business. Whether it's yoga or cardio or something in between (there's lots in between), or something seriously hard core, you'll be able to find it here.
And it'll save you a trip to the gym.
A lot of articles lately read like paid advertisements. I don't really have a problem with that but if they are it would be nice if it would say something like 'Sponsored by...' to distinguish between true 'editorial' content and paid for content. Maybe this isn't paid for by amazon but it just seems odd. Or maybe its just the revenue from the referral links?

My guess is revenue thru Amazon clicks. Not saying it's a bad thing.

Lol If I would go with half of these I'd be paying my old cable bill that I got rid of. Are these really worth this much per month... No not really. Give me all of them for 20 dollars a month and were talking. The days of overpriced TV services are over. Especially with the new generation coming in that will be entertained by anything they find in Snapchat, Instagram, Facebook, for hours.

You included BritBox but not Acorn TV? Which has a much better catalog and is only $4.99 per month.

Do they have Acorn Antiques on there? Seems like a missed opportunity if not...

Why they would not mention the most important thing is beyond me: The streaming quality of Amazon's channels is often better than the source. For example, directly paying HBO for HBO Now gives you HBO's own video and audio stream (which is terrible), but Amazon's HBO channel uses their own streaming codec or whatever, meaning it will be in 1080p and support Dolby 5.1 audio, for example!

One major issue, you can only cast to your TV using an Amazon device! And CBS cost more the freaking Showtime!! Who would pay for that?

We used CBS All Access for a bit, then I realized there is so much outstanding content with our Netflix, Hulu, and Prime acccounts that I didn't need it. I thought I'd miss Big Bang Theory and others...and I didn't.

The lack of casting support is one reason I refuse to buy any video from Amazon.

Cool...now I'm up to higher than what my cable bill was.

So... the channels are pay in addition to your Prime membership? Kind of sick of this. For all intents and purposes, these channels are irrelevant to Prime. I can get HBO or the others separately. Prime's included (meaning no extra charge) video is quite honestly crap compared to Netflix and Hulu.

This is probably the least useful article I've seen in a while. Anyone that logs into Amazon Prime Video can see these because they are shoved to the top like advertisements.
Android Central Newsletter
Get the best of Android Central in in your inbox, every day!
Thank you for signing up to Android Central. You will receive a verification email shortly.
There was a problem. Please refresh the page and try again.