Google's #MyAndroid Taste Test gives bad results. Here's how to make them better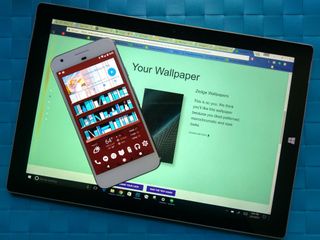 Android has always been a bastion of customization, but it hasn't exactly been well-advertised, by Google or by the various manufacturers that ship it on their devices. Google is now looking to highlight that flexibility and creativity with its new #myAndroid campaign, looking to showcase how diverse and delightful our home screens can be when we add our own uniqueness to them.
Google has even devised a simple — dare I say cute — Taste Test to help you find some customizations you might like. But how do you use what the quiz spits out?
Launchers
Yeah, I know that launchers are technically the third thing that the quiz spit out, but Google's wrong to do that and I'll tell you why. Yeah, you can change wallpapers on any launcher, but to apply icon packs, you need a launcher that supports third-party icon packs, and that means you're not gonna be using the one that came with your phone.
Moreover, the launcher is the foundation of your home screen and the foundation of your theme. It doesn't make a whole lot of sense to start with anything else since the launcher is what you'll be plugging the rest of this theme into.
For the most part, #myAndroid suggests relatively easy-to-use launchers like Smart Launcher 3 (opens in new tab) and our favorite theming launcher Nova Launcher, but if you're looking for another launcher, may we suggest something off our Best Launchers list?
Here's how to switch to a new launcher:
Download your new launcher.
Tap the home button.
Select your new launcher.
Tap Always. (This may not be there/necessary depending on your device.
Note: In some phones, this procedure may not always work. You may have to delve into the settings to find "default home" or "default launcher" and set it in there.
Once your new launcher launches, it'll have a setup process for you to follow. These processes can be as simple as picking a wallpaper and introducing you to its features or as complex as setting up particular design styles and importing your previous home screen layout from your old launcher.
Wallpapers
Wallpapers are often the basis of a user's theme; in fact for most users that is the entirety of their theme. Wallpapers are important, and while the three #myAndroid offers in their Taste Test are usually not too bad, it's not like it's hard to find another wallpaper somewhere else:
Once you've downloaded a wallpaper, here's how to apply it on most launchers:
Long-press the wallpaper on your home screen until a series of options appear.
Tap Wallpapers.
Tap Pick image.
Select your downloaded wallpaper.
Center and zoom the wallpaper as desired
Tap Set wallpaper.
Icon Packs
There are so, so, so, so many icon packs out there, it'll make your head spin. You could use a different icon pack every day of the year and it would still take decades to get through every icon pack on Google Play. This means that we have to separate the good, the bad, and the ugly. If the icon packs that your Taste Test offers aren't to your liking, you might try some of our favorites.
Once you find an icon pack that you like, and have a launcher that supports them, switching to that icon pack is fairly simple, but varies from launcher to launcher. In your launcher's settings, it can be hiding a few different places, but here are where the most common launchers hide it:
Widgets
The widgets given in the Taste Test are not great. I'm just gonna go ahead and say that now: they aren't great. The widget given for music lovers can't even be called good, seeing as Sound Search for Google Play (opens in new tab) hasn't been updated since 2013, is outdated in both visuals and function (it doesn't work on Nougat), has been both a widget and a part of the main Google app (opens in new tab) for years.
I understand that widgets are a woefully misunderstood and underserved segment of the customization and overall Android market as a whole, but Google can do better for that. And seeing as they haven't, we've taken it upon ourselves to offer some widgets you could use that actually work and even look good doing it.
Music
First and foremost, check the music app that you use for your tunes. Chances are it has at least one widget to put playback controls on your home screen. Google Play Music's (opens in new tab) widgets (bottom below) are nice, if a bit bright. If the widget from your service is lacking, here are some third-party widgets to try:
Weather
Again, most weather apps have at least one widget to put glanceable conditions or forecast on your home screen, but if you're in the market for some top-notch weather widgets, here are our recommendations:
News
Widgets for news are somewhat limited by what sources you want your news from, but here are a couple of news widgets that should keep all sides happy:
Keyboards
Yeah, you can theme some keyboards, but I'm willing to bet that's not why the bottom of your Taste Test results is an ad for GBoard. Most of the apps and launchers being promoted in the #MyAndroid Taste Test come from third parties, like Zedge or Lines or Nova Launcher. The soon-retiring Google Now Launcher doesn't support icon packs, and while widgets like can be useful… kinda… I guess… there isn't a whole lot of customization material that Google makes itself besides its Wallpapers app (opens in new tab).
This isn't a cheap promotion, and it makes sense that Google would have at least one category they can own and push people to a Google app with.
Your turn
So, what were your Taste Test results? Was there anything in there that fascinated you? Disappointed you? Anything more you were looking for? Tell us in the comments below!
Get the Android Central Newsletter
Instant access to breaking news, the hottest reviews, great deals and helpful tips.
Ara Wagoner was a staff writer at Android Central. She themes phones and pokes YouTube Music with a stick. When she's not writing about cases, Chromebooks, or customization, she's wandering around Walt Disney World. If you see her without headphones, RUN. You can follow her on Twitter at @arawagco.
It introduced me to a new to me icon pack that I can't even remember (ha!). I tried the suggested launcher and I hated it. Thank you for the 1Weather widget suggestion though. I have been trying to find a good one that tells the current temp (including what it feels like), high/low and future forecast and just that.

If you want a smaller widget, I like the 4x1 Compact, if you're willing to take a little space, Tabbed is a great one, too.

Sweet, I will also check those out too. Thanks!

I don't really get the universal fascination with the Nova launcher. It's unnecessarily complicated, with long menu lists of obscure features (it seems to follow the old Samsung dictum of including everything but the kitchen sink) and as for the fabled lightness and fluidity, I don't find it any better than the Google launcher, or Evie which has quickly become my favorite.

I was really curious about the #myAndroid Taste Test. When I tried it out, I was amazed at its suggested Homescreen.
I even made a video about the recommendation I had here: https://youtu.be/v9_DSWk9pPY

Google must be kidding. Test does not work with ad blocker: [[ ctrl.content.headline ]]
[[ ctrl.content.description ]]
... Select dots on left are nearly invisible. Scrolling sucks.
They haven't done much web coding, huh? The offerings seem extremely limited. I guess there are 3-4 alternatives to each + 1 widget... Where are my legs/hot dogs? :D

I almost wonder if this is a social experiment to see what user want out of a luncher. I won't be surprised if they released a full featured launcher with lots of customization options in a few months.

"...and that means you're not gonna be using the one that came with your phone." Sorry to correct you there. The sentence should end up saying "...and that means you're not gonna be using the one that came with your phone, except if you're using a BlackBerry Android device." Yes, I have a bunch of icon packs that work through the BlackBerry launcher. Do not want to be a party pooper for the other Android owners, but it is just a fact: BlackBerry is doing Android the right way! Written with my nice DTEK60 waiting for my KEYone...

Technically, true. And ZenUI also allows some third-party icon packs, but by-and-large first-party launchers don't offer it. And both BBLauncher and ZenUI are offered on Google Play to non-BlackBerry and non-Asus users, which may be part of why those launchers come with native icon pack support. But if I'd gotten into the list of native launchers that do and don't support it, I'd've been there all night.