T-Mobile LG G2 KitKat update now rolling out through PC utility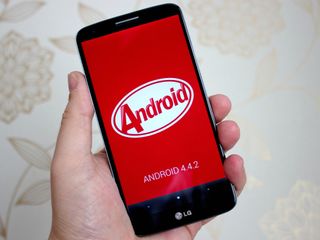 The Android 4.4 KitKat update for LG's G2 on T-Mobile isn't rolling out over the air just yet, but it is available direct from LG through its PC utility, and there's also a direct download link available for those wanting to snag it from LG's servers and attempt a manual update.
The G2's KitKat update brings the phone up to the latest version of Android, complete with white notification bar icons, along with performance improvements across the board. Elsewhere, AT&T's G2 started receiving its KitKat update on Sunday and the UK is expected to follow in March.
Download link via XDA; Thanks to everyone who sent this in!
Alex was with Android Central for over a decade, producing written and video content for the site, and served as global Executive Editor from 2016 to 2022.
I know right? Been waiting for this ever since I got this damn phone. Posted via Android Central App

Whoever does this update with T-Mobile, let us know if tap and pay is active and working on your Google wallet app. Looking to get this phone but want that to work. Google wallet tap and pay works on every KitKat phone except lg g2 with AT&T so far. Posted via Android Central App

No tap and pay sir Posted via Android Central App

Nope. Still says Not Available under Tap and Pay in Settings.

Just got the update on my G2 (T-Mobile), and Tap and Pay does NOT work! I guess T-Mobile wants me to take advantage of JUMP. Although I love the device in every other way, and have been a fan of LG ever since I got it. Unfortunately that may change if this is not fixed soon...

Awesome! Gave up the nexus for this phone and I don't regret it one bit Posted via Android Central App

Same. I'm on sprint though Posted via Android Central App

I used to be on sprint as well. Switched to t-mobile over a year ago and don't regret it. I'm in the Chicago area so t-mobile is crazy fast. But I know it's not like that everywhere Posted via Android Central App

T-Mobile has solid coverage around here. I'm in the suburbs but I'm always on LTE

Me too. I meant that tmobile doesn't have that type for everyone unfortunately. Posted via Android Central App

It works in major metro areas. The call quality drops if you are in a semi urban and rural area. It works for me in DFW area.

I hope this means we will be seeing the KitKat update for the Canadian G2 soon.

Come on Sprint... Posted via Android Central App

Haha same boat. Staying patient though Posted via Android Central App

Me too...well...kind of patient....

Same over here. Posted from my LG G2 via Android Central App

But having a rooted phone does help me remain content though... Posted from my LG G2 via Android Central App

Xposed ftw Posted via Android Central App

I hope it fixes the group messaging problem. My wife just picked one up and this is her biggest problem with it.

I can't imagine the the native app being as good as textra in any circumstance Posted via Android Central App

What's the group messages issue exactly? I use evolvesms and I don't seem to have any issues. Hangouts works too I believe and Go SMS was working too. Posted via G2 + Nova

Download the Google now launcher and hangouts becomes the default with group MMS messaging turned on. Posted via Android Central App

I just upgraded. Love it. Definitely a noticeable improvement Posted via Android Central App

How did it go? Does it remove the Tmo apps like wifi calling?

Can't wait for the Verizon update. Are they always the last to be updated? Posted via Android Central App

I'm pretty pumped about this. I figured T-Mobile wouldn't wait that long after AT&T updated their variant. I'll be waiting for the OTA because I'm lazy, but I'm glad the G2 is getting KK. Such a great phone.

There is no tap to pay or ART support. Posted via Android Central App

Why would they exclude ART? Posted from my LG G2 via Android Central App

I think HTC did the same thing by taking out ART support

Because, as Google has said, it's not yet done.

I saw that someone in Korea with the G2 posted a video on YouTube with Art? http://www.phonearena.com/news/LG-G2-gets-Android-4.4.2-in-Korea-along-w... Posted via Android Central App

Probably easier to remove than make all of their crapware work with it Posted via Android Central App

Why does everyone get so edgey about updates? It's like it's a race or something... damn relax ppl Posted via Android Central App

I don't get it either. Especially when the phone is basically perfect as it is. The G2 is a great phone and other than some speed improvements, KitKat doesn't really offer anything else. If the phone was absolute garbage, then I could understand the desperation for updates. But when the phone is as good as the G2 is, there's no need for it. Posted via Android Central App

I think a more responsive Knock-knock, transparent notification tray, and hiding task buttons are worth getting at least a little excited over though.

As someone who uses his phone for music a lot and podcasts at work. This is huge. The battery life change in kitkat for audio playback is massive and chromecast support anyone? That'd be 4.3 or higher, not the 4.2.2 we have. Posted via Android Central App

Not happy about not being able to use google wallet. Googles web site says any nfc phone in 4.4. Did T-Mobile do soomethung to make us use Isis which is crap?

Yes. T-Mobile and att both removed tap to pay. It's been noticed that the settings are there and can probably be enabled with a settings db adjustment if we had root. Posted via Android Central App

Raises bowl out to Verizon... Please sir may I have some....

Note 3 now please! Come on T-Mobile!!! Probably won't push until after I have upgraded to the S5....

does anybody know how to flash the file into the phone using lg support tool?

The support tool does not work for everyone. I and others had to use the flash tool. Complete step by step instructions in the sad forum.

Hoping for the Sprint version soon. Posted via Android Central App

Still waiting for T-Mobile to update the GS4.... Posted via Android Central App

Not sure what you are waiting for... http://www.tmonews.com/2013/11/android-4-3-update-for-t-mobile-galaxy-s4...

So now that the G2 has Kit Kat maybe they can get around to even announcing it for the G Flex.

I am trying but I keep getting an error that more than 100 mb storage is required to install the update. I have 11 gigs of storage left. Any ideas?

When will the update be released through over the air? I can't wait! Posted via Android Central App

Probably won't. It's over 1gb in size Posted via Android Central App

They'll release it eventually but probably compress it; the file, from the download link, is huge (1.5GB)

Finally!!! I'll wait for the OTA from T-Mobile to upgrade my wife's LG G2 phone. The manual download is 1.5GB from the provided link...why so big??

Probably mostly updates to the LG software to work with kitkat, which itself would have been a much smaller update.

Or it could be because G2 skipped 4.3 and went directly to 4.4.2 I'll try the PC Suite tomorrow and see what it says.

Maybe I missed something - Did the other carriers ever get 4.3? My G2 is still on 4.2.2 on Verizon so I'm wondering is everyone else going from 4.2 straight to 4.4?

Straight to kit kat Posted via Android Central App

No the other carriers didn't go to 4.3; the G2 released just before the Nexus 5 and Kit Kat's introduction.

hey i was wondering since i have just updated to 4.4.2 would i be able to root again? i know the bootloader has been patched so kernel flashing is out of the question for now but would it still be possible to root? i assume no but just wanna be sure :p

i have t-mobile and i would like to know how i am suppose to use LG through its PC utility. I've been trying since this afternoon. can someone help please. thanks.

just download the lg mobile support tool. enable usb debugging in developer menu and connect your phone to the pc. mobile support tool will read your device and will state that a firmware update is available fo the phone. just agree to update and the new firmware will flash. dont forget to have the drivers installed in your computer before performing the update

make sure you have the drivers installed in your computer. download lg mobile support tool and install it. once it finishes installing enable usb debugging in your phone and connect it to your computer. lg mobile support will detect the phone and notify you that an update is available. just agree to it and the flashing will commence

So glad I'm on T-Mobile now. Took long enough. But it's here!! Yes!! Can't wait to use Google Wallet again!! Posted via Android Central App

Anyone not getting the PC suite to find an update? Tried rebooting both my phone and PC and still no luck. Keeps telling me my phone has the newest software.

I tried this install from both LG PC utility tools several times each. Same message all the time your phone is up to date. Thoughts anyone?

The update was painless and the performance jump is significant. Quite nice of LG to make it available and not make us wait for T Mobile's OTA.

Loaded the update this am and I agree the increase in performance is noticeable. I can have transparent screens now with Nova without having to root. This did break root though FYI. The camera seems to focus faster which is one thing I found frustrating with this phone before even though it took great pictures. The white icons look great IMO. One thing that Pisses me off though, either LG or T-Mobile made many of the pre-installed apps non removable unlike how it was on 4.2.2 where pretty much all of them were removable. Not the end of the world or anything as I can hide them with Nova easy enough. Overall I think this is a nice update.
I'd like to see the change log to see what all they did.
Posted via G2 + Nova

Can this update be installed directly on the phone without plugging into a PC?

Using LGs PC Suite no it can't. The OTA I would assume is right around the corner. Posted via G2 + Nova

Any news on update for international version? I have an LG G2 in Australia. I can't seem to find any info on that. Posted via Android Central App

Does it not work if rooted? I keep getting a "Cannot upgrade" message.

I was rooted and had no issues. You will lose root by upgrading though. Posted via G2 + Nova

Day 3 of trying to get the PC suite or Mobile Support Tool to recognize update... still nothing :(

LGPC software for mac will not connect to the server. Any other way to update using my mac?

For anyone still reading this stream, the T-mobile Samsung Note 3 kitkat upgrade is available as of today, 03/05/2014. I installed it OTA. No problems so far.

Connected to PC utility and no update? LG PC Suite right??

Is anyone having issues with the phone freezing when trying to make or end phone calls since the kitkat update on T-Mobile with the lg g2? This seems to be the only problem I'm having with tthe phone since the update. Any advice would be helpful. Thanks
Android Central Newsletter
Get the best of Android Central in in your inbox, every day!
Thank you for signing up to Android Central. You will receive a verification email shortly.
There was a problem. Please refresh the page and try again.