T-Mobile guarantees the best trade-in price on your used mobile devices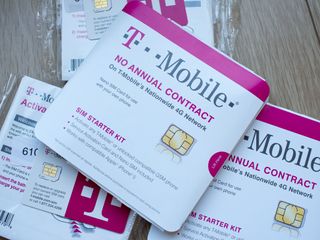 T-Mobile today announced the US carrier will be guaranteeing the best trade-in prices for customers. The company aims to best AT&T, Sprint and Verizon by offering $50, as well as the difference back, if consumers find a better deal elsewhere. It's for a limited time only and kicks off on September 17. T-Mobile will monitor the market and adjust trade-in prices accordingly.
If you happen to find a better deal after trading in with T-Mobile, all one has to do is contact the carrier and confirm details as to where, when and for how much the better deal was for that particular device. $50 will then be rebated as credit on the account. It's a neat deal for anyone looking to upgrade with the network.
Check the below press release for more details.
Bellevue, Washington – September 8, 2014 – In advance of a huge wave of new superphones and tablets coming to market this fall, T-Mobile (NYSE: TMUS) today vowed to beat the big carriers' best trade-in values on used devices - to help American wireless consumers get the very best deal on the hottest new devices.
Consumers can now have peace of mind when they're ready to upgrade, knowing that their trade-in at T-Mobile is the best deal they'll find anywhere compared to AT&T, Sprint and Verizon. And, they'll never have to worry about the fine print and all the details the carriers continue to hide behind.
"We're going to see some of the most phenomenal devices ever in the coming months, and that means a whole lot of Americans trading-in their devices and upgrading," said John Legere, president and CEO of T-Mobile. "For years, the big carriers have been ripping off their customers with low-ball trade-in values, so we're putting an end to that and guaranteeing we'll give customers what they deserve − the best value in the industry."
This latest move is just one more example of T-Mobile changing the way consumers buy wireless service and innovating ways to give everyone the best access to the most amazing technologies of our lifetime.
"When that new superphone's price is the same everywhere you go, the difference in your final cost comes down to the trade-in value of your old phone," said Mike Sievert, chief marketing officer for T-Mobile. "Now when you're ready to upgrade – it's a no brainer where to find the best value– the Un-carrier. Guaranteed."
To make good on this guarantee, T-Mobile will track the market every day to ensure we keep our promise. If a customer can find a better trade-in offer from a major national carrier, T-Mobile will beat that offer, give them the difference back and because we value this help from our customer we will top it off with another $50!
This offer starts September 17 and is for a limited time. All a customer has to do is call T-Mobile or go online within seven days of completing a trade-in at T-Mobile and tell us where, when and for how much they saw a better deal for their device. It's that easy.
Eligible device trade-in, qualifying credit, and new device purchase with qualifying service required. Difference in trade-in price and $50 offer applied as a bill credit within 2-3 bill cycles. See T-Mobile.com for details.
Get the Android Central Newsletter
Instant access to breaking news, the hottest reviews, great deals and helpful tips.
first! I think they offer too low values anyway. I have a brand new 5s from VZW and they want to only give me 2 something for it. While I can sell it on ebay for 500+

Yeah but those fees will get you . Sell it on Swappa.com . I have sold 3 devices on there with absolutely no issues and they charge a $10.00 - $15.00 fee.

Glyde has pretty good quotes for a trade in compared to other options. Posted via the Android Central App

Craigslist or eBay. T-Mobile es no bueno Posted via the Android Central App

Sell it on Craigslist or eBay and make more every time... Unless its all banged up and doesn't work. Posted via Android Central App

I prefer Craigslist if possible since I'm wary of people on eBay or other services that use PayPal starting a dispute with me just to scam me out of my money and phone. Once I sold a brand new Sprint phone on Swappa and it was such a hassle. First he expected the tracking to be instantaneous with USPS so within a few hours of me telling him I dropped it off at the post office he starts telling me the tracking isn't working and questioning if I actually dropped it off. I tried to be helpful and called the post office and gave him the post office information but they obviously just said to wait for it to update. Two days later and the tracking finally updated. When he did receive the phone he told me he was getting errors sending text messages and emails. I spent the next two days trying to Google for solutions and asking him to try them before he said he wanted a refund. He told me Sprint would charge a $50 fee to fix it. He kept telling me his other Sprint phones worked perfectly. At the end of the two days of troubleshooting he finally says he got everything to work, but that he is going to sell the phone and change services because Sprint service was bad for him for the last two months. I was just relieved that everything worked out in the end. I was pretty stressed that I would have to pay for his return shipping and also lose out on the fees I had to pay to sell it while getting back a technically used phone instead of the brand new one I initially sold. It was just annoying that this would have never happened if the person didn't lie about having good service when they knew they didn't and that caused all the problems he had with the phone. With Craigslist we can meet up at a carrier store so I can show them the phone is not blacklisted and nothing is wrong with it before they buy it. Sorry for the long post.

Wow what a pain. That is enough to scare me away from services like this. Posted via Android Central App

Not only can you meet at a carrier store you should insist on it. That way both are protected from stupid claims. Posted via Android Central App

Yep every phone I buy or sell is this way Posted via the Android Central App

bummer. I've sold 3 phones on Swappa and never had an issue. With every dealing on Craigslist I never know if the other party is going to show whether I'm the buyer or the seller, don't know how many hours I've wasted waiting for no-shows.

It's good that Swappa isn't all bad experiences. It's actually a really great service for buyers. I bought a Nexus 4 off someone on Swappa and it went great.
I also forgot to mention that the person I sold my phone to never even bothered to give me feedback.

what a jerk. hunt him/her down for that deserved feedback.

i appreciate the effort it took to write the post.

Does this include offers from Gazelle? Because so far I've found that they offer the best return. I checked the trade in for my nexus 5 on moto trader it was $85 and Gazelle offers $140 if t-mobile offers better then the latter it will be worth considering

I assume T-Mobile is not going to match Amazon's own Trade-In Store prices? 10 days ago, I received $402 when I traded in my mint iPhone 5C(pink, 16gb, Verizon) on Amazon. Amazon deposited the $402 into my Amazon gift card balance 2 days after the phone was delivered to Amazon. Can't imagine T-Mobile, Verizon, AT&T, or even Gazelle, offering such good prices on trade-ins.

just sell your devices on second hand websites such as craigslist or ebay. Any one else will rip you off big time

I don't believe this one bit. Back in the January when I switched from Verizon to T-Mobile they were offering me $175 for my 3 month old Note 3. I said.....ahh no!! Sold it on Swappa for $550. Everything went perfect. Got great seller feedback. I'll for sure be using the service again.