T-Mobile announces new Pay as You Go rate that starts next week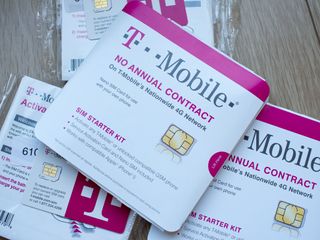 T-Mobile has just announced a new Pay as You Go plan for users. This isn't a change to their monthly prepaid plans, instead this is for people who value pay-per-use, daily and weekly plans. The new plan has customers paying just $0.10 per minute or message as a flat rate.
The announcement will be welcomed news for those who travel to the United States and want to grab a local number or if you value plans like this.
Pay as You Go customers also can optionally purchase 4G LTE data passes in various increments. Here they are:
$5 for 1 day pass and up to 500MB of LTE data
$10 for 7 day pass and up to 1GB of LTE data
T-Mobile recently became the network with the largest number of prepaid customers. Today's move should help their upward momentum. Look forward to the new flat rate of $0.10 per minute starting August 17.
Anyone interesting in T-Mobile's new Pay as You Go plan?
Source: T-Mobile (opens in new tab)
The $10 would be good for hotels that rip you off to the tune of $14.95/day for internet (on a week vacation, for example). That is, if you can tether... And yes, many hotels still charge for internet. It's highly irritating. So, when does the much-ballyhooed $30 plan get killed?

The $30 plan seems in line with the new pricing. 3x as much but more data and more time.

Hrm, sorta. Equivalent 28 (not 31) day cost with these new plans would be $40. That's for 4 gigs of data (no unlimited post-limit throttling) and no calling/texting. Calls on both are .10/minute, but the $30 plan gives you 100 minutes free (and unlimited texting). Number by number gets you 5 gigs of limited data for $50, and 100 minutes of calling would cost $10 more, making it a $60 apples to apples comparison (still without 2g data post limit, however). So, at 50% less revenue, you'd better believe T-Mobile is looking to axe the $30 plan. This is the start. IMO as all internet posts are.

I love my $30 plan! So nice having a cheap bill for once. Most i've ever gone is 4.5 gigs.

Short term plans generally are priced higher/day than long term ones. Sure the $30 charges you for less if you use both for monthly, but it also means they have you on hook for 30 days whereas with the weekly plans they have you for only 1 week and no more guarantee beyond that. Therefore I seriously doubt the $30 plan is going to get axed

I remember when AT&T GoPhone had something similar where you could buy blocks of data that expired in 30 days, of course that cancelled that after one year (screwed me over). So so since I'm on T-Mobile's 10 cent per minute plan, this is something I might be interested in if I was to go on a trip where I needed data for a bit. Of course I hope T-Mobile doesn't stop their and maybe includes data blocks for 30 or 60 days, that would be even better as I wouldn't use that much data in the first place. Now I wonder, can you tether with these plans?

AT&T GoPhone offers - 1. 1GB data extra increments for $10 each as desired.
2. Tethering wifi hotspot to PC etc. is already included standard.
3. Brand New Promotion - $5 monthly discount if you select Auto Refill via credit/debit card for $45 or higher plans.

Sorry you have the wrong plan. I was taking about AT&T's GoPhone 10 cent per minute plan back in 2011 when they had blocks of data, but AT&T canceled that data in 2012. Now that plan doesn't have data at all.

I might be interested, for when I travel to places with better coverage than Verizon. Maybe I'd pick up a Moto G LTE for that... Posted via Android Central App

odds are if ur looking for rural coverage than T-Mobile is not the place to look

There are some places in my state (Florida) where T-Mobile would have better signal. When I'm in the sticks, generally, Verizon gives better coverage along the major roads. But even then, some cities (Baton Rouge, for example) will have stronger coverage through AT&T or maybe T-Mo. I don't know. Verizon is an all-around safer choice but there are some places that I know there is better coverage with another carrier. Posted via Android Central App

Question, does anyone know what the $3 monthly minimum is especially for a account that has already reached gold rewards status? I'm wondering if that means I have to pay $36/year for them to maintain my account and that I don't have to refill with $100 every year to keep in current?

T-Mobile its the best phone carrier in the USA... Posted via My Galaxy S5 and soon to be Galaxy Note 4...

....for you for me it is sprint

Yeah too bad I can't use them as carrier since I leave the city every day for work. Posted via Android Central App

+1000 Posted via Android Central App

As long as you don't leave a major city. Posted via Android Central App

Competition is hot, we win! I called AT&T with a question on my go phone acct today and was awarded an extra GB data this month because I was the customer SVC. operator's 'first call of the day!' OK. Well, thanks... Posted via Android Central App

I don't get any T-Mobile data in the wilds of MN, WI, and MI. This is why I switched to Verizon and I haven't looked back.

This is good for some people... Is my $30 plan getting axed? Posted via the Android Central App on my Nexus 5

It would be a good way to test the T-Mobile network if you have a compatible phone you can swipe sims with... as long as they don't charge a connection fee or anything like that for prepaid plans. Posted via Android Central App

THIS HAS NOTHING TO DO WITH THE US $30.00 PLAN.... Read the article again people... Posted via Android Central App

Yes, that's true. However, looking at this new rate, it could seem that the plan is not making as much money for them as they could be making, so it might seem like the plan is going away soon. I doubt that the plan will be discontinued, but this does bring the question to mind.

This is not much better than the 2 dollars a day unlimited texts, calls and 2G data. I am talking about people that come to States for visit for a couple of weeks. I have 2 SIMs I give to people that come to visit me from overseas. I just have my brother and his family here from South Africa, You can't beat this plan. And if you don't use it, you don't pay for that day. If you need faster data, it will cost you an extra $1 for 200 MB of LTE data per day.

This would interest me if the data was also pay as you go, and not purchased in blocks or days. This way a month of minimal use would create a minimal bill, but everything is on tap if needed. Posted via Android Central App

Exactly! That is the missing feature of this plan and, if offered, would make it a killer for anyone who had good coverage by t-mobile.

I had a similar one of these on Verizon. Ended up getting random BS calls and texts from whoever had the number before me...must a been a drug dealer or something shady...and it cost me $50 in just a couple days. Needless to say I didn't keep that plan long and just went back to normal service. Edit: I meant just the 10¢ per min/text deal. No data.

Moto X+1 specs and leaked images
READ FULL NEWS HERE http://www.latestmob.com/2014/08/motorola-moto-x1-specs.html

You blog still sucks and I know that I do not even have to click the link this time spammer

LG G3 V/S HTC ONE M8 WHICH ONE IS BETTER
READ HERE http://www.latestmob.com/2014/08/lg-g3-vs-htc-one-m8.html

This would be excellent for those who use a lot of wifi. You can find wifi calling and messaging apps too, as long as your using the right app, as not to cause the system to count them as usage. Also, for those who don't call a lot, and use SMS here and there, and maybe a week of mobile data. Mainly all of these examples are good for the niche users. -Gold made Sense, on HTC's One M8

Are they throwing in Music Freedom (or whatever it's called) on the "new" 1-day and 1-week data passes? Currently, the $2- and $3/day options do not include Music Freedom. I tried living on the $2/day plan, switching to it only when I needed data. It was tiresome switching back to the pay-per-minute plans and I ended up spending way more one week than if I'd just kept the $30/"Walmart" plan. And the $30 plan does include the free music streaming (from select providers).
Android Central Newsletter
Get the best of Android Central in in your inbox, every day!
Thank you for signing up to Android Central. You will receive a verification email shortly.
There was a problem. Please refresh the page and try again.