Swiftkey heads to automobiles as they partner with Clarion for smarter in-car technology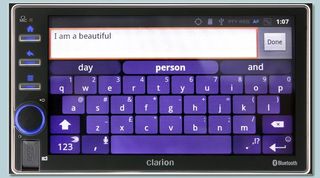 Swiftkey looks to improve the overall experience of in-car technology
While many folks are used to using Swiftkey of their smartphones, the software maker's latest announcement could see you using their keyboard in your car as well. Swiftkey has announced they've teamed up with in-car entertainment manufacturer Clarion on their AX1 Android car stereo system and are the default keyboard offerings on the head unit.
AX1, standing for Android Experience 1, is powered by a modified version of Android 2.3.7 optimized for automotive and runs on a 800MHz with 1GB of RAM with a 6.5-Inch TFT display and has access to all the things you would expect with it running Android such as a full web browser, YouTube with 1080p playback, GPS, Bluetooth, Wi-Fi Connectivity, Portable Hotspot and even Micro SD and USB inputs.
The head unit is available now n a handful of countries in South-East Asia but will be rolled in out in both the US and Europe later this year.
Source: Swiftkey
Awesome. Posted via the TARDIS.

The more swiftkey the better imo.

Great. All I need is more arseholes typing while driving. Posted via Android Central App

This. I live in miami, the driving is bad enough as it is. Last thing i need is some asshole writing his blog on his console while hes supposed to be driving.

Why typing while driving when you can just use your voice, not to mention the danger of driving and typing. Posted via Android Central App

I'd be interested in this for sure. It's a damn shame that it's Android 2.3.7, I feel like it could greatly benefit from a newer version of Android. That said though, I could care less about the keyboard on it, cool for swiftkey though.

I am a beautiful..... Posted via Android Central App
Android Central Newsletter
Get the best of Android Central in in your inbox, every day!
Thank you for signing up to Android Central. You will receive a verification email shortly.
There was a problem. Please refresh the page and try again.