Summer vacation: Top 5 apps to have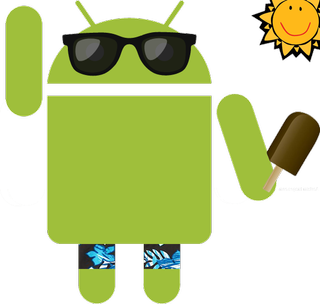 The days are hot, the sun is high in the sky, and that can only mean one thing: summer is right around the corner. But summer also means road trips, vacations, and all sorts of other unwinding from the tedium of non-summer life. Wondering about the best apps to arm yourself with? Don't worry, we've got you covered.
Join me after the break to see the five essential apps for any summer vacation.
TripIt - Travel Organizer (free)
TripIt - Travel Organizer is one of those apps you didn't know you needed until you actually use
it. Whether you're a frequent flier or just taking one trip over the summer, TripIt can automatically create your itinerary for you by scanning your email inbox for flight information. If there's nothing for it to find, you can also manually input trips, as well as the names of different travelers on your trip, so no one gets accidentally left behind. Couple that with a points tracker for those gunning to earn a free flight (eventually!) and the ability to share trips with anyone who needs to know the plans, and you're packing a pretty powerful trip planner in your pocket. Best of all? It's free. [Market Link]
GasBuddy - Find Cheap Gas (free)
Say you've landed at your destination, you're driving, and all of a sudden you realize the rental car needs gas. Maybe you've opted to skip flying altogether and you're road tripping across the country, guzzling gasoline on your cross-country adventure. At any rate, you're going to be needing more gas and you're going to want to get it close and cheap. That's where GasBuddy comes into play. You can either search by zip code, or if you don't know, turn on your GPS and choose "Find Gas Near Me." In a few seconds you'll have a list of the closest gas stations to you, complete with prices for all different grades and diesel. If the stations close by are too expensive, you can always sort by price instead, finding the absolute cheapest station in your vicinity to make a beeline towards. Just make sure you've got enough gas to get there. [Market Link]
Google Maps Navigation beta (free)
If you're vacationing anywhere new and unfamiliar to you, chances are you'll probably make a wrong turn somewhere (no, Dad won't ask for directions) and then you'll run the risk of being late for your Dora the Explorer tour awesome, exciting plans you've made. Arming yourself with a GPS is always a good idea, and despite the other offerings in the Market, I had to go with Google Maps Navigation (beta). It's free, it's incredibly accurate, and it almost ensures you won't be missing anything fun because Dad has it "under control." It's even sweeter to think most of you already have it on your phones just because you've already installed Google Maps. And if you haven't? Get to it. Dora's waiting. [Market Link]
Yelp (free)
There's a couple of different options for trying to find the best eateries and cuisine in the area, from Google's Places to WHERE. This honor, however, goes to the most tried-and-true king of them all, Yelp. With nearly every restaurant in the area covered, Yelp will give you no shortage of suggestions, be it for Mongolian BBQ, burgers, Chinese food, anything. You name it, Yelp will find it. With detailed ratings and price levels, you should never be caught off guard with the service you receive or your check at the end of the meal, and check-ins are a nice touch, especially if you want everyone to know how much fun you're having eating somewhere new. [Market Link]
WeatherBug Elite ($1.99)
Summer is all about fun in the sun, so whether you're vacationing at Disney World or the beach, you're going to want to know what the weather will be like. Stay on top of the forecast with WeatherBug Elite by Earth Networks. With a fully featured radar, week-long forecast, hour-by-hour breakdown, and the ability to tap into weather cameras around the area, you'll never be blindsided by an unexpected thunderstorm in the middle of your Pirates of the Caribbean ride. Add in location tracking (so you don't have to keep punching in zip codes) and you'll be prepared for whatever Mother Nature has to throw at you. [Market Link]
Android Central Newsletter
Get instant access to breaking news, the hottest reviews, great deals and helpful tips
Don't forget BeerWhere...gotta find beer on vacation!

Spot-on on all of these. The first three are part of my always-loaded suite. Trip-It is invaluable for conglomerating all the varied information involved in travel, lodging, venues, etc. Gas Buddy has already saved me the price of my phone (without the contract discount). Google Maps Navigation coupled with Voice Search is incredibly helpful, especially in unfamiliar towns.
I use Yelp occasionally when I'm in a strange town and looking for something interesting. I use Palmary Weather Pro instead of Weather Bug; nearly identical feature set and I like the displays better.

Wheres Slacker? with the new on demand and new options its a fun legal way of enjoying great songs and stations, not to mention make them too.

Serious are you kidding me? Gas Buddy is good but there are other good apps you didnt put in your top 5. Navigation by Telenav works great. Slacker is awesome. For weather I use myweather iTitan and dont forget Moxier World all great for weather!! All those apps are free. Telenav is better than Google Navigation.

I had every app already, except for GasBuddy -- downloading now. You have great taste in apps, Joshua lol.

I prefer Poynt rather than Yelp and add Rainy Days for great animated satellite weather maps.

Rainy days has awesome radar probably the most underated radar on the app market, zooms in to street level as well
Its free Or donate , same functionablity with either GasBuddy I use that even when not vacationing :)

Weatherbug Elite should be banned from the Market. It hasn't worked properly in 8+ months. Follow me and widgets do not update ever.

Have you tried reinstalling it? Mine works fine.

+1 Rainy Days!!! it's a weather radar with one click. Great list, Joshua, thanks.

-1 for Weatherbug Elite. I have had the paid app for almost year and the time I needed it the most it failed on me.
A month or two ago in Dallas we had some bad storms come thru. Multiple Tornado Warnings and about 30 minutes before the storms hit the county I checked the app. There were gaps in the Radar image, the maps backround didnt work. All thgough the storm the app just kept failing in one way or another.
Previous bad weather it worked great. But it only takes that one time when you need it fail to be considered unreliable.
I ended up finding My-Cast Weather lite and it has worked just fine.
yes i do prefer the Weatherbug app but unless they fix the bugs sorry.
Samsung EPIC Syndicate Frozen 1.1.1 (at the time 1.1.0)

Count me in as one of those that had the Google Navigation the whole time and didn't even know it. lol Nice app!

i believe the google navs app would be worlds improved if they included a speedometer. that is such a useful feature that i actually chose my gps apps based on that feature.

Thanks for the great list and especially the Rainy Days app. I've been using Radar Now and this looks a lot better.
Android Central Newsletter
Get instant access to breaking news, the hottest reviews, great deals and helpful tips
Thank you for signing up to Android Central. You will receive a verification email shortly.
There was a problem. Please refresh the page and try again.