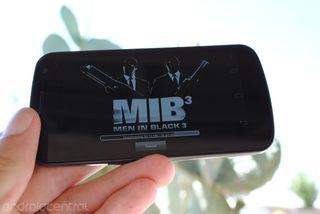 Suit up, it's time! Men In Black III is a new game from Gameloft to celebrate the upcoming movie and now, it's available in the Google Play Store available for download. In it, you get to run the MIB Agency with some help from others but a new threat is now plotting against mankind and you must defend it. Are you ready?
CREATE AND MANAGE YOUR OWN MIB AGENCY
Train your agents and assign them to missions
Access a wide range of MIB weapons and gadgets like the Neuralyzer, the Deatomizer and the infamous Noisy Cricket.
Build dozens of different rooms to upgrade your weapons and develop your agency.
TAKE DOWN ENEMIES IN 1969 & 2012 NEW YORK
Travel in time to fight aliens in different areas of New York including Brooklyn, Times Square, and Central Park
Utilize your agent's futuristic weapons and equipment
Meet dozens of aliens faithfully inspired by the Men in Black universe
ASK YOUR FRIENDS TO JOIN THE AGENCY
Invite your friends from Gameloft LIVE! & Facebook to play
Ask for your friends' help during fights to defeat powerful aliens
Visit your friends' headquarters and get rewarded for lending a hand
Unlike Mass Effect Infiltrator, this release is available for free and will only download an additional 60-70MB to your device. Sadly though, it doesn't seem to work on all devices. My Galaxy Note states it is incompatible though my Galaxy Nexus runs the game just fine. If you're looking for more info, jump below for the latest trailer as well as the download link.
Agent! It's Time To Run Your Own MIB Agency and Save The World in Men In Black 3 From Gameloft.
Paris, May 23rd, 2012 - Gameloft, a global leading publisher of downloadable video games, is pleased to announce the release of Men in Black 3 for iOS and Android devices. Men In Black 3 from Gameloft is the free-to-play, officially-licensed game of the blockbuster movie on mobile devices, and offers a unique action/tycooning experience for fans of casual games.
In Men in Black 3, you'll be tasked with running your own MIB agency. That means training agents and sending them on dangerous missions in the field as well as researching and building a host of weird weapons and hi-tech gadgets like the Bubble Gun, the Noisy Cricket and many more. MIB3 also gives you a chance to get out of the manager's chair and engage in some live, turn-based battles with some of the nastiest aliens the universe has to offer.
Faithful to the humorous, yet action-packed tone of the movies, Men In Black 3 is now available for smartphones and tablets.
About Gameloft
A leading global publisher of digital and social games, Gameloft® has established itself as one of the top innovators in its field since 2000. Gameloft creates games for all digital platforms, including mobile phones, smartphones and tablets (including Apple® iOS and Android® devices), set top boxes, connected TVs and consoles. Gameloft partners with leading international brands such as UNO®, Spider-Man®, James Cameron's Avatar™, Ferrari® and Sonic Unleashed®. Gameloft also operates its own established franchises, such as Real Football, Asphalt™, Modern Combat 2: Black Pegasus and N.O.V.A Near Orbit Vanguard Alliance®. Gameloft is present in all continents, distributes its games in 100 countries and employs over 4,500 developers.
Gameloft is listed on the Paris Stock Exchange (ISIN: FR0000079600, Bloomberg: GFT FP, Reuters: GLFT.PA).
Be an expert in 5 minutes
Get the latest news from Android Central, your trusted companion in the world of Android