Starbucks partners with Duracell to offer PMA wireless charging with your coffee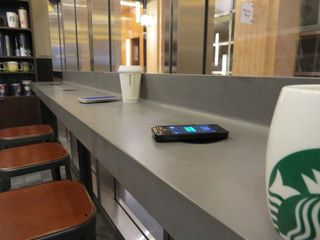 Taking wireless charging to the next level, 100,000 Powermat spots are to be deployed in participating Starbucks and Teavana tea bars. Duracell today announced alongside Starbucks that the rollout will commence in the San Francisco Bay area, expanding Powermat to additional markets next year with full nationwide coverage planned over time at supporting establishments.
These Powermat spots will be located on tables and counters where beverages can be enjoyed. It's worth stating that the wireless charging itself is with the PMA standard and not Qi. While wireless charging isn't anything new and has been featured in the public domain before, it's good to see such a powerful brand such a Starbucks really get behind the technology.
Check out the full press release below.
##National Rollout of Wireless Charging - by Duracell Powermat - Begins in Starbucks SEATTLE and NEW YORK, June 12, 2014 /PRNewswire/ -- Duracell Powermat and Starbucks today announced that they have begun a national rollout of Powermat wireless charging in Starbucks beginning with stores in San Francisco's Bay Area. The companies will expand Powermat to additional major markets in 2015, with a full national rollout in Starbucks company-operated stores and Teavana Fine Teas + Tea Bars planned over time. Initial pilots in Europe and Asia are expected within the year. "From WiFi and the in-store Starbucks Digital Network to mobile payment and digital music downloads, we have always tried to anticipate our customers' needs early in the adoption curve and provide a world-class solution. We are thrilled to offer our customers that next level of convenience with Powermat wireless charging. Rather than hunting around for an available power outlet, they can seamlessly charge their device while enjoying their favorite food or beverage offering right in our stores," said Adam Brotman, chief digital officer at Starbucks. "We were pleased with the customer response to the pilot tests, and we're now expanding this offering nationally to provide our customers a quality and reliable experience as they use our stores as their respite, their office away from home or as a gathering place with their friends and family." Stores will be equipped with 'Powermat Spots' - designated areas on tables and counters where customers can place their compatible device and charge wirelessly. Select Starbucks stores in Boston and San Jose offer Powermat today and the broader rollout can be tracked at www.powermat.com/locations . "Powermat Spots in Starbucks are the result of almost a decade of scientific research spanning material sciences, magnetic induction and mesh networking," said Ran Poliakine, CEO of Powermat Technologies. "The two-pronged power-plug dates back to the era of the horse drawn carriage, so that today's announcement marks the first meaningful upgrade to the way we access power in well over a century." Powermat Spots comply with the open standard set by the PMA – whose members include AT&T, Blackberry, HTC, Huawei, LG, Microsoft, Qualcomm, Samsung, TI and ZTE – resulting in a growing universe of devices and accessories that will charge seamlessly in Starbucks. "Starbucks is a highly regarded global brand and its decision to rollout a Powermat network is both empowering and transformative for consumers and the mobile industry as a whole," said Jeff Howard, vice president, Mobile Devices and Accessories, AT&T Mobility. "Many of our newer devices have compatible technology either embedded or available as an added feature to give consumers the freedom to charge wirelessly. Today's announcement marks an important time for our customers – they will have the freedom to stay charged effortlessly in Starbucks stores nationwide over time." "Starbucks is transforming the way consumers get power to their phones, in much the same way it made WiFi a standard amenity in public places. This endeavor is a critical step in Duracell's vision to make dead battery anxiety a thing of the past," said Stassi Anastassov, President of Duracell at Procter & Gamble. "When Starbucks introduced WiFi in their stores in 2001, 95 percent of devices didn't have WiFi, and multiple standards hampered the industry. The rest is history. Starbucks' plans to offer Powermat nationally is likely to settle any lingering standards questions, and usher wireless power into the mainstream."
Get the Android Central Newsletter
Instant access to breaking news, the hottest reviews, great deals and helpful tips.
The PowerMat users around the globe are both rejoicing!!! Because competing standards are a win for everybody! Posted via Android Central App

All that's going to happen is ordinary people - who don't know there are two standards - will go into Starbucks, plonk their phone on the charger and decide it's broken because they know their phone has wireless charging. Meanwhile it's only a matter of time before the 'electro sensitive' crazies start the lawsuits.. Posted via Android Central App

It's a sad sad state, but you my friend are 100% correct. To sum it up. People basically suck.

Haha that's how I got a free charger for my G2. Buddy has a iPhone and bought a wireless charger since the rep told him it would charge it. Came over with it saying that its a broken piece if $**t and left it at my house. Win win for me lol why he didn't return it? I don't know Posted via Android Central App

While this scenario could happen, the more likely scenario is that the yuppy daily Starbucks (iPhone toting) customers who actually CAN get the charging adapter for this on their phone WILL buy this, which will grow the PowerMat, which might then make it expand. this might be "bad" for the customer (competition is never bad, and currently Qi is the only logical option in this industry), but genius for Duracell, who is getting beat pretty badly by anything Qi.

Actually when it comes to standards, competition IS bad. One will inevitably win out, leaving products of the other standard almost useless and wasted. In the meantime there will be confusion, disappointment, and displeasure, stifling the adoption of the technology as a whole. Furthermore, the winning standard will rarely be the best one, but rather the one that was best marketed. Posted via Android Central App

Also, Duracell don't actually own PowerMat, they ate just the main adopter. The hand total list of adopters is: Duracell, General Motors, Starbucks, and AT&T. Outside of the US it's basically non existent. Compare that to the global reach and huge list of QI supporters and suddenly it's a rather unfathomable move by Starbucks. Posted via Android Central App

So if it's not Qi standard, does that mean a nexus 5, for example, would not charge on these plates? I hope they have adapters then...
Posted via Andrex Toilet Roll (2-ply)

I'm not aware of any powermat compatible phones on the market. You have to use their proprietary (and expensive) charging covers. Posted via Android Central App

I think the only phones that have cases for powermat is the IPhone 4 and SGS3. Posted via Android Central App

That makes this quite possibly one of the silliest decisions in technological history Posted via Andrex Toilet Roll (2-ply)

The Asus Padfone has pma charging built in. The Lumia 1520 can also do it with a special case from incipio. Posted via Android Central App

BlackBerry Torch 9800 and 9810 had a battery cover made and released for powermat too. Posted via Android Central App

They do have adapters, the AC article just doesn't mention them. Posted via Android Central App

Who exactly is this marketed for?

I support Qi wireless. It's like another Blu-ray vs HD-DVD standoff. Qi works with my nexus 5 and Nokia devices

Deju vu. Didn't I read about a similar roll-out at Starbucks like a year and a half ago? Maybe my imagination. Genuinely curious, but does anyone actually use PMA? I have Qi built-in to my Lumia 920 and Nexus 7. Love it. That said, I'm the only person I know who uses wireless charging at all.

That may have been the pilot program in limited areas.

It's like Starbucks is out of touch

Seriously Starbucks? I was starting to like you guys until I realized you were just advertising Duracell's expensive crap wireless charging cases and mats.
Posted via Android Central App on my Galaxy S5/Galaxy Note 3

It ain't Qi tho!!
Posted via Android Central App

I go to Starbucks. Time to time first Google WiFi now this Posted via Android Central App

What multiple Wi-Fi standards were hampering the industry when Starbucks introduced Wi-Fi? There have been multiple iterations of Wi-Fi standards, but not different competing Wi-Fi standards (unless you wanted to argue that 802.11a was competing with 802.11b, since 802.11a wasn't all that widely supported, I am assuming those were the standards play at the time Starbucks introduced Wi-Fi, because I can't be bothered to check when Starbucks started offering Wi-Fi) Defending their choice of wireless charging standard with that argument seems a bit silly. I don't think many people will buy a powermat case for their device just so they can charge up at Starbucks, I think in general people will be more likely to buy a more useful battery pack to charge their devices if they are going to buy something. This seems to me like a desperate move on the part of Duracell to try and get people to use their standard, and I think it will fail. Posted via Android Central App

Not being the Qi standard this is a joke.

They tried this back in 2012: http://www.boston.com/business/technology/innoeco/2012/10/starbucks_pick...

Qi > PMA as far as popularity goes. Regardless, they need to hurry up and make it so the whole table is a charger instead of localized to a small circle. Also, generally people hold their phones while using them, like when they are killing time at a coffee shop. So the benefit of the short time you'll be hanging out at the Buck with your phone down on the tiny circle will not be that beneficial.

Which ATT products support this? According to press release "Many of our newer devices have compatible technology either embedded or available as an added feature"

I hope this isn't costing Starbucks anything, if it is they're wasting their money.

Very likely it is that Duracell is subsidizing or perhaps completely covering the cost of the chargers in an effort to grow their brand and public awareness of their chargers over Qi.

And it will fail. Posted via Android Central App

I wish the world could agree with 1 wireless charging standard. Like how microUSB replaced several standards. Posted via Android Central App

I have a sneaking suspicion that this may be the result of a secret backroom agreement with Apple. If the iPhone 6 supports this standard then... "bingo!". Otherwise, I don't see the motivation to spend A LOT of money incorporating a little used standard. Not only are a majority of devices currently using qi - so it would be immediately useful to customers - but it would push OEMs to add it to more handsets.
Yep, this sounds like a case of rotten Apple(s)!
Posted via Android Central App

Pleese Starbucks, waste your hard earned money on giving us more accessible power outlets and USB power ports with full volts to plug in and fast charge our devices... Sincerely,
Samsung Galaxy S4 four hour battery life coffee consumer Posted via Android Central App

ATT speced all their new phone to support Powermat standard as of 2015, and this Starbucks decision is obviously influenced by ATT-Starbucks partnership.
Now, does this mean all ATT phones will be only powemat compatible? No, because there are phone chipsets that will support both powermat and qi, but I'm not aware of the charging pad chipset that supports both, so in the end this still sucks as starbucks powermat pad most likely won't be qi compatible.
Posted via Android Central App

So you are saying that all ATT phones released after 12/31/14 will support Powermat charging out of the box?