Sprint offering all customers free Tidal HiFi subscriptions for 6 months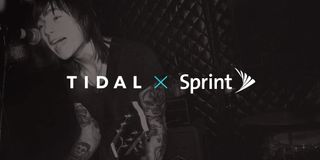 Starting June 9, Sprint is offering six free months of Tidal's music streaming service — and it's doing so for all new and existing customers. The move comes less than six months after Sprint took a 33% stake in Tidal, which at the time was sold as a great way for Sprint users to get exclusive music on the service.
Not only is this six free months, but it's actually for Tidal's higher-end audio "HiFi" tier, which normally costs $19.99 per month. After the six months is up, Sprint customers unfortunately don't get any sort of discount: they're offered the ability to continue on Tidal Premium (the basic tier) for the standard $9.99 monthly rate, or HiFi for $19.99.
This partnership isn't just about free music for Sprint customers, though. The companies are also supporting the "1Million Project," an initiative from the Sprint Foundation that offers 1 million low-income high school students with a free mobile device and internet through their high school years. That's a great cause to be a part of.
Once the promotion for the Tidal subscription is live, Sprint customers can simply go to Sprint.com or a Sprint retail location to redeem it.
Get the Android Central Newsletter
Instant access to breaking news, the hottest reviews, great deals and helpful tips.
Andrew was an Executive Editor, U.S. at Android Central between 2012 and 2020.
Waiting for the comments. What does it matter, will not be able to stream over the Sprint network anyways, Spring sucks.

Wow I live in the country and have no problems with my Sprint. You must be an expert on them.

I have no problems either.

I've used all carriers and I've literally never had an issue with sprint.

Great for Sprint. They have treated me well for 15+ years. No negative comments about it here.

I've had issues in certain areas in the middle of nowhere, but at home Sprint is rock solid. No complaints here. I guess I'll give Tidal a shot for a bit.

I have had absolutely no problems with Sprint over the last several years I've been with them. Great coverage, speeds and customer service. The same can't be said with some other carriers I've been with in the past.

Good to hear. Spring has been getting​ better the last few years. Haters will be here, guarantee it.

This is sweet. This August will mark my 16th year being a Sprint customer. I've had a love-hate relationship with them through the years (More love than hate), but they have treated me well in the end. This is a sweet deal. Oh, and my service works great in the two areas I'm mostly in.

Dang I'm already fully vested in GPMAA but this is pretty cool.

Considering Sprints unlimited freedom plan throttles music streaming speeds to 1.5mbps. You won't actually be able to use this. I wish they had explained that when I signed up. I'm canceling thier **** service in a month anyway.

1.5mbps should be more than enough for music streaming, even lossless

Well it's not, I have to leave spotify on automatic quality. If I try to do extreme the songs buffer play buffer play buffer play. So I imagine if spotify can't be run with the best quality tidal is pointless.

Maybe they're not even delivering the 1.5mbps they promised. That sucks

You can download all the music you want and save your battery. I like tidal. I've been using since I first got the V20. Haven't looked back.

V20 rocks ! Will try out the service Kenny

They still offer better unlimited service than AT&T heck everyone does.

Restricted to only 1080 video with no option to change. Restricted to 8mbps gaming with no option to change.
Restricted to 1.5mbps music with no option to change.
You still get throttles speeds after 23gb. So so much better hahaha. It's more restricted than any other with no option to pay extra to get full use of flagship phone.

Just make sure you have a good set of cans and decent device for play back, then let the bass rain!

Sprint like all others is hit and miss as far at network speeds. I left Verizon who had a consistent LTE of 15.7mbps. ATT with 21mbps and now I'm with Sprint and it has a constant 32mbps. Obviously this will vary however no complaints except waiting​ literally 15 minutes to speak with a Rep every time I call.

For some reason Sprints network is terrible in the 5th or 6th largest city in the country.

The city that doesn't deserve to be named?

I just switched from AT&T to Sprint this morning and I have never used Tidal before..or any streaming music app..but I think I'll give this a whirl on my new v20. Thanks Mac

Over 15 years with Sprint, and I have never had any real performance issues. And as a matter of fact, my upload and download speeds far exceeded all other carriers in my region. I average over 50 mbps downloads. And have hit 87 mbps as my highest recorded speed. Sprint is the company to watch, ever since Softbank took over. The man behind Softbank is very astute, and aggressive on high tech.