Sprint commences Lollipop rollout for the HTC One M7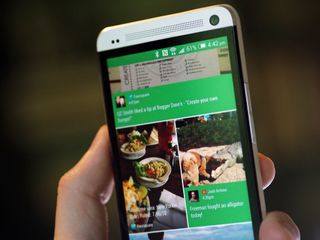 If you own the HTC One M7 and are waiting for Sprint to roll out Lollipop, you'll not have to wait much longer as reports are coming in that handsets are receiving the OTA update. Just as Sprint shared yesterday, the rollout commenced this morning and Lollipop should be hitting your One M7 soon enough.
The update comes just days after HTC confirmed that Lollipop for both the One M7 and M8 would be delayed for some carriers. That said, we're only a few days past the HTC Lollipop 90-day turnaround of February 1.
Prepare thy Wi-Fi for the 700MB download. Have the update on your Sprint One M7? Let us know in the comments!
Thanks, dEe_eNd, for the tip!
IMO lollipop looks best on a stock non skinned device. Posted via the Android Central App

HTC Sense looks a million times better than stock. Posted via the Android Central App

My aesthetic preferences are better than your aesthetic preferences! Posted on my OnePlus One

HTC sense skin is the reason why I stuck with there phones since 2010.

Don't even listen to this guy, he's the hugest HTC/Sprint fanboy. Posted via the Android Central App

I'm a huge HTC fanboy too!! I might leave Sprint for ATT though.

Haha enjoy the bloatware. I enjoy Android the way Google meant it too be. Posted via my Nexus 6

... I like phones and stuff Posted via the Android Central App

Just posted this to the article for yesterday saying the update was coming today:
--
This took just shy of an hour to download/install. I thought the device had locked up because at times the install progress bar would move a notch in 8 seconds and other times not at all for over two minutes. The biggest scare was the HTC one Beats Audio splash screen that just sat still for several minutes at boot. Now that the update is done, I can see slightly larger fonts on the shortcuts (Play Newsstand word wraps on my home screen). The typing response on the keyboard seems snappier, HTC /Sprint/Google added Docs, Sheets, Slides, File Manager and WiFi Calling to the app drawer (but not Downloads like the M8 has). EDIT: Emergency Alerts is added as well. No internet post would be complete without a complaint, so here are mine: Chrome defaults to multiple tabs being viewed in the recent activities instead of the tabs button in the browser navigation bar. You can change this to the old behavior in settings. It would be nice if Chrome would base which method of tab switching on whether the recent activities button is present on the device or not. EDIT: If you change back to the old behavior of using the browser bar to switch tabs, you do not even get the option to see multiple tabs in Chrome in the recent activities window. My biggest hope didn't come though. I want desktop class recurrence options for Tasks and Calendar events. In other words every 6 weeks on a Saturday (spray for weeds/bugs), or every 4 weeks for a week (girlfriend's week that you do not argue with her).

I can confirm that the version is 5.0.2. Like the commenter above, it took nearly a full hour to install. So far no glaring issues. Responsiveness seems improved. Looking forward to further testing. Posted via Android Central App

For clarity, I'm on a Sprint M7. The Android version reports as 5.0.2. Sense version 6.0, and the software version 6.16.651.2 Posted via Android Central App

So no sense 7? Guess we will have to wait till 3/1 Posted via the Android Central App

5.0.2? Sweet! The releases for the M8 so far have been 5.0.1. I'm hoping when the update for the M8 hits Verizon, it'll be 5.0.2. Posted via the Android Central App

Update rolled out for Developer Edition M7 too. 5.0.2. Posted via Android Central App

What Version is that and from What Carrier, because I'm downloading right now from Sprint and the Version is 6.16.651.2 and is 816.56MB in Size.

Yeah, that's strange. The XDA devs are also reporting the version as being 6.16.651.2. *edit: the upgrade showed up on my m7, also with the 6.16.651.2 version. Don't know the difference, though.

anyone else having battery issues. My battery is draining even when plugged in.

Battery seems to be charging okay now after a few restarts. Guess time will tell if battery life is better overall.

My battery actually seems to have improved. Posted via HTC One on Sprint

Not only is my battery draining while plugged in, it's also draining while my phone is off. It jumps around from 60%, to 33%, down to 12%, then back to 22. Not a fan at all. Last night I had it plugged in for a half hour after it had died completely and watched it get to 51% and then dropped back down to somewhere in the 30's, never fully charging. After today if it doesn't fix itself, I'm going to work on reverting it back to Kit Kat. =/
Really disappointed in this update

Getting mine now in NC. BTW, don't bother with HTC's software update status site. It says this update is in the development stage which is stage 1 of 4.

Even though the Software Version is 6.16.651.2 the Android Version is 5.0.2 and HTC Sense Version is 6.0 They Must have Posted that Picture from another Carrier as an Example for Us Here on Sprint.

Anyone who has a current screenshot of the Sprint HTC One M7 Lollipop update of their ABOUT PHONE screen please feel free to drop it in the following thread. http://forums.androidcentral.com/sprint-htc-one/488634-sprint-htc-one-m7... Thanks and enjoy!

One thing that I don't Like already is when you go to Close Open Programs, you can't either Just Swipe or Select All to Close at once.

I read about that on the M8. They said you should be able to change it back with a setting. Open Recent Apps -> Click the 3 Dot Menu -> Settings -> Layout Option and select the Grid View option. Haven't tried it on the M7, so hopefully it works the same.

You can switch back to the tiled mode like before and still use the X in the upper right hand corner. I think the reality is you don't need to close apps, as they don't drain if they are in the background like they used to on older versions of Android

I agree, I dislike that a lot....I did find if you open the recent apps, hit the three dots on the top right of the screen. ..hit settings, then layout, change to grid view and you'll be able to swipe away the recent apps....Hope this helps:)

HTC; Send a Patch to FIX Closing of Programs to the Previous way of either Just Swiping or being able to Select All to Close.

Check the forums. I thought I remembered reading that that was a Lollipop thing but you can revert to the Sense view for recent apps, that should bring back some of the functionality you're looking for. Posted via the Android Central App

If you have your recent apps open you can open the settings menu and choose the grid layout and go back to the classic view with the close all option. It would be nice if the window view layout had the option to close all as well. Maybe it'll come as part of 5.1. Posted via Android Central App

No more lock screen controls for Pandora.

I can pause and skip tracks on my lock screen, Did Pandora do more like let u thumbs up from the lock controls previously? I don't remember

I am missing the pause and skip options since the update.

I'd uninstall and reinstall Pandora.

I actually did that the moment I saw your post above. Any ideas what else to try? I use that a lot to silence the music quickly in my office (turns out punk rock does not a good first impression make).

Same scenario here actually lol. Try going into apps and clearing your data and cache. That has worked for me in the past when I had issue w/ Pandora. BTW my version of Pandora is 5.7 just so you're sure you have the most updated version.

Already tried. I am already on the current version of Pandora (5.7). I uninstalled/reinstalled Pandora. Then I chose force stop, then clear data which automatically cleared the cache. Then I uninstalled/reinstalled Pandora again. From what I have read elsewhere, admittedly threads relating to Nexus devices, not HTC, Lollipop doesn't support lock screen widgets, and Pandora hasn't added notification controls yet to their app. Just to confirm, are you saying your phone is on Lollipop and you are able to control Pandora from the lock screen?

Hey man sorry didn't reply sooner. Yes I definitely have the upgrade and can control Pandora from the lock screen. Hopefully it has started to work from you. The picture from the song playing actually becomes my lock screen background and the controls are there.

This update did the same for me on M7 (Sprint) in that it nearly took an hour. However, it BRICKED my phone. Warning to everyone else out there! After booting up the phone, it just repeatedly reports various apps/function "unexpectedly stopped" asks if I would like to send a report. But I can't. because everything on the report screen fails too.

Do a factory reset in recovery Posted by my soon to be retired Note 3

Recovery didn't work, had to do a full factory reset.

Maps loads and redraws faster. Lock screen also shows minutes remaining until fully charged.

I can't sign in to my wifi at work, I get the wifi sign-in required page and its just blank (no fields) but at the bottom says Enter your name and password to connect to this network.

I'm noticing the same thing. I cannot sign into the captive portal site for my wifi through the wifi notification. I have to load Chrome and then try loading an external site. The captive portal page will then load. It's annoying.

Does the WiFi calling icon work for anyone? When I click on it, nothing happens. I'm just wondering if that will be added later or if it's just a tease. Posted via Android Central App

I'm sure that if we were going to have wifi calling we would have heard about it by now. T-Mobile is advertising it like crazy.

I have the icon but nothing happens when I hit it or the menu button for it. Posted via the Android Central App

Downloading now, here goes nothing! 816.56 MB of update 6.16.651.2 coming in.

plug your phone in before updating. kills your battery!

No joke, that was a shocker.

Mine just finally started charging again. I didn't plug in to update and it went from about 90 to about 20. I then plugged it in and turned it off and on the charger turned off it went dead in about 10 minutes.

Glad it wasn't just mine. I admit I had a bit of a panic moment this morning. lol. Mine went from 75% to 7% in a matter of about 15 minutes and was still draining while on the charger. After several restarts, it's now charging. Up to 40%. So I think it will be fine.

You are lucky, I couldn't even restart because mine was completely dead on the charger :-) If I hadn't seen your post about finally starting to charge I would have flipped out!

Had mine plugged into a portable battery charger - tablet socket. Stayed charged.
Still continues to update other apps and settings and background data updates

Took almost two hours from start of download to optimizing apps, then another two restarts.
Can't change security screen lock to automatically show pin entry instead of having to swipe up to unlock and show pin entry screen.
It's struggling to update data at this point - at work Wi-Fi so should be super quick - taking forever - slowing whole phone down.
not happy so far.
Is this what happens to Android after so many years - it now takes as long to update as Windows?

Installed the update this morning. I use Aviate so I'm not really seeing any stellar changes so far, other than the appearance of the notifications which are now displayed as individual tiles instead of a list.

It's still Sense 6, so not much has changed on the surface. We'll see HTC's take on material design when they show Sense 7 on the M9. Posted via the Android Central App

So I looked on HTC Android update page and it supposedly is still in the development stage for the M7 on Sprint While I'm on Att makes me wonder what the real deal is with Sprint being able to push this out. Is there something I'm missing? Posted via Android Central App

The HTC site is notoriously slow to update the status for updates. Posted via Android Central App

I have it and I love it! Can't wait to try it when the M9 comes out! Posted via the Android Central App

Did this update just get rid of lock screen widgets altogether?

Updated my M7 this morning...like others have mentioned, it took about 50min. from download to reboot. I've had no problems so far. Love the notifications on the lock screen.

will be picking up a m7 today. Trading a iphone 6 plus for m7 and a good bit of cash of course. I'll be flashing google play edition rom on it right away. prefer stock android to any skin right now. plus why have ram being used by a skin when it can be used towards multi tasking and apps?

Have you been drinking? It's still a 2 year old phone. I'd understand the m8, better yet wait a few months for the m9

AT&T are you reading this article? You better get on the me too ball! Posted via the Android Central App

Dude! Anyone notice that after the update the sound is super quite ? Its totally quieter than it was... Posted via the Android Central App via the Nexus 6, possibly the N5!

Please be more specific. What sound during what situation?

My "split capture" doesn't seem to work! I fires one camera then switches to the other both in camera mode and video mode. Is that how it's supposed to work? I thought the coolness was that you could capture simultaneously?

Every camera works different I actually like it being someone who can't focus on two things at once

K any sound any situation just sounds quite ..YouTube was Perry bad. I used to be able to compare the N6 to it now the N6 kills it Posted via the Android Central App via the Nexus 6, possibly the N5!

Someone else please check their Boomsound quality (loudness) watching YouTube or playing a song after your Lollipop update.
No mention yet of anyone checking this in any forums I'm reviewing. It's not something one would think to check out.

Update took over an hour this morning but so far, all things Lollipop seem snappier and more responsive. Love the larger fonts. Two questions:
1-anyone know what Wifi Calling is SUPPOSED to do? I press it and get nothing.
2- anyone know how to get that annoying and very unnecessary constant Power Saver notification to go away? Long press method under KitKat no longer works. Posted via the Android Central App

anybody know why when you use a custom lockscreen wallpaper it hides the status bar from showing on the lockscreen??

Contact the wallpaper lock screen app/widget developer. It's a correction they should make.

No I meant HTC's own lockscreen wallpaper. But it was my mistake I realized I had a background with white at the top and with the lollipop update the status bar is transparent and with the white font it looked like it wasn't there. I changed the background from white and I can see the status bar is actually there haha

With so many Lollipop complaints, I initially planned to wait awhile before installing the update. I immediately downloaded it, though. And I haven't noticed any issues. Battery life, BoomSound, WiFi, etc. all seem to be working well. Bring on Sense 7! Posted via AC App on HTC One

Had this for a couple of days now. Took a bit more than an hour to fully compete transition. I like the lock screen except.for now more widgets. Was Swype added as a keyboard? I don't remember if I had that installed before the update. Typing is snappier. Wifi calling doesn't do anything. Battery is better... I have 55 percent after 12hours of use. YouTube seems to be loading faster and overall lag of any app is improved. I haven't really noticed a huge difference on the speakers but I have really had a chance of comparing them. I do like the file manager and the other Google apps that were installed.

Is there a way to roll back the upgrade? My battery life is horrible. It takes 30 + seconds to open a single text conversation. My music controls no longer display on the screen. Facebook was uninstalled and when I reinstalled it the connection to my PC kept disconnecting and reconnecting. I am not a fan.

After an hour to download. My battery life is also terrible! Google play services killing it. 30 seconds or longer to open a text message. A lag on typing text! Horrible data reception. (Worse than before). Facebook also uninstalled. There's probably more but I have no data reception when I need it to use my phone!

A tech at my local Sprint store says DO NOT install the new update (Lollipop) on the HTC One. They've seen many problems from small to disabling the phone.
Android Central Newsletter
Get the best of Android Central in in your inbox, every day!
Thank you for signing up to Android Central. You will receive a verification email shortly.
There was a problem. Please refresh the page and try again.