Sprint Motorola Photon Q release rumored for Aug. 19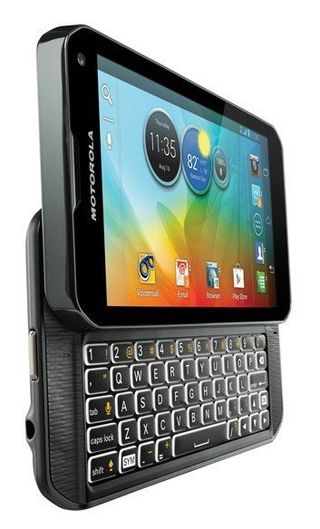 Sprint fans eager to try out the Motorola Photon Q's potent mix of 4G LTE connectivity, a dual-core CPU and a QWERTY slider may be able to pick up the device sooner than expected. Reports from PhoneDog​, which cites sources at the carrier, suggest that Sprint currently plans to launch the Photon Q next Sunday, Aug. 19. As ever, that doesn't necessarily mean the date is set in stone.
The claims follow earlier reports that Sprint staff had begun training with the new Photon -- usually a sure-fire sign that release day is fast approaching. Officially, though, Sprint and Motorola are still offering no firm release window for the Photon Q. Last we heard was from the announcement press release, which said the phone would be "coming soon."
In addition to a full physical keyboard, a dual-core CPU and support for Sprint's shiny new LTE network, the Photon Q offers Android 4.0.4 Ice Cream Sandwich, an 8MP rear camera and a qHD "ColorBoost" display. All in all, that probably makes it the highest-spec'd QWERTY slider around.
Tempted by Sprint and Moto's latest offering? Shout out in the comments if you're planning on picking one up.
Source: PhoneDog
Android Central Newsletter
Get instant access to breaking news, the hottest reviews, great deals and helpful tips
Alex was with Android Central for over a decade, producing written and video content for the site, and served as global Executive Editor from 2016 to 2022.
Finally a worthy QWERTY update to the aging Epic 4G.

I have an upgrade coming and I might just use it to buy this puppy for my daughter.

This phone is high on my list for my daughters too. Have to wait unit December though, when they are due for their upgrades.

<<>> No, but I am tempted to ask where ICS stands for my Photon?

Last I heard ICS for Photon is not till 4th Quarter. My son is dying for it for his MOPho too.

I'm getting one! So glad to replace the Epic!

Specs look intriguing. Finally, another high end keyboard phone. Too bad it is a motorola, and even worse, it's on the Not Network.

Yes, Motorizon has had issues in the past with support and updates. However, Google just bought Motorola, and the maker of the OG Droid series (the Droid 4 is a solid Qwerty slider, I hear) and last year's MoPho (a good phone by most accounts, but I think it had difficulty competing with the Epic 4G Touch) is only starting to release its line of ICS phones (see the Atrix HD on AT&T). I wouldn't be surprised if the Googler in charge of Moto is able to change that for its post-acquisition offerings. The ICS version of their skin uses on screen buttons and is fairly restrained while still adding useful functionality. At least, that's the impression I get; I've even never seen, much less used one myself.

I really want to give this phone a try. I love the look of the new keyboard. This my replace my Epic 4g Touch.

Six months till upgrade time for me and my Epic, which means this will most likely be Sprint's flagship QWERTY phone when I do. 5-row keyboard, decent if not high-end specs, Moto bought by Google... sure, I might give this one a try if the interwebs don't light up with early adopters gnashing their teeth over their purchase.

I really liked my MoPho 4G when I had it. The battery life was amazing and the radios were strong. One of the reasons I went onto a new phone was because I really like rooting and ROMming my phones. To say the least, it was a b**** rooting the MoPho and I even ended up bricking it at one point. After a lot of panicing and freaking out I was able to bring it back to life. Hopefully they make it easier this time around.

I have an Epic 4g and I'm up for renewal. I was considering the Photon Q but due to the fact the battery is not removable and the sim is embedded (can't swap sim when I'm travelling and forced to pay Sprint roaming rates!!), I think I'll pass! I'm presently happy with my rooted, Epic 4g running ICS! (CM9).

Been waiting for this phone to come out since the announcement. My wife has a busted up Evo Shift. She's already due an upgrade but I convinced her to wait so she won't waste her upgrade on a WiMax phone.

I would buy it if they release a Maxx version, as the battery is fixed. The SIM card is also fixed, but that isn't as much of an issue to me, but some may be understandably turned off by that.

This is why I never gave up on Sprint. They may not always be first but they come around.
Android Central Newsletter
Get instant access to breaking news, the hottest reviews, great deals and helpful tips
Thank you for signing up to Android Central. You will receive a verification email shortly.
There was a problem. Please refresh the page and try again.