Sprint makes it official: Gingerbread for the Epic 4G pushes today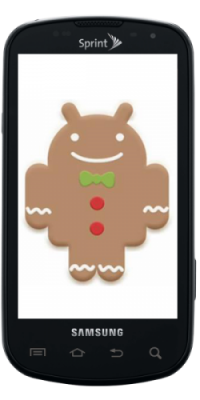 We broke the news yesterday, and today Sprint's confirmed it: Gingerbread is here for the Samsung Epic 4G. Here's the full changelog for software version EI22 (s:D700.0.5.S.EI22):
Upgrade of the Google OS from Froyo to Gingerbread (Android 2.3)
Audible Sprint AIRAVE™ notifications when answering call
SMS messages sent without area code
PRL and Profile update
EAS (Exchange Activesync) email displaying HTML
Bluetooth headset sound improvements
Fully visible date on device lock screen
Be on the lookout for the update, and we're talking all about it in our Epic 4G forums. Join in!
Source: Sprint, Sprint Epic 4G Software Updates
According to the guys over at XDA, it's 2.3.5

SO HELL HAS FROZEN OVER....But where is it.

Bought Epic last October. Was told Gingerbread would be "any day now" Never trust Samsung again. Epic 4g was a "flagship" that was finally updated after a new flagship was released. Thank you Samsung.

If you have this phone and read this blog you've probably rooted to get what you want by now. If you have this phone and don't read this blog you probably don't care about upgrades in the first place. A year later? .......really??? .........

Well, yes and no.
Average Joe won't care about it. And power users like myself, want the features of GB, but none of the roms are able to be stable enough without official source. CM7 came along nicely after Samsung dropped the source, but not 100%. MIUI is making strides right along with CM7. The rest of the roms we have for it are well done, but are subject to most of the flaws of the leaked kernels, which either crashed in low signal areas, or random reboots, battery draining radio issues. I agree a year later sucks, but for a device that shipped with 2.1 Eclair, there has never been a promise of an upgrade path. We have since gotten 2.2, and now we're getting 2.3. I would say getting two major upgrades in the lifespan of a device is more than enough. Average Joe that somehow missed the 2.2 upgrade, doesn't know what's missing, since it does what it was promised to do with it's ORIGIONAL Eclair.

I have to call Bullshit. I ran the various kernels and ROMS for a few months on GB on my Epic, and it ran pretty damn stable. I had no problems of note on it, and settled on Frozen Epic 1.2 and left it there until the day I sold it. It was just fine. Of course, given the chance to get the Epic II for $35 total outlay, I jumped at it. (Sold the Epic for $180 on CL)

Yay! Now the only decision is whether I update manually or if I wait for the OTA! Aw, who am I kidding? I'm-a do it manually!

Fascinating See what I did there?

Captivate has official GB, so what are you taking about?
Android Central Newsletter
Get the best of Android Central in in your inbox, every day!
Thank you for signing up to Android Central. You will receive a verification email shortly.
There was a problem. Please refresh the page and try again.