Sprint begins the Gingerbread rollout for the LG Optimus S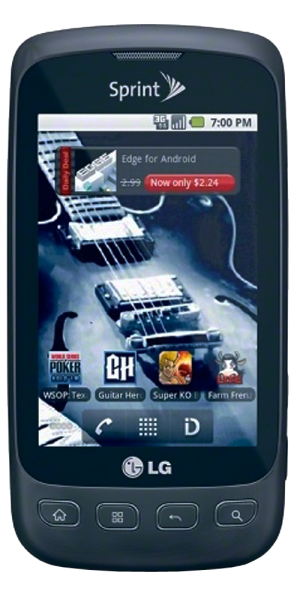 Remember the end of last month when we saw the source code for the LG Optimus S Gingerbread update appear, but no word of the update? Well the update has finally been detailed for us, and it will begin rolling out today. The update, which is slated to roll out to all users within 10 days will bring a whole bunch of improvements, such as
Volume adjustment from handset when backlight is off and in a Bluetooth call
Initiation of a 3-way call in certain markets
Updated color scheme (includes darker notification bar and black-based menus)
New on-screen keyboard (supports multi-touch input and a smart auto-correction function)
Improved cut-paste functionality
New integrated download application for ease in accessing downloaded files
Updated camera application
Power management and task killer applications
So if you own an LG Optimus S on Sprint be sure to check for the update, and if you happen to receive it let us know your thoughts in our forums!
Source: Sprint ; Thanks, Jim!
Jared started off writing about mobile phones back when BlackBerry ruled the market, and Windows Mobile was kinda cool. Now, with a family, mortgage and other responsibilities he has no choice but to look for the best deals, and he's here to share them with you.
WTF HELLO WHAT ABOUT THE Samsung EPIC

The Optimus also has a more stock version of Android, so that's probably why it did

Yes they are, it's called the Galaxy II Epic Touch 4G LMAO Cry over that bitches

Holy hell that was funny!!!!

You know sh3ts bad when the Optimus S is getting updates before the Epic lmao

Yes they are, it's called the Galaxy II Epic Touch 4G LMAO Cry over that bitches

Wow! The same answer in multiple threads! You're the coolest, douchie!

Woohoo! The Opti S is alive and well. Thanks Sprint and LG!

Damn, its crazy cuz i'm gonnna get the Epic 4g Touch, but i'm just hoping its not gonna get played like the orignial Epic. The Optimus one gets gingerbread first lol, its making me wonder. Great phone though, my sister has and glad its part of the group of gingerbreaded phones now

I hope it won't be too long before the Optimus V gets it.

yeah, that would be a nice treat for Virgin Mobile users. Was this 2.3.3 or 2.3.4?

i wonder if my phone is rooted do i have to set it back to stock. before the update hits. or leasve as is.

Probably have to go back to stock.

My Optimus just updated. It was running 2.2.2 manually rooted, and it updated no problem. Problem now is, its no longer rooted. Finding a way to root it might be a problem considering what I went through when it did the 2.2.2 update. Off to root AGAIN!

I have a LG Optimus S, and I have avoided updates like the plague. I am very excited for gingerbread, however I do not want to go back to Sprint ID and other crap from Sprint. Don't get me wrong I love Sprint as a provider but I hate their bloat ware. Bottom line on top, I just want to know how easy it will be to root the device once gingerbread is running on it. Will there be any one click root solutions? Help is appreciated. Thanks

This is EXACTLY why I dumped the Epic 4G after just 4 months. Buggy as hell when I got it, taking FOREVER to get an update, and then the Froyo update was also buggy as hell. And I'm glad I did dump it because apparently they are gonna take their sweet time again for a Gingerbread update and it will also probably be buggy as hell. Thank god for the Nexus S 4G. Damn phone runs smooth like silk, always up-to-date, and just leaps better than the Epic. I had been interested in the Epic 4G Touch, but no WAY IN HELL would I touch that thing given how Sprint and Samsung handled the original Epic. The thing could print money, butter my toast, whatever I don't care. I'm sure it will be an awesome phone too, but I just won't risk it. Hopefully the next Nexus will also be on Sprint and I'll pick it up as soon as it drops.

"Power management and task killer applications" WTH? task killers...really?

If you're rooted stay away from this update.!. Wait for the 2.3 Roms to come out.....
I mean it. Remember the Evo 4G? If you're rooted already stay rooted.

I'm interested in this!! I have Optimus S, so I can't wait to see how the new update is gonna work! =D

definatley not getting the Epic touch. Samsung will treat that phone the same way they treat the original Epic. this is ridiculous...

What do you mean? It will already have the latest version of Android at launch, plus ICS will be pretty obsolete on older phones when it launches because of all of the features it is supposed tout. BTW this article was about the Optimus S, not the Epic....

YEAY!!!!!!! will give it a few days before updating my Optimus, seeing as i already tried to update firmware and said non available, But glad that the update is out XD

Yes, keep telling us its Sprint holding up the updates and not Samsung. Glad my epic is gone, go Photon a beast of a phone out of the box.

Good work LG, smart business decisions keeping the UI close to vanilla android so that you can pump out quicker updates, I guess Samsung should have thought of that before they overlayed touchwiz on the epic 4G.

You mean the same Touchwiz that is on the European Galaxy phones that did get Gingerbread? I still believe that it is a combination fault, but ultimately I will just wait until Gingerbread is available for my Epic. As for Optimus S owners, great to hear it, glad you are getting the update soon.

Wait a week or so for the Devs here to get a hold of the update and make a rooted version. You will have to go back to stock LG recovery and remove root to update to this.

I did not have to remove root to update to the gingerbread os.

I called Sprint and asked about this Gingerbread update and they are not even able to confirm that this about to hit the Optimus...I prefer to stay rooted and wait for a custom rom!

If anyone can give me the heads up on going about rooting my Optimus S running 2.3.3 gingerbread I would be greatful. Ive tried universal androot, Z4root, and Gingerbreak 1.2 with no luck. Probably gonna have to manually root it AGAIN!

Look in the rooting roms and hacks section of the optimus s! So far the only way to root it is the "Rage" hack!

ive tried rageagainstthecage..... didnt work

Is it me that's crazy, or has this much vaunted upgrade been a disaster. Seems like in the past 3 days I have had at least 2, and maybe 3 different keyboard layouts, only ONE of which was any good, and it was the shortest lived. When I goe Gingerbread with much fanfare, it was a mess: the word matching function on entering emails and txts seemed to have replaced the idea of dictionary wiht the idea of "my address book", such that all I got by type "S.." was Smith and Souder and Samuelson, not, say, "salami" (hey, I was hungry).
On top of that, I suddenly could not charge my phone using chargers that had worked in the past. What kind of rinky-dink outfit is this, anyway.

WANT GINGERBREAD WITH ALL THAT SPRINT MESS....HERE YA GO...FOLLOW THESE 3 VIDEO'S AND YOU'LL HAVE IT ON YOUR PHONE ROOTED....ENJOY!! How To Easily Root The LG Optimus S With LS670ZVD Firmware With Gingersnap http://zlstudios.net/2011/07/how-to-easily-root-the-lg-optimus-s-with-ls... How To Install A Custom Recovery Menu On A Rooted LG Optimus S http://zlstudios.net/2011/08/how-to-install-a-custom-recovery-menu-on-a-... Installing CyanogenMod Android 2.3 Gingerbread ROM On The LG http://zlstudios.net/2011/08/installing-cyanogenmod-android-2-3-gingerbr...
Android Central Newsletter
Thank you for signing up to Android Central. You will receive a verification email shortly.
There was a problem. Please refresh the page and try again.