Spotify on mobile goes free, replaces a paywall with shuffle play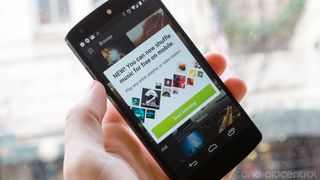 Listen to artists or playlists at random for free
With an update to its app, Spotify has dropped the paid subscription requirement for using its music service on mobile. Although a free component was previously available to desktop users, a subset of features is now available on mobile as well. What you'll find in the free version of Spotify is what it calls "shuffle play."
That basically just means "radio," and with shuffle play you'll have the option to listen to your own (and shared) playlists, or a specific artist, in random order. This brings the free offering down to parity with something like Pandora, which offers effectively endless radio for free on mobile and the desktop.
Make no mistake, the free version of Spotify is clearly set up to upsell you to the paid version of the service — and we're okay with that, if you see the value in the app and service and want more, you can expect to pay.
Source: Spotify
Android Central Newsletter
Get instant access to breaking news, the hottest reviews, great deals and helpful tips
Andrew was an Executive Editor, U.S. at Android Central between 2012 and 2020.
I've been able to listen to "radio" on my mobile phone with Spotify for months, so this article makes no sense to me.

Radio always was free.. Now you can play your OWN PLAYLIST as radio.. Songs you love, not what Spotify decide you should listen.Only thing is you can't choose what song to start, or next song.. But it's great! Of course you need to have or make a playlist with your favorite songs (You can make it in Online spotify player or Dectop client "for the people who don't know spotify) :-))) This is the difference :-)

ok for a guy that wants a free service with genre stations (top 40/hip hop random songs) - and only streams about 1 hour/day max - what is better? Pandora or Spotify? or Other? currently i use free Pandora and it's great.

I've been an avid Pandora listener. Downloaded Spotify last week. To me they are VERY similar apart from the fact Spotify has less ads in between songs... or am I hearing things? ;-) Posted via Nexus 7 (2013)

ok i tested it out. one thing that annoys the F out of me with Spotify is that YOU CAN'T DELETE A STATION. WTF???????? they gave me an Eminem station who i absolutely despise and I CAN'T DELETE IT WTF?????????

you can get free pandora one by downloading hitbliss and watching a few ads each month (enough to pay for one month of pandora one). i just do that monthly and it doesn't take long.

I was really excited about this news and went to listen to some of my playlists. It's great but now there is a global 6 skips per hour. You used to be able to load different radio stations and get 6 skips per station. This is not the case anymore. You can get around this by closing and reopening the application.
Android Central Newsletter
Get instant access to breaking news, the hottest reviews, great deals and helpful tips
Thank you for signing up to Android Central. You will receive a verification email shortly.
There was a problem. Please refresh the page and try again.