Speck's CandyShell Grip case for the Nexus 5X could be better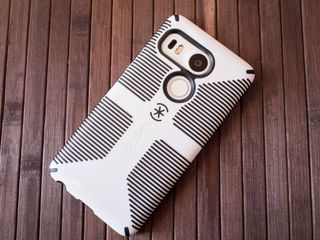 Hard cases are hit-or-miss if you want to avoid bulk and still keep your phone protected, and with the new Nexus phones there's the added challenge of making sure the fingerprint sensor on the back is accessible while keeping everything safe. If you feel the need to put your Nexus 5X in a case you're likely going to have to do some homework. Speck has an offering available in the Google Store right now, but it may not be exactly what you're looking for.
Lets take a look.
For the most part, if you've used one Speck CandyShell Grip case you've used them all. The glossy, rigid plastic accented by grippy rubber makes for a nice feel most of the time, and it truly feels like whatever phone you have put in the case will survive a nasty fall. Speck cases also tend to look nice, matching the colors of whatever phone youa re using or just being good at being bright and loud so you don't have to worry about losing the phone somewhere. The Nexus 5X variant of this design isn't terribly different, and in this one case that can be an issue.
Speck's glossy exterior is noticeably more slippery than the matte soft touch finish on the Nexus 5X, and the one place on the sides of the phone where there aren't little rubbery grips is where your fingers are most likely to want to live given the shape and size of the phone. On top of this, the case adds some noticeable bulk to the outside of the phone, so if you were only mostly happy with the size of the Nexus 5X before the case was put on you may not like the additional thickness all around the outside. On the other hand, if you drop your phone frequently you make have already accepted your fate as a case user and don't care about the added size.
Where things get a little messy is the fingerprint sensor. Speck switches from plastic to rubber for the ring around the fingerprint sensor, but does so at a fairly steep angle. You won't have any problems finding the sensor with your finger, but it's likely the sharp drop will make placing your finger right the first time so you can unlock your phone will take some getting used to.
Google's got several case offerings on their store to check out at launch, but Speck's CandyShell Grip case is the only one with a rigid casing on the outside. While $35 is reasonable for this offering if it keeps your phone safe, you probably want to be sure you'll be happy with this design before tapping that purchase button.
Buy: Speck CandyShell Grip Case (opens in new tab)
Russell is a Contributing Editor at Android Central. He's a former server admin who has been using Android since the HTC G1, and quite literally wrote the book on Android tablets. You can usually find him chasing the next tech trend, much to the pain of his wallet. Find him on Facebook and Twitter
I could be wrong, but if you just train the sensor with the case on their that might help. Posted via the Android Central App

I saw Joe Biden rocking one of these!

I'm really not digging those camera and fingerprint scanner cutouts :/ Cynicism Evolved

Speck cases are garbage. Posted via the Android Central App

My experience has been the exact opposite, the candy grips have served me well on many devices.

Hope we can get one of these articles for the cases that Google sent out with the review 6P's. Really want to see more about that microfiber backed beaut.

This was actually one of the cases that Google provided with review units, as it's actually on sale directly from Google in the Store. But yes, we also got one of the fuzzy-backed ones. You'll see a write-up on that one here soon, too.

What an ugly, ugly case. It looks durable though.

Wow that looks so ugly on such a beautiful phone !!! Such a shame

Hands down my favorite case, I have the white one for my 920, 1020, iPhone 5C, iPhone 6 and HTC One M7. Wish I had one for my Nexus 5, glad to hear I'll be able to grab one for my upcoming 5X

If u wanna go cheap but reliable, get a supcase. If u wanna spend a little more I'd go with a ballistic. I had an otterbox a while ago and imo it wasn't worth the money so I'd never recommend them Posted via the Android Central App

Otterbox is ridiculously expensive, but the quality surpasses any other case i've ever used. But they do add tremendous bulk. Even the Commuter.

Dunno if I could disagree with a review more. I have a Note 4 and use this case for it. I have a phone mount I bought from Walmart to use on my Catrike. One day, while going over 45mph on a steep and bumpy downhill road, the phone flew out of the mount. It tumbled about 100' and came to a stop in a patch of gravel. When I finally found the phone, it and the case were completely unscathed, and I mean they had ZERO damage. I must add that the screen has one of those $40 tempered glass screen protectors, which I bought at an AT&T store. Perhaps overkill, but it too, was undamaged. As for the "added bulk"of the case, well, I don't know what the reviewer was smoking because it is negligible. The rubber strips not only provide extra grip for the hand, but also prevents the phone from sliding around when it's sitting on the hard plastics in my car. I'm only sad that the cases don't come in more colors as I'm not really fond of the white that I ended up getting (I wanted something that stood out and only had white and black to choose from). 9/10, the only ding is from Jack if color choices, unless you like gay colors.

Probably everything and anything could be better to some extent but nitpicking.... I have absolutely no issues with this Speck Candyshell Grip case. I touch the fingerprint scanner with the tip of my right index finger and it unlocks instantly. My only complaint is the price
Why no 50% off case deal like the Project Fi 5X ordering got for Google Store 5X buyers?
Android Central Newsletter
Get the best of Android Central in in your inbox, every day!
Thank you for signing up to Android Central. You will receive a verification email shortly.
There was a problem. Please refresh the page and try again.