Special edition Galaxy Note 3 podcast today at 4PM ET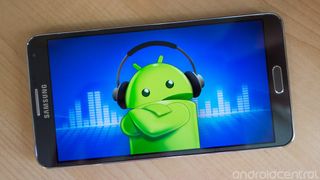 After last night's LG G2 podcast, we're switching things up a bit for our regular Friday podcast, and this week it's going to be all about the Samsung Galaxy Note 3. I've got the European Galaxy Note 3 in-hand, and I'll be joined by Jerry and Andrew for an hour of Note 3 discussions, questions and opinions.
We'll kick things off today, Friday, Sept. 27, at the usual time of 4PM EDT — that's 1PM PDT or 9PM BST. We'll be talking all about the hardware, software, build quality, that crazy 4K video camera and the recent houpla over region-locking. But we need your questions, too! And we'll be doing a live Q&A through Google+ as the podcast goes out, but if you want to email your Note 3 questions in, then tips@androidcentral.com is the place to send 'em.
And if you've not seen it already, our video walkthrough of the Galaxy Note 3 is a great place to get started. We'll see you later today for the podcast!
Alex was with Android Central for over a decade, producing written and video content for the site, and served as global Executive Editor from 2016 to 2022.
Plain and simple nothing beats Samsung or the Galaxy Note product line of devices period. October 2nd couldn't come fast enough. Posted from my Galaxy Note 2 via Android Central App.

Hardly. If there are region locks then it is totally useless to everyone who travels regularly or even irregularly and on a budget that needs a phone.

They are not Posted via the Amazing Android Central App on my Nexus 10

Squiddy20 Don't bother replying you ain't buying anyway. This handset is beyond your reach. Posted from my Galaxy Note 2 via Android Central App.

What a joke of a reply. Beyond my reach? How the heck would you know? You don't even know my real name, let alone my monetary standing. The reason I'm not buying this thing is because I don't have a need (or want) for something so obscenely large. If I want a large screened device, I have my laptop, which is almost as portable. What a retard.

Please my friend mark down a easy 15 to 20 million for the Note 3. No Htc, Lg, Sony, Motorola, or Nexus device will ever sell in that ballpark. Posted from my Galaxy Note 2 via Android Central App.

True. Funny how Sammy is becoming the Apple of Android though. Quality/specs is what I'm after, not quantity. LG G2 blows away the S4 on that one. Note 3 is too big for me.

Please. In two months Samsung sold only 20 million S4's, and then a few months later, word got around that Samsung was basically in a panic mode because S4 sales suddenly dropped.
Also, Apple sold 9 million iPhones in the first 3 days. Samsung won't ever be able to top that.

In all fairness, apple sells one phone (well, two now). Android sells hundreds. Posted via the Android Central App on my Note 2

Special edition Galaxy Note 3? Posted via Galaxy SkyRocket running Android 4.3

The podcast is special not the phone... Posted via the Amazing Android Central App on my Nexus 10

Pretty comical Posted from my Galaxy Note 2 via Android Central App.

Says the same guy who seriously told me rooting was for "2plus year old devices" and then a few months later claimed to be "looking into" rooting his Galaxy Nexus for... 2 whole months... Pretty comical (and hypocritical) indeed.

As much as I was looking forward to the Note 3 to replace my OG Note, I may just wait a little longer and get the Nexus 5. Posted via the Amazing Android Central App on my Nexus 10

If the nexus 5 ever Came to Verizon I would get that in a heartbeat but until then HTC one for me Posted via Android Central App

Argh...... Another podcast while I'm at work. Oh well. I look forward to listening after I get out of work tonight. I would really like a good comparison between the N2 and the N3. A lot of us have the N2 and want to know the differences between them. I know the hardware is amazing but I'm talking about user experience. Cant wait to listen. Posted via Android Central App

I read that the Verizon version has a low dB rating based on FCC filings, that it is 10db lower than the galaxy s4. Is this something I should be worried about, as I an upgrading from a Verizon galaxy s3 primarily because I have very sporadic data issues at my work near the NYSE on wall street. I was hoping AWS would help alleviate the issues in the very foreseeable future, but this supposed weak antenna is giving me doubts.

I'm curious about this also. Posted via Android Central App

Why the hell does it cost so much more? Posted via Android Central App

My situation: 1. I've never used Android - always iOS (iPhone 4 is my phone)
2. I want a bigger screen and like the stylus option in the Note 3 Questions: 1. What is likely to annoy me about Andriod coming from iOS? More of a generic question
2. How does the Note 3 feel in your front pocket (dress pants)? Can you sit down without it jabbing you in the gut?
3. What methods do people use to carry their Note 3 due to the size?
3. Is the S-pen that hard to remove? I keep seeing reference to that.
4. Can any of the Samsung or ATT software be removed if I want?

1. Maybe the wait for updates. 2. I work at a bank and wear dress pants and its not that bad. I can sit down with it, walk around without a problem. 3. I have always carried the note 2 in my pocket, of course i dont wear skinny jeans, but i have got used to putting it in my back pocket, 3. is s-pen is not hard to remove, ive never had a problem in that part. 5. yes it can by rooting,
Android Central Newsletter
Get the best of Android Central in in your inbox, every day!
Thank you for signing up to Android Central. You will receive a verification email shortly.
There was a problem. Please refresh the page and try again.