Sorry, Verizon users: Bixby is even more crippled on the Galaxy S8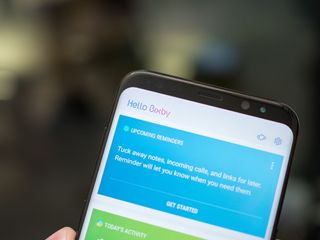 We're all a little bummed about Bixby. Samsung's version of its virtual assistant isn't everything we'd hoped it would be, especially from a company as big and as established as one of the world's major smartphone manufacturers. And to make matters worse, Verizon users won't be able to use half of the one part of Bixby that works — Bixby Vision.
Bixby Vision lets you snap photos of things and retrieve relevant images or shopping links. The latter is particularly useful when you're at a brick and mortar store, for instance, and you're looking for a deal online. Bixby Vision lets you find those items on Amazon with the simple snap of a photo, but not so with the Verizon variant of the Galaxy S8 or S8+. According to CNET — and later verified on the AC staff's Verizon version of the Galaxy S8+ — Bixby Vision can snap a photo and look for images, but it won't offer shopping links on Amazon, nor does it offer the option.
Verizon had told The Verge that in the meantime, people can use "the existing Amazon app on your Samsung Galaxy S8 for the same photo and shopping experience." Sure, you can still search for things on Amazon by simply launch the Amazon app and typing them in yourself, but it's odd that one of the few successful functions Bixby is supposed to perform is crippled by one of the U.S.'s largest carriers.
For now, all that Bixby does on the Verizon variant of the Galaxy S8 and S8+ is launch the Bixby feed and show you related images on Pinterest.
Get the Android Central Newsletter
Instant access to breaking news, the hottest reviews, great deals and helpful tips.
Florence Ion was formerly an editor and columnist at Android Central. She writes about Android-powered devices of all types and explores their usefulness in her everyday life. You can follow her on Twitter or watch her Tuesday nights on All About Android.