Sony Xperia TX is reportedly the final name for flagship LT29i phone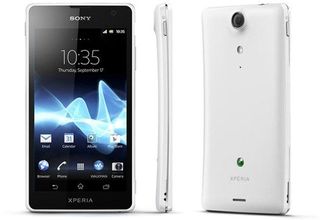 There's been no shortage of leaked information about Sony's upcoming international flagship, the LT29i (also known by its codename 'Hayabusa'), but one aspect that's remained shrouded in mystery has been the name of the device. That mystery may finally be solved today, however. According to "trusted" sources for XperiaBlog​ the phone, which is a dead ringer for the Japanese Xperia GX, will come to market under the name 'Sony Xperia TX.' The TX name fits into Sony's new letter-based naming scheme, and would clearly position the phone as superior to its mid-range equivalent, the Xperia T (LT30p).
According to the abundance of info that's already leaked out, the phone has a 4.6-inch 720p display, a dual-core Snapdragon S4 CPU, 1GB of RAM and a 13MP rear camera, along with on-screen buttons and Android 4.0.4 Ice Cream Sandwich. Design-wise, it's the spiritual successor to last year's Xperia Arc.
The LT29i, or Xperia TX, is expected to appear alongside the Xperia T and Xperia Tablet at Sony's IFA press conference in Berlin on Aug. 29. We'll be there to bring you live coverage of all the day's Android news.
Source: XperiaBlog
Android Central Newsletter
Get instant access to breaking news, the hottest reviews, great deals and helpful tips
Alex was with Android Central for over a decade, producing written and video content for the site, and served as global Executive Editor from 2016 to 2022.
Which carriers? I wonder if any Sony phones will ever hit Sprint...

I wouldn't hold you breath. Sony's not big on CDMA carriers.

Let's hope they get this one pushed out in a timely manner this time around, Sony don't want to be too much more behind the competition again, though this is one very nice looking device.

could not agree more. Have you had a Sony cell before? How are the radios and signal strenght in it ?

And, when they throw CDMA carriers a bone, they're more restrictive (see the Xperia PLAY having a locked bootloader).

That's Verizon's deal, not Sony's. VZW has a history of non-unlockable bootloaders. See their Galaxy S III for proof that it's Verizon's call, not that of the OEM. Yet I agree with the point that Sony isn't big on CDMA. It's big here in the US mainly because of Verizon, but pretty much the rest of the world uses GSM, and worldwide is where the money is. Unless you're Samsung, it's easier to make a single phone for the entire world than 7 different devices to covert every carrier (or 5, if you don't count frequency differences).

True, but as they grow maybe they'll want more market share.

Likely not...this particular device is an international phone ("I" for international)

Very nice looking device. Very sleek!

Very nice looking device. Very sleek!

13 MP?! This is interesting.

Remember, the number of pixels isn't everything ...

it is true but Sony had a history of putting good lenz unlike Motorola .

Not bad.Reminds me too much of the One X. Sony should have just upgraded the internal hardware of the ARC series,which IMO is still the Android to beat in terms of symmetry of design.

There's just something about that SONY logo on a device just looks so attractive. They may not be the market leader in some areas of business but their brand still resonates with me in a positive way even to this day. I would love to own this phone. Has some very solid specs and the design looks really sweet too!

The name Hayabusa is mostly associated with a motorbike. This overpowered monster uses very special and expensive rear tyre that tends to ripped to shreds by the average Hayabusa rider in about 1000 miles. The bike is often called the "high abuser" for this reason. I wonder if this phone is equally overpowered and self destructive. Why no freaking Jelly Bean? At least launch these high end phones with up to date software!

That's the one thing Sony disappoints me with....

And how is this positioned against Xperia S? Is this a flagship in general or will we see Xperia S successor also in a while?

On-screen buttons!! Loving that, Android phones should use that concept on all of them, it's a lot better, and they should patent it. It makes the screen look bigger and better. No silly hardware keys to worry about, the one reason I love my Galaxy Nexus.
That aside, if the dev community can unlock the bootloader when this phone arrives, I may consider it over the Galaxy Note 2.

If this had real buttons like the Xperia Arc i would by it. I am not reaching to the top power button everytime i want to turn my phone on. I want to tap home, and unlock. and i dont want to have to look at the screen to press the home button
i dont want to have to loo at the screen when pressing back
i dont want to have to look at the screen when pressing the menu button.

The curvature is the wrong way lol

Sony just come out with a Nexus/pure android phone.
Android Central Newsletter
Get instant access to breaking news, the hottest reviews, great deals and helpful tips
Thank you for signing up to Android Central. You will receive a verification email shortly.
There was a problem. Please refresh the page and try again.