Sony Ericsson Xperia Ray review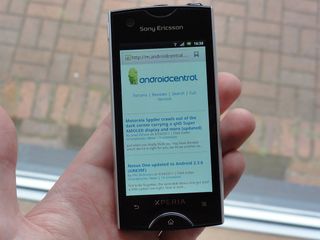 The past year has seen Sony Ericsson releasing a slew of Android phones to fit just about every conceivable niche. First to arrive was the Xperia Arc, a great all-rounder with a striking, slim design. Since then we've seen the same basic hardware powering a range of SE devices in a host of different form factors, including the gaming-focused Xperia Play, and the cheap and cheerful Xperia Neo.
The Xperia Ray continues this trend, bringing the tried-and-true combination of a 1GHz Snapdragon CPU, 512MB RAM and Android 2.3 Gingerbread to more compact device. With a screen measuring just 3.3 inches, the Ray may be small, but it packs the same performance as its larger siblings. So how does a tiny phone like the Xperia Ray stack up against competition from larger Androids? Join us after the jump to find out.
Swipe to scroll horizontally

Small, light and powerful with a high-resolution display. A small form factor phone that doesn't compromise on specs.

Could be too small for some users, the 3.3-inch screen isn't ideal for text entry or video content.

Row 1 - Cell 0



It's the best 3.3-inch Android smartphone you can buy. The Ray is just as capable as the Arc and Neo, despite its small size. If you're after a smaller smartphone, this is a device that's worth your consideration.
Swipe to scroll horizontally
Initial Hands-on Video
Read our first impressions of the Xperia Ray
Hardware
Compared to the larger Xperia Arc with its sweeping curved back and shiny silver-colored trim, the Xperia Ray is an unassuming beast. It's small, slim and lightweight, so it wouldn't be fair to describe it as a "black slab" like so many other smartphones. But its chassis is (more or less) black and rectangular, and its front panel blends in seamlessly into the screen when it's turned off. The back of the battery cover is curved, which allows the phone to sit comfortably in the hand. Our review unit had a glossy white back, though it's also available in glossy gold and pink, as well as matte black.
As is the standard for Sony Ericsson phones, you get three buttons, though they're arranged a little differently to what you might expect. The home button is of the physical, clicky variety, while back and menu are capacitive. We would've preferred all capacitive or all physical buttons, but this isn't a deal-breaker, and is pretty easy to adjust to. There's a curved metallic trim around the top of the home button which doubles as notification LED and charging indicator, glowing white when the phone is in use, orange when it's charging and flashing green when there's a new notification waiting. As well as being a really neat design choice, this also makes notifications almost impossible to miss, which is (mostly) a good thing.
Up top, next to the earpiece, is the Xperia Ray's VGA front-facing camera. As the Ray ships with Android 2.3.3, you won't be able to use this to make video calls through Google Talk, but an update to version 2.3.4 is expected imminently, which should swiftly remedy this. The power button and volume rocker sit on the top and right edge of the device respectively, and thanks to the small chassis size we had no trouble reaching either. As far as ports are concerned, there's a standard headphone jack on the top right corner, and a micro-USB port on the left side.
Unlike the Arc and the Neo, there's no dedicated HDMI port on the Xperia Ray. Some may be disappointed by this, but there's always the option to stream content to your TV, or a games console, over DLNA instead.
Around the back of the phone is the 8-megapixel Exmor-R camera with LED flash. This is the same camera setup that we fell in love with on the Arc, and it's just as good on the Ray, as we'll discuss later in the review.
The Ray's screen may be small, but it runs at the same resolution as larger SE phones like the Arc, and on a 3.3-inch panel, 854x480 resolution affords you an impressive amount of pixel density. Everything on-screen is sharp and clear, thanks to the combination of the display resolution and the zero-air gap feature. What this means is there's no gap between the LCD and front face of the phone. Tilt your average smartphone to one side and you'll notice a small offset between the glass front and LCD -- not so on the Ray. Sony's Mobile Bravia Engine is included too, to help out with contrast enhancement and improve color quality in photos and videos. As we've commented in earlier Xperia reviews, the difference isn't huge, but it's definitely there.
Most Android smartphones we deal with these days are of the 4-inch and above variety, and we have to admit that going back to a featurephone-sized device like the Ray was a little disconcerting at first. In particular, web browsing and text entry aren't quite as effortless on a 3.3-inch phone compared to competing 4.3-inchers. That's not to say using the Ray is horrible, it just demands a little more precision and care.
Internally, the Ray sports specs almost identical to the rest of the 2011 Xperia line-up. There's a 1GHz single-core Snapdragon CPU, 512MB of RAM and 420MB of app storage. The phone's app space is still a little on the anaemic side, but at least it's an improvement over the 300 or so megabytes offered by the Arc and Neo. And in an Android landscape dominated by dual-core chips, a 1GHz CPU isn't going to set the world alight. But at the same time, it's more than sufficiently nippy to handle Android 2.3 Gingerbread and Sony Ericsson's Xperia UI.
The Ray also includes a rear microphone for noise cancelling, a feature we always like to see. And as you'd expect, this meant we didn't experience any issues with voice calls. Everything was clear, and the rear mic seemed to do a decent job of filtering out undesirable background noise like dubstep passing traffic.
All in all, we like the Ray's design -- it's simple, but it works, and the uncluttered front gives the phone a clean, professional look. Our only complaint is that despite its much-hyped aluminum frame, the Ray still feels just as plasticky as the Xperia Arc and Xperia Neo, and the glossy back cover of our review unit quickly became something of a fingerprint magnet. We'd love to see a full aluminum chassis combined with a zero-air gap display, and we hope future SE phones begin to move in this direction.
Software
The Xperia Ray runs Sony Ericsson's Xperia UI on top of Android 2.3.3 Gingerbread. As we mentioned, an update to 2.3.4 is expected very soon, and may well be available by the time you read this review.
We've come to expect smooth performance from the UI, and that's exactly what's delivered on the Ray. There's absolutely no lag in the homescreen launcher, no matter how many widgets you load it up with.
It's worth re-stating how well the Xperia UI fits together. So many manufacturer-skinned Android UIs feel like a random assortment of widgets apps and features thrown on top of the OS, whereas Sony Ericsson's gels into a coherent whole. Simple things like consistency of visual styles for buttons and UI elements make a big difference in a device you use every day. At the same time, the Xperia UI isn't a million miles away from stock Android. The browser and gallery apps are mostly stock, and despite some visual changes, so are the messaging and dialer apps.
One neat new introduction in the latest version of the Xperia UI is the ability to choose between a seven themes for the UI. These allow a little more customization over the colors that are used in the background of the UI, as well as the homescreen wallpaper. A small touch, but a welcome one.
Timescape, the Rolodex-style app for displaying texts, calls and social networking information, has also continued to grow. The latest Xperia UI software adds a Timescape extension search app that takes you straight to the relevant section in the Android Market, allowing you to download Timescape add-ons for everything from Foursquare to Picasa. We found our Timescape feed often got a bit cluttered and out-of-control, but with selective pruning it can be a pretty useful way to aggregate all kinds of messages and updates into a single location.
Despite the lack of HDMI connectivity, the Xperia Ray still offers a pretty impressive multimedia package. There's DLNA-powered media streaming, which works well over fast Wifi networks, along with Sony's new Music Unlimited and Video Unlimited services (previously known as Qriocity). These work similarly to HTC Watch, however due to Sony being a much bigger player in the entertainment world than HTC, Video Unlimited offers a much wider selection of content. Movies can be purchased or rented, though unfortunately prices are generally a bit on the steep side. Maybe we're just old and bitter, but we don't think anyone's going to pay £8.99 for a digital copy of Alvin and the Chipmunks: The Squeakquel. If you do decide to splash out on this or any other title, though, you'll be able to take advantage of the Ray's Mobile Bravia Engine tech, which kicks in when viewing photo and video content.
Sony Ericsson's "Facebook Inside Xperia" software is also pre-loaded on the Ray, bringing social networking integration into a range of system apps, including the messenger, contacts, gallery and music player. For example, friends' status updates and pictures can be seamlessly streamed into their entries in the contacts app. Likewise, the stock gallery app automatically pulls in your albums and tagged photos from Facebook, and there's also a "Like" button in the music app, so you're just a tap away from revealing your embarrassing musical tastes to the world.
If you're big on Facebook, then the fact that social data like this is "just there" right after logging in should be extremely useful. If you're not, then for the most part it's easily ignored.
The Xperia UI has grown considerably in a relatively short space of time, adding new features (and OS updates) along the way, while managing to remain relatively bloat-free. Hopefully this is a balance Sony Ericsson is able to maintain in the months ahead.
Battery Life
Sony Ericsson hasn't skimped on battery capacity, despite the Xperia Ray's diminutive size. The stock battery is a 1500 mAh unit, just like other current Xperia phones.
Battery life is difficult to judge on any device, due to the countless variables that can affect how much juice a smartphone sucks down. We feel comfortable saying that the Ray's battery life was on par with that of the Xperia Neo, though -- a full day's use, and plenty to spare, so long as you're not constantly streaming or recording HD video.
Camera
We found camera performance on the Xperia Ray to be identical to other SE phones equipped with the 8-megapixel Exmor R sensor. The Ray produced great-looking still shots in daylight, but it really shines in its low-light performance. The backside-illuminated sensor kicks in in poorly-lit areas, producing impressively clear shots in all but the very darkest of conditions.
And if you're the adventurous type, you'll find a host of customization options in the camera app once you take it off "auto scene detection" mode. In particular, tap-to-focus mode helped us capture some impressive macro shots. Our one small grumble with stills produced by the SE camera app remains, though -- there's an awful lot of noise reduction going on, and this sometimes results in some sharpness and clarity being lost.
The Ray's rear camera can also shoot video up to 720p resolution, with similarly stellar low-light performance. Even when recording video in low light, the frame rate still maintains itself at 29-30 fps, as you'll see in our sample videos below.
Finally, there's a front-facing camera in there too, as we mentioned earlier -- a basic VGA offering that's nothing to write home about, but just fine for checking your hair or making the occasional video call.
YouTube link for mobile viewing
YouTube link for mobile viewing
Hackability
Earlier this year Sony Ericsson began offering bootloader unlocking on all 2011 Xperia phones not purchased through a carrier. And in late September the manufacturer came out in support of independent developers, even going as far as providing CyanogenMod and FreeXperia developers with devices and technical support. The result is that the Xperia Ray is slated to receive full CyanogenMod support in the future, starting with version 7.1 of the popular custom firmware. So while it's still a new device, you're guaranteed at least one first-class custom ROM for your Xperia Ray if you fancy a change from the Xperia UI.
If you're into rooting and hacking (and understand the risks), then Sony Ericsson is just fine with you tinkering around with hardware for which you've paid the full retail price. And that makes us all warm and fuzzy inside.
Wrap-up
The Xperia Ray is currently the only small-form-factor Android smartphone that doesn't compromise on specs to cram everything into an easily pocketable chassis. Fundamentally, the tech inside the Ray is identical to what's included in the Xperia Arc, right down to the software. If you've read our review of the Arc, you'll realize that's a good thing.
The disadvantages of the smaller screen become apparent when you're tapping away on the virtual keyboard, or watching full-screen videos. If you plan on doing a lot of either, you may be happier with one of the many 4-inch and above Androids currently on the market. If you like what you've seen of the Ray, but want a bigger screen, then maybe consider the Xperia Arc instead.
So here's our final recommendation, and it's one that should probably apply to any major tech purchase anyway. Try out the Ray before you part with your cash, and make sure you're happy with the size of the device and the amount of screen real-estate on offer. If you decide that 3.2-to-3.3-inch form factor is what you're after in an Android smartphone, then right now it doesn't get any better than the Xperia Ray.
Availability
The Xperia Ray is available at retail for £299 in the UK. It's also available for free on-contract from O2 and Vodafone, on 24-month contracts starting at around £20 per month. Three UK expects to launch the Xperia Ray before the end of October.
Sign up for Black Friday email alerts!
Get the hottest deals available in your inbox plus news, reviews, opinion, analysis and more from the Android Central team.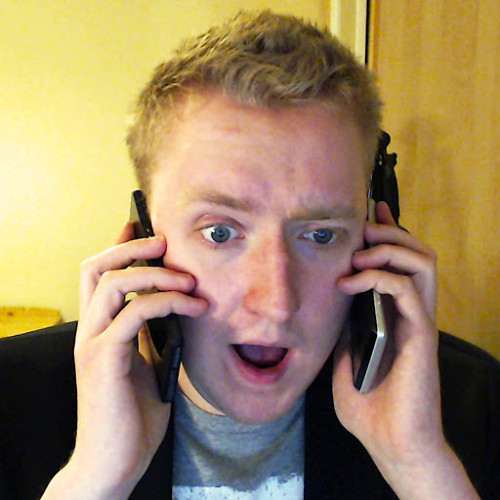 Alex was with Android Central for over a decade, producing written and video content for the site, and served as global Executive Editor from 2016 to 2022.