Sonos speaker update dismantles the bridge in favor of Wi-Fi connectivity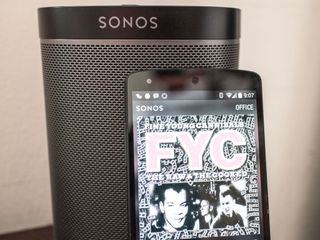 Sonos has today announced a substantial software update (version 5.1), which will allow consumers to run existing hardware from the company directly through Wi-Fi. This negates the requirement to have everything wired up to a router or even a Sonos Bridge. Simply connect the speakers to a wireless network and you're good to go.
With competing tech giants attempting to wrestle in and tackle Sonos, the company has made it a breeze for anyone who wants to create a wireless home speaker system to get started. Want another speaker in the bedroom? No worries; purchase another Sonos system and connect to the Wi-Fi network. Now hit 'play'.
The new firmware will handle everything technical to ensure owners don't have to put up with echoing, delays or even dropouts (though this will also depend on the signal strength and capacity of the home network). While everything should work over a wireless connection, it's not always the case (just take wireless network adapters as a solid example). Wiring speakers up to the network will better protect the experience from the above issues.
Also, it's worth noting that the Sonos 3.1 and 5.1 home theater setups still require a wired connection, while the standalone PLAYBAR does not. If you already rock a Sonos Bridge and have everything connected and working perfectly, there's no need to change anything. For those who require stronger signal coverage, Sonos will be releasing the Sonos Boost for $99 later this year. More details are expected in the coming months.
Have you updated and connected via Wi-Fi? Let us know your impressions below.
Source: Sonos (opens in new tab)
Get the Android Central Newsletter
Instant access to breaking news, the hottest reviews, great deals and helpful tips.
It would be cool if you can do ceiling speakers and intercom too.

They can use a standard 1/4 " mount so you could use any vendor's standard mount to mount them on the wall or ceiling. This may not be as visually appealing as a ceiling speaker, but it may sound better.

while not an intercom, I do have a couple of SONOS Connect:amp units, one of the drives a set of outdoor speakers hidden on the patio. and a second one drives a pair of in ceiling speakers in the kitchen, and a pair of in ceiling speakers in the dining room/hallway right next to the kitchen. I will plan on getting a third Connect:amp to drive my already existing in ceiling speakers for my rear channels of my home theater system once I replace my receiver with a playbar and sub. both (and soon to be all three) of the units are in a closet upstairs above all the rooms.

I wonder how aware Sonos is that the latest Plex Media Server update already lists the Sonos components as Chromecast devices. This could make things worse.

Sonos has been the best cross platform investment I have made. I purchased sonos at launch and have moved a couple times since. Sonos has made each move and worked with every device I have owned along the way. Well worth the price!

this is in direct response to the new Denon system. Smart move on the part of Sonos!

I have a Bose Soundtouch 20 that does this. Although it is more limited in music service(pandora) lol. It does preset internet radio stations though. Sad part it supports AirPlay so only way I can stream Google All Access is to use my iPad mini. Does the Sonos support Googla All Access?

Absolutely. And the best thing they did. Great app is macronos. Perfect integration Posted via the Android Central App

Yes, as of April. http://www.androidcentral.com/android-users-can-now-stream-directly-sono...

Good to know. I'll probably wait till the holidays. But if not supported by then, Bose will not be an option going forward. Posted via Android Central App

In a few more words, not only does Sonos support Google All Access, as takpro says, it also supports Songza, which was recently bought by Google. Sonos has some competitors now, but they are still the ones to beat, not only because of the quality of their components, but their excellent customer service. For me, it was a great investment.

Having their own mesh network was always touted as one of their big advantage over the competition, kinda funny to see them reverse course on this... Though it only makes sense, will probably still cause them headaches when people with sub par Wi-Fi coverage start calling support tho. I've always been curious to try Sonos but needing a hub wasn't my big stumbling block, rather the cost of their Connect module held me back... A box with Wi-Fi and a cheap DAC and a few other components shouldn't run $300, the Connect Amp is even more of a ripoff given what a decent T-amp costs (or even something like an Emotiva mini). I've already got three sets of passive bookshelf speakers + amp (bedroom, family room, and office) that blow away any of their speaker modules (they were all cheaper too, including amps, budget Infinity/Pioneer stuff)... Would love to be able to control them all simultaneously and maybe add a couple more, but not at $300 a pop. Outside of the home theater I paid less than $350 for each of other setups (which again, would still blow away any Sonos speaker), it'd make little sense to spend just as much merely on connectivity for EACH. It's just not worth $1,000 just to be able to play the same music across all three (or more), even if I had a larger family. Put out a Connect module for $100 or less tho and I'm in for four right off the bat.

Wow, I didn't even realize how much of a rip the Connect Amp was... It's $150 more than the standard Connect yet it's only got a class D amp in it. You can literally get an amp of comparable quality for $25-70, yet it's a $150 premium ($500) over the basic Connect, ugh. Again, for an appropriate cost, the Connect modules would fly off the shelves (there's absolutely no reason those things should cost more than a router)... At $300+ a pop it's just not worth it for the occasional instance where those in the family room wanna listen to the same thing as those in the bedroom or office. Sure it'd be cool to walk around my house and hear the same music everywhere, or throw a party and have an extra pair of speakers the kitchen playing the same thing as the set I took to backyard; but the cost just doesn't make sense (and it's not that I can't afford it). They're way to focused on milking people with the Play modules, which admittedly are easier to set up, but they're going for the uneducated mass market with a premium product while ignoring enthusiasts, bleh. Edit: Reading WireCutter's article on Sonos (was looking for recent alternatives) it looks like I'm not alone, they also agree the Connect units are twice as expensive as they should be, at least. Problem is everyone is imitating Sonos rather than trying to bring something different to market. The Chromecast API would be perfect for a high quality low cost solution, Beep looks interesting too.