Smartphones have really changed the way I fly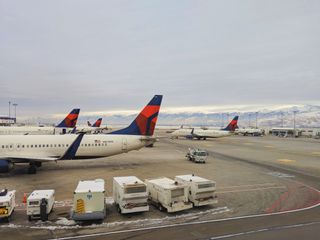 I may not fly as much as some of my colleagues — in fact, I don't even have status with my preferred airline yet — but I still travel quite a bit. I just got back yesterday from a week in Anaheim for the NAMM Show, and before I even have time to fully unpack, I'm heading down to Florida for Mobile Nations' company gathering tomorrow. Add to that my upcoming flight to Barcelona for MWC, and … well, yeah, you get the point.
Something I've noticed lately is how much easier flying has gotten over the years as smartphones continue to get more powerful and convenient. I don't need to print out my boarding pass, and I can check into my flight long before I ever arrive at the airport. Speaking of, let's not forget actually getting to and from the airport. With garage parking being so expensive (IND charges $20 a day, other airports charge even more), it usually makes more sense to just call a Lyft or Uber.
More specifically, though, phones make flying much easier when things go wrong. At the start of my trip last week, we were supposed to connect through Denver, but after an hour or so of sitting idly on the plane, the pilot announced that the Denver International Airport was delaying/canceling all flights.
Sure enough, my airline app buzzed on my phone to let me know that my flight had been canceled, and it had automatically re-booked me, along with the rest of the people I was traveling with, onto a flight into Salt Lake City leaving 45 minutes later at the next gate over. We de-boarded the plane, walked up to the attendant at the next gate, and stepped onto our new flight. Beautiful.
Once we got through our connecting flight and eventually landed in Orange County, there was one other issue. I'm always against checking bags when it's avoidable, but my suitcase is meant for two people and ended up being way too big for the overhead bins. Big surprise, it didn't make it to the John Wayne Airport with me, never having been offloaded to my re-booked SLC flight.
Delayed luggage is always frustrating, but the airline staff assured me that it would be delivered to our Airbnb (yep, booked that from my phone too) later that evening, and we had packed any essentials in our carry-on bags, so I wasn't too broken up about it. My trusty airline app kept me updated throughout the day with the status and location of my luggage, and the airline even messaged us through Twitter DMs to make sure I knew exactly where my things were.
None of this is particularly new, but it's astonishing nonetheless. From booking my original flights to re-booking after a sudden cancelation, tracking my luggage, and planning out an entire vacation, I never had to do so much as open my laptop or make a phone call. I manage all of my trips almost entirely from my phone, and if you ask me, that's pretty amazing.
Hayato was a product reviewer and video editor for Android Central.
And yet, the actual "flying" part...getting on the plane and traveling...has gotten worse, made bearable ONLY by the tech advances you write about.

Reading this while stuck on the tarmac at YYC as we await the pilot. Over an hour behind schedule.

Smart phones have really revolutionized the way we travel. While I haven't had the same travel experience as I have yet to fly with mine (I don't travel much), this past November I did drive from Texas to New Mexico, to Colorado and back to Texas. Leaving CO late I failed to make it all the way home (Dallas) before nightfall. A long dark drive on an unfamiliar rural country highway (animals or debris that you can't see until it's on you and your car) wasn't for me so I decided to stop and spend the night. I work for one of the major hotels (Hilton, Marriott, Sheraton) and we're not allowed to just walk in and ask for the employee rate discount, we have to go through our internal website (not open to the public). I simply pulled into the parking lot of my hotel brand's limited service hotel in the small TX panhandle town, pulled out my phone and booked through the employee website right in the car in the parking lot and then walked inside to check in. Scored a $120.00 room for the employee rate of $35.00!!! Handheld tech can be really beneficial when you're on the go. Also used Google Maps for turn by turn directions between Roswell, NM to Denver, CO. You take some Farm to Market roads as there isn't a direct highway until you reach the NM/CO border. Google Maps, even in the middle of nowhere, didn't miss a beat!

My first time flying with a smartphone being in the forefront, was back when I had the old M8. It was my directions to the airport, my boarding pass, my movie theatre on the flight, my stereo in the hotel suite, and my laptop with a bluetooth keyboard and mouse during the business meetings the next day. Never ran out of juice from the 2600 mAh battery, and I gave my power bank to a girl I met :)

"I may not fly as much as some of my colleagues — in fact, I don't even have status with my preferred airline..." Maybe if you had let one of them write the article it would have been more insightful.

That wasn't as funny or witty as you think it was. Truth is, there many more infrequent travelers (<4x year) reading this there are frequent travelers. Frequent travelers really don't need an article like this, because they have their own communities that discuss things similar topics and other advantages to frequent flying. When I'm in the airport, which is quite a lot, I always feel bad for the people who are either taking their first flight or their first flight in a very long time. Many of them have no idea what's going on, where to go or what their rights as travelers are. While that isn't the purpose of this article, I don't see any problem with the premise of it in the first place. If I'm ever on a delayed or canceled flight, once I have my plans figured out I always look for the people who look like they don't know what to do next to try to point then in the right direction. More often than not, it's young, first Time travelers come and going to visit friends or family or older travelers that haven't flown since before 9/11. You didn't find enormous value in a 7-paragraph article... Big deal. Accept you lost 30sec of your day and move on with your life with the assumption that it wasn't meant for you.

I think you both missed the point. The point is that obviously someone with more experience can offer more substantive advise and viewpoints. They have gone from noob to expert and have seen it all. Just as yourself, an experienced traveler, help the inexperienced in the airport. The fact is, the article was hardly informative and would have benefitted from more examples and experiences. Something the author admittedly could not provide.

You don't have to be a frequent flyer to write the article.

It is a bit over the top :) It is more convenient but the phone was not a central piece (the ohone buzzing you about the delay didn't chabge anything etc)
Android Central Newsletter
Get the best of Android Central in in your inbox, every day!
Thank you for signing up to Android Central. You will receive a verification email shortly.
There was a problem. Please refresh the page and try again.