Smaller Android Wear smartwatches are coming soon, says Intel VP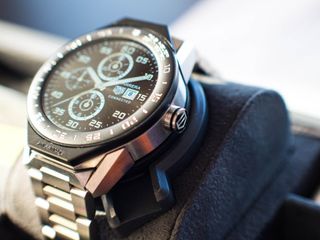 The Tag Heuer Connected Modular smartwatch is not for us plebeians. Its existence is intended for the true watch collectors who see time-keeping as its own bonafide art form. And can you blame them? Watches are mechanical works of art. As a little girl, I used to admire the edges of the hulking watches my Dad would wear; the way the leather straps seemed to waterfall from the watch lug.
That's the kind of fawning that Tag Heuer is counting on for its latest Android Wear 2.0 release — especially from the diehard watch fans. This Connected Modular employs a sort of modular form wherein you can easily swap out lugs, straps, and the chassis as you please. The idea is that if you're going to invest in a smartwatch — or any watch, really — it should suit daily, no matter the circumstance.
I managed to have a quick chat with Jerry Bautista, the Vice President of Intel's New Technology Group, at the Connected Modular launch event in San Francisco. The smartwatch runs an Intel Atom Z34XX mobile processor. Bautista didn't reveal too much, but he did tease the idea of smaller watches on the horizon, and offered a bit of conjecture into why watch fans might find themselves attracted to this particular Android Wear release.
Is modularity really what the smartwatch world needs right now?
Bautista: When you wear something, it's a statement of you, of your personality, of your style, where you're going. Modularity, with regards to different straps, lugs, and even added bling, include those elements of style.
Modularity is also important because, in the future, you can imagine that Android will change, silicon processes do change, and different kind of sensors will [arrive], and even though those elements will get smaller, this will stay the same size. This whole system works well. When new technology comes in, we fit it in here somehow.
A three-year-old watch, a three-year-old phone – it feels obsolete. And so, if I spend the kind of money that I would on this [Editor's note: Upwards of $1,600], I would not be very happy to be stuck with this forever.
Why choose a modular smartwatch when other modular-type devices have floundered?
Bautista: [This particular watch is] an heirloom type device, it's something you get for graduation or a new job. You hold it on for years. The ability to swap out the digital part with a new one is part of that.
Why is it so big? Will we ever see watches that aren't 45mm?
Bautista: I can't say too much, but there are future watches planned that are smaller in size. There are other designs planned.
-——
Are you excited for smaller Android Wear watches, and will they make you more likely to buy a new one? Let us know in the comments!
Get the Android Central Newsletter
Instant access to breaking news, the hottest reviews, great deals and helpful tips.
Florence Ion was formerly an editor and columnist at Android Central. She writes about Android-powered devices of all types and explores their usefulness in her everyday life. You can follow her on Twitter or watch her Tuesday nights on All About Android.