Should you buy a Samsung Galaxy S9 in 2021?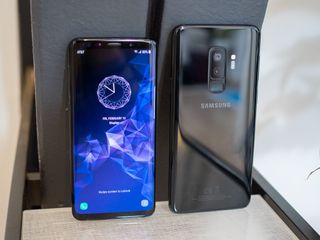 (Image credit: Android Central)
Best answer: No. The Galaxy S9 is a fine a phone and can hold its own in 2021 thanks to its solid specs, great screen, and updated software that gets you to Android 10. If you already own one, it should be fine this year, but just barely. It's getting old, and Samsung's budget flagship from 2020, Samsung Galaxy s20 FE, blows it out of the water.
Should you buy a Galaxy S9 in 2021?
Every year, Samsung refreshes its lineup of premium phones, and 2021 is no different. The Samsung Galaxy S21 series of phones is amazing in so many ways — definitely among the best Android phones available today — but those phones start with the Galaxy S21 at $800 and go up from there. So you start looking for alternatives and you find out that the Samsung Galaxy S9 is still available from Samsung.
Since being released in March 2018, discounts have brought the Galaxy S9 down to about $500. That's a whole lot less than the newest phones, so it's pretty tempting. But that's where the Samsung Galaxy S20 FE comes into play. The Samsung Galaxy S20 FE is the company's latest budget flagship from late 2020. When you compare the two, it's not even close. The Galaxy S20 FE is larger, faster, has more RAM and base storage, 5G, and a 120hz display. The biggest thing you'll be missing on the S20 FE from the Galaxy S9 is a headphone jack.
The camera is where you'll see the biggest difference and it's a huge one. The Samsung Galaxy S9 has a single dual-aperture camera lens capable of some great photos. The Samsung Galaxy S20 FE has a triple camera setup including an ultrawide and 3X telephoto lens. Overall, the camera setup on the S20 is amazing. Plus the versatility of having all three cameras takes your photography to a new level.
The Samsung Galaxy S20 FE's younger age will also software updates for longer. It has already seen the rollout for One UI 3.0. Meanwhile, the Galaxy S9 will be stuck on Android 10 forever. That's not a good place to be with Android 12 coming in 2021. Put simply, the Samsung Galaxy S20 FE makes most Samsung phones from earlier years obsolete.
So far we have only talked about other Samsung phones. Around the industry, there are so many great alternatives in the smartphone space, and they won't cost an arm and a leg.
First and foremost, we need to talk about the Pixel 4a 5G. Google's budget 5G phone from late 2020 is no slouch with a Snapdragon 765G processor, 6GB of RAM, and 128GB of base storage. But when you're talking about a Pixel phone, you need to talk about the camera. We're happy to report that the Pixel 4a 5G lives up to its legacy superbly. The dual-camera setup (wide and ultrawide) capture phenomenal photographs that match or best anything Samsung has to offer.
The Oneplus 8 is also a great option and hovers right around the same price point. OnePlus has one of our favorite skins on Android, and always offers the best performance you can look for in a phone. 2020 is the year that OnePlus pulled up to the big boys' table and sat down with the likes of Samsung, Apple, and Google with a phone every bit as great as theirs. Now, a year later you can enjoy the spoils of that war for right around the same price.
The bottom line is, the Samsung Galaxy S9 is too old to be considered in 2021. 2020 was a remarkable year because most phones introduced were quite good. As such, there are a lot of alternatives to the Galaxy S9 that are only a year old. Plus, those phones are available for around the same price as you'll find a new Galaxy S9, or less. It's a much better way to spend your money.
Newer and better
Samsung's 2020 budget flagship
For just a bit more than a Galaxy S9, you can get last year's best budget phone that beats the S9 in every way. This was Samsung's best value in 2020 hands down and it still holds up today.
A great alternative
OnePlus levels up
2020 saw OnePlus stand up and take a real crack at not just a "flagship killer" but an actual flagship. The OnePlus 8 trims a few corners compared to the OnePlus 8 Pro, but otherwise this is an impressive phone from a company whose star is still rising.
Midrange power
Pixel perfection with 5G
Google's Pixel 4a is still a favorite among our staff, but the slightly larger version with 5G added on is definitely a winner in our book. You'll get great performance with midrange specifications using Android as Google wants it to be used. The camera alone is worth the price.
Get the Android Central Newsletter
Instant access to breaking news, the hottest reviews, great deals and helpful tips.
Adam has been writing and podcasting the mobile tech space for almost a decade. When he's not writing, he hosts the Benefit of the Doud podcast, spends way too much time on Twitter, and redesigns his office space over and over.