Should you buy a Galaxy Note 8 unlocked or from a carrier?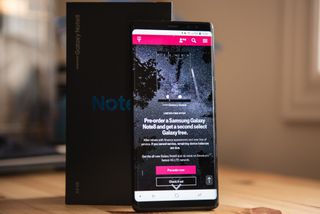 For the first time ever, Samsung will be offering its latest flagship, the Note 8, in unlocked and carrier versions from day one. That's the good news. The bad news is that it's still really difficult to decide whether to buy the phone directly from Samsung or to take advantage of the myriad deals from one of the many carriers selling the phone starting September 15.
Let's break it down.
Buying unlocked
The unlocked Note 8 is available directly from Samsung for $930, and right now only in Midnight Black. The unlocked model is compatible with all four major U.S. carriers, including the notoriously device-fickle Verizon and Sprint, and (for a limited time) it comes with a bunch of great accessories, including a Gear 360 headset and controller (the new Note 8-compatible version) and a bundle of a 256GB microSD card and convertible wireless charger. The phone itself is expensive, yes, but it comes with $400+ worth of add-ons, which is nice.
The unlocked model has a couple other advantages: it doesn't come with any carrier bloatware, even when a SIM card is installed; and it is updated directly from Samsung. While that hasn't proved to be an advantage in the past, with the S8 Samsung has proven to be much more consistent with its updates than its unlocked S7 line, which took months longer to be updated to Nougat than its carrier equivalents.
Samsung also offers a pretty great insurance policy where, for $11.99 per month, you get in-person support, a $99 deductible on all major repairs, and free phone troubleshooting for the life of your device. The first two months are free, too.
Finally, the unlocked Note 8 is available with very attractive financing rates: $38.75 per month for 24 months through Samsung's own financing partner, TD Bank, and there's no interest if the phone is paid off within two years. Samsung, at least for the foreseeable future, is also offering trade-in values of up to $300 depending on the phone, which can bring down the price of the Note 8 by a considerable margin.
See at Samsung (opens in new tab)
Reasons not to buy unlocked
There are two (and a half) reasons you'd want to hold off buying an unlocked Note 8:
You want a color that isn't Midnight Black.
You want to avail yourself of the many carrier deals that are being offered, or will be offered in the future.
(You want to take advantage of carrier-related optimizations such as VoLTE or VoWiFi, which aren't available with every carrier).
Buying from a carrier
Every U.S. carrier has a different way of selling their flagship phones, and the Note 8, being one of the most expensive devices around, is being used as a test bed for a variety of deals.
As expected, T-Mobile and Sprint are great options for leasing the phone with the goal of paying less in the long run — T-Mobile, for instance, offers a BOGO deal when signing up for a second line; Sprint is offering new customers the phone for half off when signing up for an unlimited plan.
The carriers are also offering the same great accessory bundle as Samsung itself, which isn't surprising, but some, like Verizon, are going even further, incentivizing users to buy a Gear S3 for $200 off.
The carriers, surprisingly, have been better at rolling out updates to the Galaxy S7 and S8 than Samsung itself over the past couple of years, with regular security updates and relatively fast platform updates once they're available. Though the carriers come with baggage of their own in the form of bloatware, they're (mostly) easy to disable or uninstall, and much of it doesn't affect the performance of the phone.
Most carriers offer their own trade-in and insurance plans, mainly through the same vendors, but they're not quite as generous as Samsung's.
Finally, the carriers are the only ones offering the Orchid Gray version of the Note 8 in the U.S., which isn't necessarily the nicest color, but it's a fine alternative to Midnight Black.
Where to buy the Galaxy Note 8
Reasons not to buy from a carrier
There are three reasons not to buy a Note 8 from a carrier:
You don't want to deal with bloatware.
You travel a lot and need an unlocked phone for overseas networks.
You want Samsung's Premium Care support.
Don't go to a carrier just to get financing — there are better ways
Your thoughts
If you're buying a Galaxy Note 8, where would you get one? You can, of course, buy a carrier model from Best Buy or an unlocked version from Amazon, but I've tried to keep things simple with this guide.
Android Central Newsletter
Get instant access to breaking news, the hottest reviews, great deals and helpful tips
Daniel Bader was a former Android Central Editor-in-Chief and Executive Editor for iMore and Windows Central.
"The Note 8 will be available unlocked on day one. But should you get it from Samsung directly, or go with a carrier option?" Not quite sure how to answer as I did buy mine direct from Samsung but it is the Verizon model. I bought from samsung because they are giving me $425 trade in for my s5, and also they don't charge a the $30 upgrade fee and only charge tax on $530, instead of $960 like Verizon, saving me another $30 Verizon trade in is up to $480 but they are only giving me i believe $240 for my old s5.

Exactly what I did! Save some ducks.

They gave you a $425 trade in for a three-year-old phone? Holy crap.

I think that deal is only available if you are a previous Note 7 owner.

You're correct, you have to have proof that you previously owned the Note 7, but being able to get $425 off for trading in a phone that is 1 to 3 years old is a pretty sweet deal. I'm sending back my GS5 and end up paying Sammy a $500 and change for the Note 8. I've never had an unlocked phone, so I went with that option because I figured it wouldn't be loaded with bloatware and I don't want a carrier owning my device. I spoke with a T-mobile rep and they told me that even though I didn't buy the phone through them, that they would insure it, so I may just go that route, but check with your carriers to be 100% certain. I made it clear that I know they insure people when they bring over a phone from another carrier, so why wouldn't they do that with their own customers?

make sure your phone passes all their requirements.... if not, once you send in you phone they will only give you $25! also they might not give you the full $425 if you meet all requirements. at least that is what i have read. sorry if i was a buzz kill... just trying to save you from getting screwed.

They are giving $300 for a LG G4!!! That's fantastic! My G4 is ready to go! (and my unlocked Note 8 is on order)

The promotional gifts for buying a Note 8 are either a 360 camera (not headset) OR a 128 GB memory card (not a 256 GB memory card) bundled with a wireless charger.

People are getting 256 GB cards in their deliveries instead of the advertised 128 GB

Really?! I wonder if they had stock left from last years 256 gb card freebie? I still have mine from when I got the note 7 so I plan on using that for the note 8 and I got the 360 camera instead. I may just sell it if I'm not liking the usage reviews and vids.

As far as the Samsung care plan, I don't think it covers anything but mechanical issues. I read through it quickly so I might have missed but I was looking specifically for cracked screens, lost/stolen, etc. Square Trade is also a good option.

It does cover accidental damage with a $99 deductible. No loss or theft coverage though. Square trade also has no loss or theft coverage. Carriers do offer loss and theft coverage.

I pre-ordered the note 8 from Samsung and got the financing, extras, etc. However, I chose AT&T during the process. Does that mean it'll be locked to AT&T? I thought it would, and therefore, have the benefit of VOwifi and the other things they offer, but only on locked phones. Am I correct in that assumption? Anyone know?

It would be locked and subject to the unlock policies of att. Luckily I have Verizon so mine has already factory sim unlocked. If it's like the s7/8, you should be able to flash the unlocked software or any carrier software you like, assuming that you are technically capable. This is only an educated guess though at this moment.

Thanks for your input. I wanted it to be locked to AT&T actually. I like the wifi calling because I get poor reception at work, but have access to wifi. I don't care about being locked to AT&T. I never travel and usually trade in the phone to get a new one.

U can request unlock code from att once u paid off for the phone

I bought Note 5 unlocked and I didn't get my software updates as fast as carrier branded one like the article stated. Also my unlocked Note 5 didn't get good receptions like my S8 Plus from a carrier and I use them at same places. I get faster data on S8 Plus on LTE and when I am on the phone and I need to use data

I was kicking myself for not ordering an unlocked model from Samsung(I ordered the at&t one, but remembered Samsung's slow updates for their version of the previous unlocked phones and at&t's habit locking out certain phone features...I would have gone straight to them if not for Samsung's note 7 offer..

the carriers have ben on point with the updates so far . Although Samsung has promised to do better we shall see . I got mine through them to couldn't pass up the trade in deal $426 is crazy

Best Buy is also selling the unlocked version of the Note8 and in the grey color as well as bkack.

Same interest free financing? That's key for me. I still owe $609 on my S7 Edge (Note 7 replacement). You can buy my phone for under $500 on Amazon now so I'm effectively under water :(. I can't drop $930 on a Note 8, especially when I'm still paying off my S7. BUT I could swing a second phone payment for sure.

To be honest, Samsung.com is selling the orchid gray unlocked version as well. They had fewer of them in stock initially so they could only be ordered via the "Shop Samsung" app. I ordered mine that way and received it in the color (orchid gray) that I wanted with no waiting time on the freebies.

did the same and i ordered mine(unlocked orchid grey) on the 23rd around 10pm PST and i still havn't received a shipping confirmation:( i am worried they might not have any more in stock and i wont get mine till who know when.. can you give the dates you ordered and when you received? if i dont received mine by Friday i will just buy one from Best Buy.

I have the unlocked Note 8 pre-ordrered from the Samsung site. Just switched from AT&T to T-Mobile senior plan. They told me I would get wifi calling with the unlocked version. Lack of WiFi Calling on AT&T is a big reason why I switched.
Sad that AT&T locks out HD Calling and WiFi Calling on unlocked Android devices, but allows those features on unlocked Iphones.

I thought about the unlocked but my att s8 got security updates every month .on time an if I need to exchange it I can go to any local att store . without having to send it in

I plan on getting the unlocked version from Amazon. Just sent in my s8 an got the max trade in credit for it. Not to worried about security updates as I can just flash them in Odin when they get released. Still undecided between black or gray though.

As a Verizon customer I would rather just buy the Verizon one. There only have a few unneeded apps on them, most of their apps I would download to an unlocked phone anyway because I find them useful. I get to go to a retail location for warranty needs, and the financing goes right on my phone bill so I don't have another payment to worry about. Besides unlike the rest of US carriers, every phone Verizon sells is unlocked from the day you get it. You don't need an unlock code, don't need to pay the device off in full, drop another SIM in and it works. My S7 has been on other networks, while a device payment is active on it with Verizon.

This! Only thing I would add is if you pre-order the Verizon phone through Best buy, you get an additional $150 discount from Best Buy in addition to whatever deals you get from Verizon. Did and received my phone early too :)

Does anybody know if T-Mobile will support the WiFi calling and voicemail to text or Visual voicemail features! I've heard they don't lock it up like VZW or ATT.

Important to remember that all Verizon 4G phones are unlocked. So, you're stuck with Verizon bloatware, but it will work on T-Mobile, ATT, or most pay as you go carriers

It's not $400 worth of goodies. It's either the camera or wireless charger with SD card. The camera right now is 210 on Amazon and wireless charger plus SD card is worth $180

In Canada, all carriers are required by law to provide phones unlocked on and after December 1, 2017. Also you can request your existing phone be unlocked without fee on December 1, 2017. So for us Canadians, we can just wait. http://crtc.gc.ca/eng/phone/mobile/change.htm

How is Samsung doing with updates for Unlocked S8?? I remember the S7E Unlocked had No/Very Slow updates. Did they get better with the S8? I know when T-Mobile pushed out the Status Bar Feature Update, ATT/Verizon took a couple weeks or month...how long did it take for the Unlocked?

Updates on the unlocked S8/S8 plus have been monthly since it's release, usually right toward the end of the month.

The part about VoLTE not working on unlocked phones isn't entirely correct as it works for some of us on unlocked phones. I have the Samsung Galaxy S8+ Unlocked and VoLTE works and shows up for me in my menu settings. Might be due to the fact that I had it enabled on my last phone and just swapped the sim card to the new one. But VoLTE def. works on my Unlocked S8+

I was seriously considering purchasing the unlocked Note 8 model, however went with the Tmobile carrier version from Samsung and used the Note 7 deal. So today I had my phone for a few days now, I call Tmobile and sadly like expected I am being given the run around being told that Samsung must unlock my paid for carrier Note 8. Will just have to play the game I guess and call again tomorrow.

Wait... So if I'm understanding correctly, you got the T-Mobile carrier Note 8 through Samsung and T-Mobile is telling you that Samsung has to unlock it in order for you to use it on T-Mobile's network? I have T-Mobile and purchased the unlocked note 8 through Samsung (note 7 discount) and I better not have any issues using the network I've paid for over a decade just because the phone isn't packed with bloatware and doesn't have their logo stamped on it.

Gwall13 sadly that is exactly what I am being told by the Tmobile representative, I even told them it's already paid in full which is none of their business, however seemed the tmobile rep just either did not know what they were talking about or did not want to take the steps in doing the process. I am hoping and believe this is just one rep at tmobile making this decision, that's why I will call tomorrow or next day and act like I never called before.

Wow, that's really disturbing. Ask to speak directly to a decision-making manager, but you may be better off going to a location and speaking to the manager there. At least make them get on the phone and sort it out with customer service. Put the pressure on them to do the honest thing in person.

You can unlock it online. Goto tmobile on facebook and start a chat. they will unlock it in 3 days. I did this with my S8 plus and my note 8. you have to start a chat on facebook with tmobile.

Does anyome know FOR SURE... If the unlocked Note 8 supports LTE band 66? Or is that only in the T-Mobile variant? B&H Photo listing days no band 66... Samsung site is either buried or doesn't exist. Chatting with Samsun tech and all he said was "it's compatible with all bands" to my specific question about 66. I really don't think he was giving me a real answer.

The Locked Version of T-mobiles note 8 doesn't even support their new 600 mhm network they are rolling out. I doubt an unlocked version would make a difference

The best thing to do is to buy the Exynos version

I have the unlocked version received it yesterday - att reprovisioned my sim I updated apn and it only gets hspa. I am bummed. I have reset the phone tried alternate apns. My att s8+ gets lte. I am at a loss

Did you get this to work ? I am facing a similar issue with my International version of Note 8. No 4G. Only H+

Do not buy international Exynos version of Note 8 (sm-n950f) ! Samsung has a practice to enable 4g calls only for the region where the phone was meant to be sold for .
THIS IS A VERY SHAMEFULL. " GREEDY FOR MONEY " practice of Samsung! If you can't make phone calls over 4g networks your phone is technically 25 % disabled, because
In many basement level floors and many buildings 3g signal cannot be reached! So unless you are always planning on using Whatsapp application or Viber or Skype for making calls to friends and family , only BUY USA region unlocked model
Android Central Newsletter
Get instant access to breaking news, the hottest reviews, great deals and helpful tips
Thank you for signing up to Android Central. You will receive a verification email shortly.
There was a problem. Please refresh the page and try again.