Should you buy the all new Amazon Fire 7?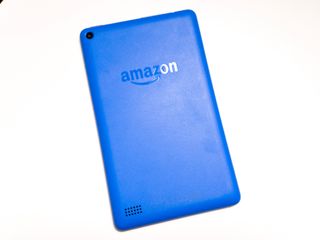 The online giant is calling it the "all new Fire 7," which is perhaps more a marketing thing than actual hard truth when it comes to the tablet in question. It is new, and it is improved, but marketing hype is still marketing hype.
So, let's actually break down what is new and whether this latest budget tablet is worth your time.
See at Amazon (opens in new tab)
What's actually new?
There are subtle differences in the hardware on the all new Fire 7, but ones that will make for a solid improvement in user experience. The first of these is that it now supports the microSDXC standard which means you can now expand your internal storage by up to 256GB based on currently available cards.
The next important improvement is the inclusion of dual-band Wi-Fi, which means you're now able to use the Fire 7 on the 5GHz band. Traditionally these give you better speeds over your local network, and it's a notable upgrade over the single-band available in the old model.
Amazon has also an improved 7-inch IPS display in the new Fire 7, though just how good that is will have to wait until we actually see one.
Then there's a little thing called Alexa. Amazon's AI platform continues to grow, and following its inclusion on the most recent Fire TV products, Alexa is now on the basic Fire tablet, too. Holding the home button launches Alexa and from there you can ask questions and control your connected home devices just as you can with an Echo.
Is it worth getting one?
Absolutely. We've long recommended the Fire 7 as a cheap tablet that's actually worth buying and that hasn't changed with the new one. The improvements that have been made strengthen an already great product for $50.
Alexa is probably only going to excite you if you're already getting into that ecosystem, but if you are, it's yet another piece of tech you can use to turn on your lights and much more besides.
If you already have a Fire 7, it's not necessarily worth ditching it just to grab the latest one. If it's working just fine still, keep hold of it for now. Then again, $50 is almost an impulse buy, which is part of what makes the Fire 7 so good in the first place.
See at Amazon (opens in new tab)
What processor is the new one using?

Their develop site list it as MediaTek MT8127B https://developer.amazon.com/public/solutions/devices/kindle-fire/specif...

I have a 64GB LTE with the SD800 is this new one actually better than the old one?

Since I bought the 2015 Fire 7 tablets for my whole family, Black Friday $33 sale, I wondered about the upgrade. I don't see enough of an update between the models, so it looks like I'm skipping this generation.

What version of android is running on it?

Unless im mistaken FireOS is still based on lollipop at this time.

You are mistaken as it is Marshmallow. I have the newer 32 gb '8 version. Very good tablet Posted via the Android Central App

Still Lollipop. I have a 5th generation FireHD8, and would welcome Marshmallow, with Adoptive Storage support. https://developer.amazon.com/public/solutions/devices/fire-tablets/speci...

I checked both the 7's in the house and they're both still on lollipop.

Access to the Play Store?

You have to side-load anything Google .. Play Store, Play Services, Mail, etc .. threre are various "apk" file sources ..

Rather simple on newer versions. Go on YouTube Posted via the Android Central App

Yep, 4 apk files and you have Google access.

Looks like the 8" is also being updated as well. ....

yes - the 7", 8" and the 2 kids Fires are updated .. it would have been nice if they updated the resolution so that HD videos from Amazon Instant Video looked better ..

Amazon sometimes has a beta programs you can join that they don't advertise at all check XDA . I joined one before during the time the last fire phone was out but it was for tablets

Does it support adoptable storage for the SD card?

can i get a stylus for this one?
Android Central Newsletter
Get the best of Android Central in in your inbox, every day!
Thank you for signing up to Android Central. You will receive a verification email shortly.
There was a problem. Please refresh the page and try again.