Got a summer reading list that's starting to develop? Had one for a couple years now? Catch up on some great books and save 20% with an Amazon Kindle e-reader! The newest Amazon Kindle is down to just $64.99 today in both black and white. That's $25 off its regular price and actually closer to a 30% discount for this version. If you really plan to go hard on the reading, grab the Kindle with 3-months of Kindle Unlimited for no extra cost. (Add an extra $15 if you don't want the Special Offers section, but that's still $30 off its regular price.)
Want an upgrade? Grab the newest Kindle Paperwhite on sale for $99.99. That's $30 off the street price. Remove the Special Offers section for just $20 more. This sale is only available on the black Paperwhite. The other colors are on sale but just for not quite as much. The Plum version, for example, is down to $104.99. Just $5 more and still a good deal price. You can also upgrade to the 32GB version, which is on sale for $124.99 (or $130 for non-black versions) from $160.
Summer reading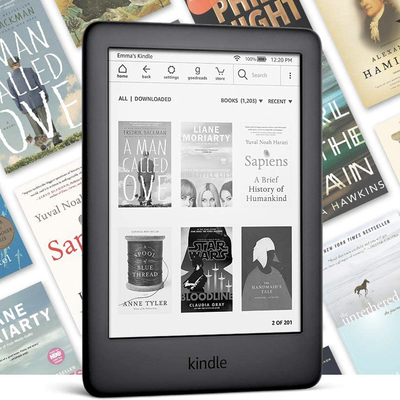 Amazon Kindle e-readers Paperwhite all-new Kindle
The regular Kindle is discounted in both black and white. The Paperwhite's lowest price is the black version, but the other colors are only $5 more. Both include glare-free displays, lights for reading in the dark, and access to millions of books.
20% off
The regular Kindle has been updated by Amazon to include a new light on the front. With the glare-free display and that new light, you can basically pick the device up and start reading no matter the situation. Read indoors on the couch, outside on the patio, in day, night, rain or shine.
It has plenty of other features, too. You can highlight passages, look up words you don't know, translate, or adjust the text size. And of course you'll have access to Amazon's entire library of books, which includes newspapers and audiobooks. Sign up with Audible and listen through a pair of Bluetooth headphones.
The Kindle Paperwhite offers some serious upgrades for just $35 more. For one thing, it's waterproof. Take it to the pool or get caught in the rain without worry. It also starts at twice the storage with 8GB instead of 4GB compared to the regular Kindle, and you can upgrade up to 32GB.
Both devices have batteries that will last for weeks and let you use the more advanced features like the lights or Bluetooth without fear of draining them too fast. Pick your favorite and get to reading.
We may earn a commission for purchases using our links. Learn more.