Samsung's Tizen-powered Z1: A rival for Android One, if not all of Android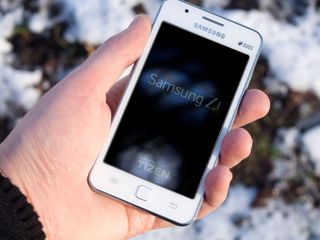 The first real, shipping Tizen phone is basic — very basic
With the explosive success of Samsung's Galaxy line of Android phones, the Korean giant's symbiotic relationship with Google has been the subject of much speculation within the mobile industry. Just as Samsung is reliant on Google for the software behind its smartphones, Google's services are viewed by many users through the lens of a Samsung smartphone. Reports of tensions between the two are often mentioned in the same breath as Tizen, the rival open-source OS which counts Samsung as one of its major backers. The company uses Tizen in its Gear smartwatches, and for more than a year we've been waiting on the first Tizen phones.
Now that device is here, in the form of the Samsung Z1, made available in India in recent weeks. This entry-level device isn't going to turn any heads in the West — indeed, it's not even available outside of India and Bangladesh, at present — and Tizen faces an uphill battle for developer mindshare. Nevertheless, what's there isn't horrible, and considering the Rs. 5,700 ($92) asking price, buyers in emerging markets could do worse.
From just about any angle, the Samsung Z1 could be mistaken for any of the company's entry-level Galaxy smartphones. With an all-plastic body, a chromed-out trim and removable back panel, it's closer in appearance to the Samsung phones of 2013 and earlier than the manufacturer's more recent stuff. A lot of that has to do with the display. Although it's a relatively basic 4-inch LCD at 480x800, it lacks the slimy, plasticky feel of many other phones around the $100 mark — including first-generation Android One handsets. And unlike Android One, it also appears to have an oleophobic coating, meaning it doesn't accumulate fingerprints as easily.
One thing you will miss out on is automatic brightness. There's no ambient light sensor on the front of the Z1, and as such you're left adjusting the backlight level manually. (For use in sunlight, the Z1's brighter "outdoor mode" is accessible through the quick settings panel, and stays enabled for up to 15 minutes at a time.)
Elsewhere, the phone's hardware configuration will be very familiar for Samsung veterans — Samsung (and "Duos" dual SIM) branding up top, and a mix of capacitive and physical keys down below for home, back and menu. The back panel — furnished in matte plastic, not the glossy, slimy polycarbonate you might remember from earlier Galaxy phones — snaps off to reveal the microSD slot and removable 1,500mAh battery. Given the phone's mere 4GB internal storage capacity, and the fact that a mere 2.36GB is available out of the box, adding an SD card is probably a good idea.
And beneath the battery is where you'll find the two SIM microSIM slots; like most dual-SIM phones, the Samsung Z1 can use both for calls and texts, but only one at a time for 3G data.
Powering the whole package is a basic dual-core 1.2GHz CPU — two Cortex-A7 cores, backed up by a relatively meager three-quarters of a gigabyte of RAM, and 4GB of storage. Again, nothing too surprising, and fitting for a phone around this price point.
Samsung Z1 hardware specifications
Swipe to scroll horizontally
| Category | Features |
| --- | --- |
| Processor | 1.2GHz dual-core (Cortex-A7) |
| RAM | 0.75GB |
| Storage | 4GB |
| Display | 4-inch 480x800 (WVGA) LCD |
| Cameras | 3.1MP rear with LED flash, VGA front |
| Dimensions | 120.4 x 63.2 x 9.7mm |
| Weight | 112 grams |
| OS | Tizen 2.3 |
| Connectivity | Wifi (802.11b/g/n), 3G WCDMA, dual SIM, Bluetooth 4.1 |
| Battery | 1500mAh |
The software is where things get more interesting. This is our first taste of Tizen on a shipping smartphone, and there's a lot here to indicate where Samsung's plans for the OS lie. Right now it feels like more a replacement for the manufacturer's line of Bada phones — Bada itself having been folded into the Tizen project previously — than a viable alternative to Android for the vast majority of users.
Much of the Z1's UI is fairly basic and utilitarian, providing users with a rough approximation of TouchWiz, Samsung's Android UI, on this more affordable device. The lock screen and notification tray are near carbon copies of the Galaxy S5's implementations, while many of the core apps like Phone, Messages and Camera show similarities too. If anything, some of these apps feel a little more consistent than some of Samsung's Android offerings.
So if you're familiar with any of Samsung's Galaxy phones — or indeed, Android in general — then there's not going to be much of a learning curve involved when you pick up a Samsung-made Tizen phone. Notifications and quick settings are still accessed by swiping down from the top of the screen. As on Galaxy phones, there's a Settings shortcut at the top right of this page. Even Samsung's low-powered "Ultra" power saving mode has made it across, letting you dim the screen cut back on more advanced functions to save power.
If you didn't know any better, you might well think this was an Android phone. In fact, there remarkable similarities in the way features like the Settings menu, data usage and tethering are implemented. If nothing else, Samsung has done a decent job of duplicating most of the core functionality of Android — at least from the perspective of an end-user.
Visually, the Tizen launcher provides some of the greatest points of differentiation with Google's OS. By default you get two rows of applications docked at the bottom of the screen, with a swipe-up gesture expanding things into a app drawer-like panel showing all your apps. As on Android, the bulk of your home screen space consists of customizable panels, which you can populate widgets. You'll have to make do with just eight apps pinned to your dock, though, as there's no way to drag apps directly onto a home screen.
Samsung's Tizen-based software is also remarkably customizable. In addition to the usual wallpaper and home screen changes, users can customize the Z1 with themes, changing the color accents used throughout the software. It's also possible to alter this based on the colors of the current home screen wallpaper, which is a neat addition. And while everything's still very bright and colorful — not least the array of colored balls representing each app — there's something about this UI that seems a bit more internally consistent than ToughWiz on Android. Maybe it's just that there's less of it.
One unfortunate thing you can't customize is Samsung's touch sounds — the grating "bloop" sound effects that punctuate every touch of the screen. Unlike Samsung's Android phones, you can't disable this under Settings > Sound. You can selectively mute all system sounds, however this disables some other sounds as well.
Some of the preloaded apps also bear mentioning. As we've discussed in a separate article, the Samsung Z1 comes preloaded with (very) basic Google search and YouTube apps, and the phone's account system syncs in email, calendar appointments and contacts from Google's cloud, among other sources. Naturally, though, you'll miss out on more advanced parts of the Google ecosystem, including Google Hangouts.
One somewhat perplexing addition is McAfee Security, which aims to protect against web-based nasties and malicious apps on the device itself. Given the OS's relative newness, we're not sure the threat from Tizen-based malware is something worth losing sleep over. However, with the ability to run Android apps comes the potential to run bad Android apps, so perhaps it's not such a bad idea after all.
Other preloaded apps of note include —
Maps, powered by Nokia's HERE service.
Facebook, which is essentially an app wrapper for the mobile Facebook website.
NewsHunt, an India-centric news app.
ESPN CricInfo for cricket news, and a basic cricket game. (Cricket being the most popular sport in India.)
That's in addition to a basic loadout of Samsung apps, including Smart Switch, for porting over content from older devices, basic weather, memo and calendar apps. Apps like the built-in music player and gallery apps lack the pizazz of their Android counterparts, but are perfectly functional regardless.
The main means of getting apps on the Z1, the Tizen Store, is currently blocked to users outside of India — however reports from users inside India suggest it's pretty sparsely populated at present. Indeed, the basicness of Samsung's built-in Tizen apps suggests even it's not putting anywhere near as much development energy behind the platform compared to its Android-based Galaxy apps. And the fact that Google, YouTube and Facebook all offer glorified web wrappers instead of fully-fledged Tizen apps says something about the platform's status. Tizen's app ecosystem is no match for Android's, and if it's ever going to come close, it'll take time.
There is a relatively easy way to run Android apps on Tizen devices. OpenMobile's ACL is already running Android apps on the Samsung Z1 through the Tizen Store, including the popular WhatsApp messenger. It's a stopgap solution, but also something of a catch-22. If Tizen can run Android apps, even if the user experience is less than ideal, that's an easy way for developers to bring apps to the platform with minimal effort. It's also a reason for them to avoid writing native Tizen apps, giving users the best experience on phones like the Z1. (It's also a problem faced by any non-Google platform attempting to run Android apps — and something Google Play Services was surely designed to insulate against.)
On the whole, though, using primarily built-in apps, the Z1 doesn't perform badly at all. Performance is comparable to an entry-level Android phone in that we didn't notice any scrolling lag, however more complex apps like the stock browser did take a second or so to kick into action. And while we weren't able to tax the Z1 as fully as we would an Android phone — for the simple reason that it doesn't do as much as an Android phone — we didn't have any trouble reaching the end of the day with around 50 percent remaining when using the phone lightly.
When you're paying less than $100 for a smartphone you shouldn't expect miracles from the camera setup, and we found the Samsung Z1's rear shooter to be about as basic as the rest of the device. The built-in camera app, an approximation of Samsung's Android-based viewfinder, lets you shoot in auto mode, panorama mode, or "dream" mode, which overlays a series of stencils over your shots. In terms of image quality, it's about what you'd expect from a very low-end, budget smartphone camera. You'll get mediocre shots in daylight, with relatively narrow dynamic range. In anything other than ideal lighting, however, things go south pretty rapidly.
So where does this leave us? Well, in its current form on the Samsung Z1, Tizen isn't a real rival to Android as a whole. It's instead positioned as more of a challenger to Google's Android One initiative, which sees Mountain View offering white-label devices to local manufacturers in India and parts of Asia. (And they're priced accordingly.)
While Tizen is a rough approximation of Android — and if you're only going to use basic smartphone functions, probably a pretty good one — Tizen isn't anywhere near matching the vast app library backing up Google's OS. Sure, you can run Android apps on Tizen through a compatibility layer, but that's an imperfect, temporary solution. (And it also discounts apps using features of Google Play Services, as you can be sure that's never coming to Tizen.)
If we're ever to see Tizen on a high-end phone, with a proper global marketing push behind it, chances are it'll look drastically different to what we see on the Samsung Z1 today. For now, what Samsung has is a lower-cost, slightly more modern replacement for its older Bada devices, not a potential successor to its vast Android lineup.
Alex was with Android Central for over a decade, producing written and video content for the site, and served as global Executive Editor from 2016 to 2022.