Samsung's Tizen-powered Z1: A rival for Android One, if not all of Android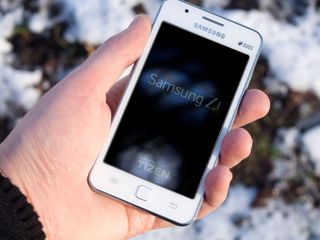 The first real, shipping Tizen phone is basic — very basic
With the explosive success of Samsung's Galaxy line of Android phones, the Korean giant's symbiotic relationship with Google has been the subject of much speculation within the mobile industry. Just as Samsung is reliant on Google for the software behind its smartphones, Google's services are viewed by many users through the lens of a Samsung smartphone. Reports of tensions between the two are often mentioned in the same breath as Tizen, the rival open-source OS which counts Samsung as one of its major backers. The company uses Tizen in its Gear smartwatches, and for more than a year we've been waiting on the first Tizen phones.
Now that device is here, in the form of the Samsung Z1, made available in India in recent weeks. This entry-level device isn't going to turn any heads in the West — indeed, it's not even available outside of India and Bangladesh, at present — and Tizen faces an uphill battle for developer mindshare. Nevertheless, what's there isn't horrible, and considering the Rs. 5,700 ($92) asking price, buyers in emerging markets could do worse.
From just about any angle, the Samsung Z1 could be mistaken for any of the company's entry-level Galaxy smartphones. With an all-plastic body, a chromed-out trim and removable back panel, it's closer in appearance to the Samsung phones of 2013 and earlier than the manufacturer's more recent stuff. A lot of that has to do with the display. Although it's a relatively basic 4-inch LCD at 480x800, it lacks the slimy, plasticky feel of many other phones around the $100 mark — including first-generation Android One handsets. And unlike Android One, it also appears to have an oleophobic coating, meaning it doesn't accumulate fingerprints as easily.
One thing you will miss out on is automatic brightness. There's no ambient light sensor on the front of the Z1, and as such you're left adjusting the backlight level manually. (For use in sunlight, the Z1's brighter "outdoor mode" is accessible through the quick settings panel, and stays enabled for up to 15 minutes at a time.)
Elsewhere, the phone's hardware configuration will be very familiar for Samsung veterans — Samsung (and "Duos" dual SIM) branding up top, and a mix of capacitive and physical keys down below for home, back and menu. The back panel — furnished in matte plastic, not the glossy, slimy polycarbonate you might remember from earlier Galaxy phones — snaps off to reveal the microSD slot and removable 1,500mAh battery. Given the phone's mere 4GB internal storage capacity, and the fact that a mere 2.36GB is available out of the box, adding an SD card is probably a good idea.
And beneath the battery is where you'll find the two SIM microSIM slots; like most dual-SIM phones, the Samsung Z1 can use both for calls and texts, but only one at a time for 3G data.
Powering the whole package is a basic dual-core 1.2GHz CPU — two Cortex-A7 cores, backed up by a relatively meager three-quarters of a gigabyte of RAM, and 4GB of storage. Again, nothing too surprising, and fitting for a phone around this price point.
Samsung Z1 hardware specifications
| Category | Features |
| --- | --- |
| Processor | 1.2GHz dual-core (Cortex-A7) |
| RAM | 0.75GB |
| Storage | 4GB |
| Display | 4-inch 480x800 (WVGA) LCD |
| Cameras | 3.1MP rear with LED flash, VGA front |
| Dimensions | 120.4 x 63.2 x 9.7mm |
| Weight | 112 grams |
| OS | Tizen 2.3 |
| Connectivity | Wifi (802.11b/g/n), 3G WCDMA, dual SIM, Bluetooth 4.1 |
| Battery | 1500mAh |
The software is where things get more interesting. This is our first taste of Tizen on a shipping smartphone, and there's a lot here to indicate where Samsung's plans for the OS lie. Right now it feels like more a replacement for the manufacturer's line of Bada phones — Bada itself having been folded into the Tizen project previously — than a viable alternative to Android for the vast majority of users.
Much of the Z1's UI is fairly basic and utilitarian, providing users with a rough approximation of TouchWiz, Samsung's Android UI, on this more affordable device. The lock screen and notification tray are near carbon copies of the Galaxy S5's implementations, while many of the core apps like Phone, Messages and Camera show similarities too. If anything, some of these apps feel a little more consistent than some of Samsung's Android offerings.
So if you're familiar with any of Samsung's Galaxy phones — or indeed, Android in general — then there's not going to be much of a learning curve involved when you pick up a Samsung-made Tizen phone. Notifications and quick settings are still accessed by swiping down from the top of the screen. As on Galaxy phones, there's a Settings shortcut at the top right of this page. Even Samsung's low-powered "Ultra" power saving mode has made it across, letting you dim the screen cut back on more advanced functions to save power.
If you didn't know any better, you might well think this was an Android phone. In fact, there remarkable similarities in the way features like the Settings menu, data usage and tethering are implemented. If nothing else, Samsung has done a decent job of duplicating most of the core functionality of Android — at least from the perspective of an end-user.
Visually, the Tizen launcher provides some of the greatest points of differentiation with Google's OS. By default you get two rows of applications docked at the bottom of the screen, with a swipe-up gesture expanding things into a app drawer-like panel showing all your apps. As on Android, the bulk of your home screen space consists of customizable panels, which you can populate widgets. You'll have to make do with just eight apps pinned to your dock, though, as there's no way to drag apps directly onto a home screen.
Samsung's Tizen-based software is also remarkably customizable. In addition to the usual wallpaper and home screen changes, users can customize the Z1 with themes, changing the color accents used throughout the software. It's also possible to alter this based on the colors of the current home screen wallpaper, which is a neat addition. And while everything's still very bright and colorful — not least the array of colored balls representing each app — there's something about this UI that seems a bit more internally consistent than ToughWiz on Android. Maybe it's just that there's less of it.
One unfortunate thing you can't customize is Samsung's touch sounds — the grating "bloop" sound effects that punctuate every touch of the screen. Unlike Samsung's Android phones, you can't disable this under Settings > Sound. You can selectively mute all system sounds, however this disables some other sounds as well.
Some of the preloaded apps also bear mentioning. As we've discussed in a separate article, the Samsung Z1 comes preloaded with (very) basic Google search and YouTube apps, and the phone's account system syncs in email, calendar appointments and contacts from Google's cloud, among other sources. Naturally, though, you'll miss out on more advanced parts of the Google ecosystem, including Google Hangouts.
One somewhat perplexing addition is McAfee Security, which aims to protect against web-based nasties and malicious apps on the device itself. Given the OS's relative newness, we're not sure the threat from Tizen-based malware is something worth losing sleep over. However, with the ability to run Android apps comes the potential to run bad Android apps, so perhaps it's not such a bad idea after all.
Other preloaded apps of note include —
Maps, powered by Nokia's HERE service.
Facebook, which is essentially an app wrapper for the mobile Facebook website.
NewsHunt, an India-centric news app.
ESPN CricInfo for cricket news, and a basic cricket game. (Cricket being the most popular sport in India.)
That's in addition to a basic loadout of Samsung apps, including Smart Switch, for porting over content from older devices, basic weather, memo and calendar apps. Apps like the built-in music player and gallery apps lack the pizazz of their Android counterparts, but are perfectly functional regardless.
The main means of getting apps on the Z1, the Tizen Store, is currently blocked to users outside of India — however reports from users inside India suggest it's pretty sparsely populated at present. Indeed, the basicness of Samsung's built-in Tizen apps suggests even it's not putting anywhere near as much development energy behind the platform compared to its Android-based Galaxy apps. And the fact that Google, YouTube and Facebook all offer glorified web wrappers instead of fully-fledged Tizen apps says something about the platform's status. Tizen's app ecosystem is no match for Android's, and if it's ever going to come close, it'll take time.
There is a relatively easy way to run Android apps on Tizen devices. OpenMobile's ACL is already running Android apps on the Samsung Z1 through the Tizen Store, including the popular WhatsApp messenger. It's a stopgap solution, but also something of a catch-22. If Tizen can run Android apps, even if the user experience is less than ideal, that's an easy way for developers to bring apps to the platform with minimal effort. It's also a reason for them to avoid writing native Tizen apps, giving users the best experience on phones like the Z1. (It's also a problem faced by any non-Google platform attempting to run Android apps — and something Google Play Services was surely designed to insulate against.)
On the whole, though, using primarily built-in apps, the Z1 doesn't perform badly at all. Performance is comparable to an entry-level Android phone in that we didn't notice any scrolling lag, however more complex apps like the stock browser did take a second or so to kick into action. And while we weren't able to tax the Z1 as fully as we would an Android phone — for the simple reason that it doesn't do as much as an Android phone — we didn't have any trouble reaching the end of the day with around 50 percent remaining when using the phone lightly.
When you're paying less than $100 for a smartphone you shouldn't expect miracles from the camera setup, and we found the Samsung Z1's rear shooter to be about as basic as the rest of the device. The built-in camera app, an approximation of Samsung's Android-based viewfinder, lets you shoot in auto mode, panorama mode, or "dream" mode, which overlays a series of stencils over your shots. In terms of image quality, it's about what you'd expect from a very low-end, budget smartphone camera. You'll get mediocre shots in daylight, with relatively narrow dynamic range. In anything other than ideal lighting, however, things go south pretty rapidly.
So where does this leave us? Well, in its current form on the Samsung Z1, Tizen isn't a real rival to Android as a whole. It's instead positioned as more of a challenger to Google's Android One initiative, which sees Mountain View offering white-label devices to local manufacturers in India and parts of Asia. (And they're priced accordingly.)
While Tizen is a rough approximation of Android — and if you're only going to use basic smartphone functions, probably a pretty good one — Tizen isn't anywhere near matching the vast app library backing up Google's OS. Sure, you can run Android apps on Tizen through a compatibility layer, but that's an imperfect, temporary solution. (And it also discounts apps using features of Google Play Services, as you can be sure that's never coming to Tizen.)
If we're ever to see Tizen on a high-end phone, with a proper global marketing push behind it, chances are it'll look drastically different to what we see on the Samsung Z1 today. For now, what Samsung has is a lower-cost, slightly more modern replacement for its older Bada devices, not a potential successor to its vast Android lineup.
Alex was with Android Central for over a decade, producing written and video content for the site, and served as global Executive Editor from 2016 to 2022.
Launching a new OS with a phone as inexpensive as the Z1 is a pretty good idea to get it out in the public and find out how the public feels about it, while keeping costs relatively low. Posted via OnePlus One

I agree and we probably see this on their flagships for a while. Posted Via AT&T Note 3

The problem is close to nobody gives a shit. A new OS? For what? A cheap one at that?.. It's essentially a "dumb phone", no apps nobody will care. Samsung wasting more resources on idiotic projects. This is why Apple smacks them around, they're clueless. Thank God Motorola gets it.. They're Androids last hope. Hopefully Nexus becomes a more recognized brand too. Samsung, yeah good luck with Tizen... Nexus 4 (AT&T)

That is going to be problem with most new mobile os is how so you get people to use is without much dev support. Also users won't use it because they don't have all the apps they use. Not even Microsoft can fix this problem well

Here is the problem with Samsung. They forget what made them successful in the first place (Android) and are trying to become the next "apple". IMO, they have had a long time to work out the kinks in Touchwiz and have failed miserably, i couldn't imagine what an entire full feature OS (not this first versions of tizen) would be like coming out of them.. Beyond that, i just hate Samsung... lol

Agreed, F#&! Samsung Nexus 4 (AT&T)

Dude, The Nexus program died last year.

I know it's just the beginning but it looks like a cheap knock off you order from China. That said, I wouldn't mind trying it. But Google has the market cornered with phone navigation and email. What is Samsung going to use? Apple maps or maybe buy Nokia maps? Posted via the Android Central App

Just as the article said, they are using Nokia's HERE maps.

You expect everyone to read the article before posting or something?? :p

Let the customer buy a subscription to Google Maps, etc. Posted via the Android Central App

Ok, its gonna get pretty confusing if every phone manufacturer has a Z-line. I mean Blackberry (Z10, Z30), Sony (Xperia Z, Z2, etc), Lenovo (Vibe Z), ZTE (Z-Max); heck Amazon even has a Unnecto (Quattro Z) that I've never heard of . Now Samsung? Don't here of many F or P line phones..Ey, ey, ey.... Posted via my underrated Xperia Z3v.

And even more weird that no one uses "i". I wonder why

Because of Apple....... Maybe? Posted via my Nexus 6

Can you guys make a website TizenCentral.com ?? Tehe Posted via the Android Central App

Btw i saw some video footages of this phone running.. and i have to say I'm impressed, considering how low the specs are. Not bad at all. Posted via the Android Central App

How does it compare to say a Moto E which is only about $25 more?

Moto E is miles better. Posted on my OnePlus One

Have you used the Z1? It's far smoother than any mid range Android Phones including the Moto E

Dear Samsung (one of many offenders),
Unitaskers are unacceptable.
Ditch the dedicated function buttons. Posted via the Android Central App

I prefer them Posted via the Android Central App

Me too Posted via the Android Central App

Me too! Posted via the Android Central App

But how else are they supposed to copy Apple!? Posted via my Nexus 6

The same 'copying' that Samsung were doing with their buttons before the iPhone existed you mean? This is a Samsung thing and has been for over 15 years.

So putting a home key at they bottom that has a soft touch button on either side to allow for maximum usage of those beautiful screens, is copying Apple? Grasping at straws much?
Samsung devices are far more capable(maybe not always better looking, s5 specifically) than any Apple device and will be for a long time to come.

Where can i buy one of these in the uk ni where in india will ship here Posted via the Android Central App

When is someone going to say and regulate that enough is enough. The wasting of resources to make yet another phone with a completely different OS has got to stop. When we look at the number of cell phone models available it is sad, does Samsung really need their own phone/OS, they have made and will continue to make plenty money off Android based phones. Posted via the Android Central App

So, you're in favor of taking away choice???????????????????????? SMDH

We got enough already, to the point the quality is getting watered down, do you need 100 Android phones to choose from Posted via the Android Central App

Not if the choice doesn't put much of a competition which choice is all about :-) Posted via the Android Central App

Who is going to regulate them, Warren G? Posted via the Android Central App

Well, he is a Regulator. Posted via Android Central App on The Nexus 5

Lol Posted via the Android Central App

And he's Damn Good Too....

Hahaha +1000 Nexus 4 (AT&T)

It doesn't make a lot of sense to me to work on a new system. Phones are going to be hitting the down turn likely before a whole new ecosystem could flourish at this point. I see wearables becoming the next thing and soon. Maybe not this year, but soon. Posted via Android Central App

Wearables and gadgets owned the CES floor, just FYI.

Unless Tizen makes more money for the Oem's, which could be a big deal if a few companies switched from Android. Posted via the Android Central App

How many apps are available from the app store.? On my Nexus4 or 5Posted via the Android Central App

4 Posted via the Android Central App

Lol Posted via the Android Central App

"BLOOP, BLOOP, BLOOP, BLOOP, BLOOP, BLOOP..." Ah, yes. Samsung, maker of fine software products. /s

Are not the Tizen powered watches better (Minus the proprietary part) than Google's. Posted via the Android Central App

No Posted via the Android Central App

No Posted via the Android Central App

No. You're thinking of WebOS on the premium LG smartwatches. Posted on my OnePlus One

While battery life is better on tizen watches, functionality on android wear is growing much faster. Not to mention that Samsung's appstore is a ghost town. Seriously, can someone please develop more apps for my gear 2. Pleaase. Posted via the Android Central App

A good friend (American, we met as Freshman roommates in college many moons ago) works for the US Embassy in India and he is interested in the Samsung Z1 Tizen OS basic smartphone. He said that for his needs a basic smartphone is perfect, he basically texts, calls and browses the Web, nothing more. He has never purchased an app and he cannot remember the last time he accessed the Play Store on his Galaxy S. I have known him since college and back then i would have described him as a neophyte and that description would be accurate today as well. If you read this site you are an average to advanced user and a basic smartphone is of very little interest to us, but if you are a simple user or even someone with not a ton of money, a basic inexpensive smartphone makes sense and maybe Samsung found a vain. Is Tizen the right choice? I truly have no idea, but I know this much, Android needs to decent specs to run well and very few Basic phones will have those kind of specs. Dan Posted via the Android Central App

Well, I have around 200 apps, and they can stick this Tizen . . . I am really upset and worried that they are going to destroy something I love: the Note line! Use it for the watches or whatever, nobody cares, but leave the flagships alone!

Well to be honest I'm bored with the whole smartphone thing. I've seen everything Android has to offer. The amount of 'good' applications and games being published on Android has slowed to a trickle, so I'm interested in trying out a Tizen phone. Also Analytics are a cancer that has almost completely infected the mobile world and must be stopped. I don't care who first gave this information theft endeavor (and thus piracy, regardless of whether or not analytical/mined data is onsold or not) the ok, but the important thing now is that we work together to put an end to this downward spiral of crime, abuse and corruption. Analytics are NOT ok. They should be paying us for this data at the very least. (Most of Google's services excluded as it's part of their obvious and direct business model - this is fine) I have my doubts, but I hope Tizen can emerge as 'the clean operating system' with no filth in it. Every time someone makes an android or iOS app, it's less about delivering a quality app, and more about some backroom guy jerking off over the way someone uses it. If you think you need analytics to help run your business, then not only is the business world 'not for you', but a bot can do your job, and it will. Mined/stolen/analytical data is currently gathered by a system and presented in easy reading format to a human to make decisions upon, but in the future computers will end up replacing this decision making part aswell. We are 'losing' the human race. Rant over.

If you don't like analytics then don't use the internet. The fact of the matter is companies have the right to know how you are accessing the free service they are providing you, and it aids them in bettering that service. If you don't like it then don't use their service. Posted via the Android Central App on the 2nd Gen. Moto X

I seen this phone on youtube hands on...and theres no lag at all. LG G3 32gb

Just wait till Samsung skins and bloatwares it up! It'll be an S4 all over again. Posted via my Nexus 6

You are an idiot. Posted by my soon to be retired Note 3

This is very fair article. I am developer interested in Tizen and have been working on it for almost 2 years now Tizen is never meant to be android replacement for now and not in near future IMO. Tizen is important for IoT more than mobile phones. Samsung dose not want to repeat the same situation as their Galaxy mobiles. Imagine the new Samsung SUHD TV running android and google makes the cash from apps and services. Or all smart home appliance Samsung are making for the future smart home!! Samsung spends $$$ on development and research and google wins the cash again Samsung cares about a lot about Galaxy android phones and next GS6 should be something better that what we have seen before. They probably called it Project Zero. Samsung profits from selling android smartphone around $20 billions per year and no going tot drop for the sake of Tizen I think the first good specs Tizen phone will not be released before Tizen 3.0 (later this year. Current version is 2.3) because we are expecting some major changes on UI and web runtime performance. How many apps are there on Tizen store? I guess between 5k to 10k but most of them got suspended by the store. The reason was the decision to change the native programming language from C++ to C recently and the drop of the old API in favorite to C Linux lite framework. Remember that WP7 apps were not compatible with WP8 apps? Microsoft had to change the programming framework and was bad after the release of first WP7 handsets while Samsung decided to change things before 2-3 months before the release of Z1. The new framework using light Linux library for UI and that's probably it is smooth and dose not lag. We, the developers, have to recode our non compatible apps again. That's bad but better for Tizen. Tizen has a chance in 2-3 years when the IoT things become real and wide spread. Tizen is a long project for Samsung IMO.

Idk why Microsoft can't make a lumia with flash and front camera for less than $100. Windows phone is best for low end.. Posted via Android Central App on 1+1

I am a loyal Samsung user, Note 2, Note 4, (earlier, the Galaxy Tab7"), two huge SMART TVs, my i7 laptop, and I WILL LEAVE SAMSUNG if you put this on the Note 6! I WILL NOT BUY TIZEN! Dump it. Dump it now! Nobody wants it.

Same here. Motorola and Nexus are looking better and better. Posted via the Android Central App

It isnt going that way. Posted by my soon to be retired Note 3

These people are all nuts

You are making a spectacle of yourself.

Why would anyone in India in their right mind buy this phone when they can get can Android One device at the same cost? Posted via the Android Central App on the 2nd Gen. Moto X

This shit runs smoother than lot of flagships. Now that's saying something.. https://www.youtube.com/watch?v=-JIrjNqldf4

Thats because Android is a power hog. Seriously, full Windows 8.1 Pro runs better on less than Android does.

Or you could by Moto E or cheap Lumia.

Probably an attempt to ram more bloatware skin crap on their phones. Posted via my Nexus 6

'Performance is comparable to an entry-level Android phone in that we didn't notice any scrolling lag'. Umm what? Even high end Androids have scrolling lag (waits for the hundreds of Nexus users with bad eyes to argue)..

As developer I don't see any value in Tizen: porting an application from Android to Tizen is a nightmare, so why application developer should be attracted by Tizen? Forget Tizen if you want nice, easy and free applications for your phone.

There are a good deal of people that wouldn't even consider supporting this concept. They already put more of a push into it, then I see reasonably acceptable.

I dont get this lol Posted via Android Central App

Muy bueno, genial Posted via the Android Central App

uc and all android app please tizen store get

What a joke, goodbye to all the android apps you invested in. Hello bloatware, Samsung's specialty. Goodbye Android wear gear. Goodbye Samsung.

after software update i was unable to use 3g and i was able to use only EDGE,please tell me how to access 3g in my samsung z1
Android Central Newsletter
Get the best of Android Central in in your inbox, every day!
Thank you for signing up to Android Central. You will receive a verification email shortly.
There was a problem. Please refresh the page and try again.