Samsung's smartwatch shipments grew 43% in Q2, but Apple remained on top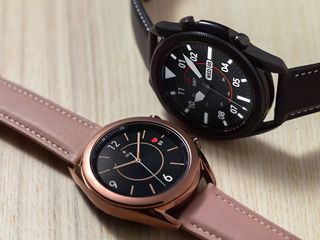 (Image credit: Samsung)
What you need to know
The global smartwatch market grew 27% YoY in Q2 2021.
Apple remained the world's largest smartphone vendor, but its market share declined slightly due to intensifying competition.
Samsung's smartwatch shipments rose 43% YoY.
The global smartwatch market finally recovered and grew 27% in the second quarter of the year, according to the latest Global Smartwatch Model Tracker from Counterpoint Research. The sub-$100 smartwatch segment grew by a whopping 547% YoY during the April to June period, which points to the growing popularity of budget smartwatches.
Unsurprisingly, Apple was the top smartwatch maker in terms of shipments. However, its market share declined from 30.1% last year to 28%. Analysts at Counterpoint Research attribute the decline to "intensifying competition with Chinese and Indian brands." Despite the slight decline in market share, Apple Watch active user base continued to grow steadily and surpassed the 100 million mark during the quarter ended June.
Huawei, despite continuing to battle U.S. sanctions, managed to hold on to its No.2 position, with a market share of 9.3%. However, it was the only one among the top five brands to witness a decline in shipments compared to the same period last year.
Samsung, which remained the third largest smartwatch vendor in Q2 2021, registered an impressive 43% YoY growth in shipments. Its market share also increased from 7% in Q2 2020 to 7.6%. The rise in shipments was apparently due to the "steady popularity of the Galaxy Watch 3 and Galaxy Watch Active 2.
The top-selling smartwatch during the quarter was the Apple Watch Series 6, followed by the Apple Watch Series SE. Samsung's Galaxy Watch Active 2, which still remains one of the best Android smartwatches, was the third most popular smartwatch globally.
Samsung Galaxy Watch 4
The Galaxy Watch 4 is a fitness-focused Wear OS 3 smartwatch that offers a ton of useful features, great battery life, and MIL-STD-810G compliance. It also comes with an all-new 5nm chip that delivers 20% faster CPU performance compared to previous Samsung smartwatches.
Get the Android Central Newsletter
Instant access to breaking news, the hottest reviews, great deals and helpful tips.
Apple unfairly dominates the market. The problem is that Apple doesn't give or license it's OS to manufactures like Google does with Android, limit the OS to just it's device. With Android (Wear OS) you several different watches to choose from, but with Apple you don't have choices. You are stuck with what Apple offers.
Android Wear came out several years before the Apple Watch came out.
Everyone, stop buying Apple watches and give Android a chance.
I am tired of hearing stories where Apple watches saved a person's life, but I don't hear stories about Android Watch saving someone's life.

I don't think apple can or should be required to license its watch os. I think what you actually want to have happen is for ale to be required to allow third parties to get the kinds of integration that apple keeps to itself. And fair enough!

Lol so what if Apple unfairly dominates the market? Apple has always been a proprietary company and that's why their products are so good cause they just focus on their own. They ve built an amazing ecosystem with a well thought out tight integration that locks the users in bec every product works so well and smoothly with each other. Other company's like Samsung and Google wish they could be Apple and hence the reason why Google is following in that direction of designing of their own CPU's as they can see the advantage of controlling the software and hardware just like how Apple has been doing since 2010 /2011 with their iPhone, iPads and etc. Apple is smart not to license any of their software out. You want iOS, MacOS, iPadOS, WatchOS buy a Apple product. That's why so many companies follow what Apple does even if they are late to the market with a feature that existed in Android or with certain OEM first bec when it's released it's more polished /fully baked.