Samsung's PlayGalaxy Link game streaming app set to launch in September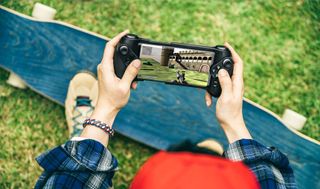 What you need to know
Samsung has a new game streaming app coming called PlayGalaxy Link that will stream games from your PC to your phone.
The app is powered by technology from Parsec, a cloud-based gaming startup.
The Android and Windows 10 app are said to launch in the first two weeks of September.
Samsung had a lot packed into the Unpacked event last week where it unveiled the brand new Note 10 seroes. One of the topics they barely grazed over was a game streaming service called PlayGalaxy Link. If you missed it, and I wouldn't blame you if you did, PlayGalaxy Link will allow you to stream PC games to your phone.
Now, thanks to TechCrunch, we're learning some more details about PlayGalaxy Link, including that it will launch in September. That could mean we'll see the debut of PlayGalaxy Link before Google's game streaming platform, Stadia, which is set to launch in November.
However, PlayGalaxy Link differs greatly from Stadia and is more comparable to Steam Link which recently exited beta. That's because, much like Steam Link, you'll be able to mirror games from your PC to your phone.
PlayGalaxy Link will be free and uses technology from a cloud-based gaming company called Parsec to deliver low-latency game streaming.
The PlayGalaxy Link app is set to be released for Android and Windows 10 in the first two weeks of September. We don't know much else about the service at this time, but we can assume it will be exclusive to the Note 10 and 10+, at least at first. In the meantime, we do at least have a teaser video from Samsung's Korean YouTube account showing it off.
In the video, we see someone start a game on their laptop, pause it, and then resume it on a Note phone with a gamepad attached. The gamepad in question is already up for sale and comes from a company called Glap.
On its website, Glap says the controller was "developed to provide a higher performance of game playing on Galaxy." It also mentions that the controller can be used with any phone or a PC and provides up to 10 hours of playtime.
Cloud-based gaming is gaining a lot of traction this year, and if you don't want to wait on PlayGalaxy, you can always give Steam Link a try. There is also Google's impressive new Stadia service which will be launching before the end of the year, and you can check it out by purchasing the Founder's Edition.
Get the Android Central Newsletter
Instant access to breaking news, the hottest reviews, great deals and helpful tips.