Samsung Galaxy Tab S6 Lite leak reveals an affordable Android tablet with an S Pen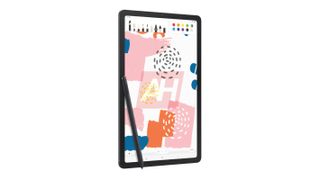 (Image credit: Android Headlines)
What you need to know
Samsung is gearing to launch a new tablet, the Galaxy Tab S6 Lite in a few weeks.
This is a cheaper variant of the flagship Galaxy Tab S6 it launched last year.
The firm previously revived two other flagship brands with the Lite nomenclature when it launched the S10 Lite and Note 10 Lite in January.
Samsung is preparing to launch a new pen-enabled tablet, as per a new report from Android Headlines. This would be the Samsung Galaxy Tab S6 Lite, a cheaper version of the well-built Tab S6 that debuted last year. While that tablet was built as an iPad Pro competitor, this one appears to be made for users with more modest wallets and aspirations.
Android Headlines reports:
Samsung is carrying out a fair bit of brand consolidation here. Last year, the firm seemed to have a fairly streamlined line of flagship products, with near-flagship products being built under different brands for differentiation. We had the S6 and the S5e, the S10 and the A90, and so on.
This year, it's opting to use the brands of last year's flagships to push products it would previously have launched under different names. At CES, the firm announced the S10 and Note 10 Lite. With the Tab S6 Lite, another of last year's flagship brands gets a second life.
I would jump on this if it's under $300-$400. I'd love to hear some specs.

If they put a flash on it, I'd consider it. I need one for my tablet, and I know now everyone does, but I'm not everyone. I passed on the Tab S6 because of no flash. Went with the Tab S4 to both save money, and get a camera flash. I wish they'd make another 12" tablet with S-Pen (and obviously...a flash)
Android Central Newsletter
Thank you for signing up to Android Central. You will receive a verification email shortly.
There was a problem. Please refresh the page and try again.