Samsung UK has no plans to roll out Lollipop to Galaxy S3, Galaxy Note 2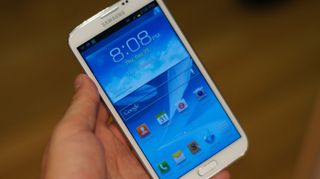 Samsung UK doesn't plan to roll out Android 5.0 Lollipop to Galaxy S3 and Galaxy Note 2 owners in the region, according to a tweet published by the official Samsung UK Twitter account. While the company doesn't enjoy bearing bad news for consumers, it's a downer for those rocking the somewhat dated hardware who were eagerly awaiting the update.
@WesoLabeshnai We don't like to give out bad news Rohan but the Note 2 and the Galaxy S3 won't be receiving the Lollipop update.@WesoLabeshnai We don't like to give out bad news Rohan but the Note 2 and the Galaxy S3 won't be receiving the Lollipop update.— Samsung Mobile UK (@SamsungMobileUK) July 4, 2015July 4, 2015
This tweet doesn't cover other markets, and shouldn't be taken as confirmation should you reside outside the UK. Samsung in Finland and Poland have revealed that owners of the Note 2 would indeed receive the sweet-flavored update at some point. You'll have to check with the manufacturer's local subsidiary for more details.
Source: Twitter (Samsung), via: PhoneArena
I understood that telcos had to support the handset software during the duration of the contract? Mine is only 12mths into a 2 year contract.

2 years from when it launches. Not 2 years from when you buy it. Sadly both of those phones are very old so not surprising that they aren't getting updated.

They are still capable phones though. Posted via the Android Central App

Yes they are. But they only have so many resources to allot to updates for devices, and since neither of these devices are being sold anymore, they do not put resources into updating them, especially being as old as they are, even being still capable of running lollipop.

That is not a pic of the GSIII. LG G2
GSIII
Galaxy Note 4
(The Sprint Lover)

Hardly surprising, the s3 is over 3 yrs old at this point Posted via the Android Central App

It doesn't even have kitkat.. Posted via the Android Central App

Most of the LTE versions of the S3 got Lollipop if I'm not mistaken. They had better specs than the regular versions. Posted via the Android Central App EDIT:Oops! I meant KitKat Lol xD

My S3 on verizon is on 4.4 The GS3 eats ram like no tomorrow, it idles at 1 GB used with no apps running, and with a bunch of TW features all turned off. It stutters and lags horribly. Worst phone I ever used, will never go back to TW because of it. On a good point, Samsung phones have great build quality and are almost indestructible, I dropped my GS3 over 50 times, got it heavily wet, and it always powered up and ran like normal and the screen never broke. I'd totally get a Samsung with vanilla android.

My did. It was not the international model though.
It is not much of a shocker truth be told being released in 2012
But the LTE US model definitely is capable in running it with its ample 2 gigabytes of RAM
But that is where ROM support reigns supreme. I had Lollipop just the other day on it and smooth sailing

What I'm wondering is if my Note 3 is getting Android M. I'm really hoping it does, even though I might get a new phone soon. I'm 1000% sure it could run it smoothly, considering the specs it has, especially for a two year old phone. Posted via the Android Central App

I am of the opinion that it will get M but it is really going to depend on a few things. Mostly timing. Sent via carrier duck. They were out of pigeons

They'd only kill the device if they did. Custom rom is the way to go.

Good, anyone having this phone wishing for an update past kitkat is way past due for an upgrade. I was honestly surprised they updated these phones past 4.3 considering they started on 4.0. Posted via the Android Central App

I wish they'd release the 5.1.1 update for the unlocked S6 in Ireland / UK already. Still waiting while carrier versions started to receive it last week! Posted via the Android Central App

I'm running 5.1.1 on my Note 2 in the UK.
RESURRECTION REMIX was too buggy. Switched to Benghazi Lollipop ROM. Runs so smooth.
Custom Roms come with the trade off of no official banking apps (which is a pain) but Touchwiz 4.2 is just awful.
As long as devs keep doing the great work, our devices stay relevant.

So is Touchwiz less intrusive and painful with Benghazi Lollipo ROM? Also, does it still support the Samsung app store, and thus their Gear watches? I have the unlocked German Note 2 and would really like to update. Thanks!

It's a stock Android ROM. No Samsung services.

Bummer, thanks. (bummer because I have the Gear S, not because I'm in love with their crapware)

Hilarious they say this now, almost a year since people started on Lollipop.
The Note 3 unlocked never got it as of June. Posted via the Android Central App

Unlocked doesn't mean advantage. Most others have gotten it. You put your resources where you can reach the most people and unlocked is about last Sent via carrier duck. They were out of pigeons

All my phones have been android but this is one reason i give the fruity company props all their handset's once capable gets the new software upgrade Posted via the Android Central App

They don't REALLY get the updates though. In general, old versions get the cosmetic appearance and a new version number, but are missing key components that actually make the new OS desirable in the first place. In exchange, they also get worse performance, app crashes, poor battery life and a host of other problems (often forcing an upgrade, which is likely the point) Apple's "support" for devices considered legacy should honestly be seen as a bad thing IMO. They give new software to phones that are incapable of running it and providing a good experience (or poor software for planned obsolescence), which allows app developers to dump support for older iOS versions very quickly which forces even knowledgeable people to upgrade to software that they know will make their phones worse. I'd much rather that Apple dumped old phones after 2 versions instead of ruining your 2 year and 1 day old phone. Posted via the Android Central App

Everyone is so polite. Odd to see Posted from my Droid Turbo

I just upgraded to the Galaxy Note Edge about 2 months ago. And after having the Galaxy S III for 3 years, I never expected the phone to get Lollipop at any juncture. KitKat on the S3 was not that good. And I would imagine that it wasn't that good on the Note 2. 18-24 months of support is what was promised from Google and the S3 went from Ice Cream Sandwich to Jellybean to KitKat in that span. Great progression, I'd say. Luckily, if you are so inclined, you could root the phone and get Lollipop on your phone (unofficially) and it would probably be much better than the official update that the carriers give you. The development community is so gifted. Posted From my Verizon Galaxy Note Edge via the Android Central App. And Don't Eat The Yellow Snow!

Lollipop is buggy on my Note 3, and I have real doubts that it will get 5.1.1. Such a shame that Samsung can't make the BTU available for people at want or are capable of upgrading. Posted via the Android Central App

Poor decision by Samsung. Poor Customers Support! Posted via the Android Central App

There's a coworker that likes to have me work on her phone. She has a Verizon Note 2. Her phone is more than capable of having Lollipop but I'm afraid all you can really expect is 2 years worth of updates, if that much. Would really like to see her get Lollipop though. She needs the priority feature at work. Posted via the Android Central App

Google said they were going to go with 18 months so anything after that should be considered a bonus Sent via carrier duck. They were out of pigeons

S3 already 3 years old of course samsung wont release the lolipop Posted via the Android Central App

And here my Note 2 is still happily humming right along on its original release of Jelly Bean (4.1.1). IMHO, OS updates (even many app updates) are overrated. If it ain't broke.... :)

If it ain't broke, it doesn't have enough features yet :) Posted via the Android Central App

F******g Samsung Posted via the Android Central App

Meanwhile, my S3 is sucking on a sweet lollipop. Posted from my "Jack Of All Trades" LG G4

Apple phones get 3 years of software update (the 4s is going to get 4). Puts other companies to shame. And I say this as someone who loves my Android phone and wouldn't go back to an iPhone.
As processors get better and better, there should be no reason phones can't run newer operating systems. S3 might not have been fantastic, but the newer phones should definitely be supported for longer. Especially the 64-bit ones, because they won't go anywhere for years. You can run the newest version of Windows on practically any computer you can find. Phones are computers too. Maybe if Samsung didn't make a million different models of everything it would be easier to support. Posted via the Android Central App

Never mind that generation. My Note 3 still hasn't seen it and I consider the jump to 5.0.? a rather risky step anyway.
Sammy support is becoming crapper than usual.

Google shares a lot of the blame as well for putting out crappy early versions of Lollipoop that Samsung (and carriers) should've never pushed out to begin with. Only now are they trying to get 5.1.1 out to everyone. But that's what users get when they demand frequent updates! /be careful what you wish for....
Android Central Newsletter
Get the best of Android Central in in your inbox, every day!
Thank you for signing up to Android Central. You will receive a verification email shortly.
There was a problem. Please refresh the page and try again.