Samsung Stratosphere specs surface, check out how it compares to the competition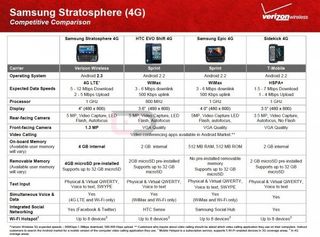 We have seen the Samsung Stratosphere appear in a couple different places yet we have still not seen full specs to gain an understanding of where the device falls in Verizon's lineup. DroidLife has got their hands on some spec sheets which detail the specs of the device as well as compare it to other Android devices available on Verizon currently. In addition to comparing to Verizon devices the documents show comparisons to other slider devices across various other carriers, giving you a pretty good understanding of where the device falls. Verizon lists the "bottom line" as:
Knowing it is a mid-tier device, we could anticipate the pricing to be in the $149 price range on contract, ultimately giving you a pretty good bang for the buck. Is the Samsung Stratosphere in your vision for a potential next device, or will you be passing in favor of something else? Be sure to let us know in the forums! One more comparison after the break.
Source: DroidLife
Android Central Newsletter
Get instant access to breaking news, the hottest reviews, great deals and helpful tips
Jared started off writing about mobile phones back when BlackBerry ruled the market, and Windows Mobile was kinda cool. Now, with a family, mortgage and other responsibilities he has no choice but to look for the best deals, and he's here to share them with you.
Well, at least it's cheaper than the Epic 4G was at launch, even if the specs are the same.

THE EPIC from Sprint comes with a 16gb pre-installed SD Card

That's exactly why it is cheaper. Because the specs are a year old.

they are lying about download speed on wimax, i usually get between 4Mbps and 14Mbps down and between 750kbps and 1.5 Mbps up

They didn't lie that's what you would call an average as individual use will vary.

they didnt say what you said. they said expected. so theirs is 5-12 expected. why such a huge range for them but only 3-6 on wimax. so they did their test with good lte coverage but bad wimax coverage its misleading and you cant deny it.

I had the VZW TBOLT, and I never passed 4.5Mbps, and I live in the 4G LTE coverage for VZW in Detroit, MI. Where I did download 5.89 Mbps on my Motorola Photon 4G on Sprint in the same area.
I had the VZW TBOLT for one week and I did return it back, cost too much to keep and I get the same service, I want back to Sprint.

I had Sprint. I had the Epic 4G in fact. I live in Detroit. There is no 4G coverage in Detroit for Sprint, unless you count the 1 test tower near Wayne State. As a matter of fact the Sprint data speeds in Metro Detroit are so bad that if you complain enough they will let you go. That's what happened with me and I moved to Verizon. I could not be happier with VZW network.

I can say the same about LTE, I get anything from 6-26 down and 1-8 up on my Tbolt?! So there.

Verizon saying something not true about themselves is fine. but lying about competition is wrong

That Verizon comparison chart did get one thing wrong - It claims the Epic 4G came with no pre-installed removable memory, when in fact it came with a 16gb microSD card.

They also convenently leave out how much RAM the Stratosphere has, likely 512 MB. I was digging this phone until it turned out to have Epic 4G internals. Not a slouch I'm sure, but I want to futureproof myself as much as I can if I'm going on contract for 2 years. 512 MB of RAM just isnt going to cut it. If it even had 768 MB of RAM, I would be a lot more interested. In the end, I'll get it if I simply cannot get used to the Prime's on-screen keyboard.

Oh! of course it would, Verizon wants to make it seem that the Epic isn't as good a the Stratosphere, when in all reality they are essentially the same device, Don't be surprised that Verizon lied.

I second that. My wife's Epic came with a 16GB micro SD, as well.

I second that. My wife's Epic came with a 16GB micro SD, as well.

I guess better late than never with this story.. come on AC! Not everyone is foaming at the mouth for an sgsii!

The only thing they have for the ThunderBolt now is "It has a kickstand" too bad, it is a good phone. No Bionic comparison huh?

So which Shift do they have that comes with a front-facing camera?

The Epic has 1GB of Rom and comes with a 16GB card. How could they get so many things wrong...lol

Meh. Its a Fascinate with a slide out keyboard. That means effed up GPS.

I think Androidcentral.com, need to re-check their own store and correcte the information!!!!!!!!!!.

AC did not make these comparisons, VZW did. If VZW cant even get their facts straight no wonder they keep releasing last year's phones.

Wife needs a D2 replacement, she needs a keyboard. Will look at this for sure. Old specs or not, unless something else LTE with keyboard is out soon this is her next phone.

Typical Verizon lies. Yeah we know pretty much about their amazing network, but now they are lying about the competition phones specs.
Android Central Newsletter
Get instant access to breaking news, the hottest reviews, great deals and helpful tips
Thank you for signing up to Android Central. You will receive a verification email shortly.
There was a problem. Please refresh the page and try again.