Samsung showcases Galaxy Note 10.1 features in introductory video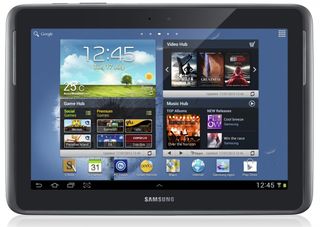 With the Galaxy Note 10.1 confirmed for an international launch later this month, Samsung's taken the wraps off its latest Android tablet, showing off its compliment of S Pen-based drawing and multitasking features in an official introductory video.
The five-minute demonstration, which appeared on the Samsung Mobile YouTube channel, shows off five major software areas -- multitasking, note taking, education, information and photo editing. Starting with multitasking, the Note 10.1 expands on Android's traditional task-switching and the Galaxy S3's picture-in-picture video viewing with the ability to run multiple apps side-by-side on the same screen. As for note-taking, we get a tour of apps like S Note and S Memo, which have evolved somewhat since they first appeared on the original Galaxy Note. And the tablet's educational credentials are boosted by its ability to translate formulae from written text into characters.
You'll find the full Galaxy Tab 10.1 introductory video embedded above. As we mentioned earlier today, the tablet itself goes on sale this month in Wifi and HSPA models, with LTE expected to follow later in the year.
Android Central Newsletter
Get instant access to breaking news, the hottest reviews, great deals and helpful tips
Alex was with Android Central for over a decade, producing written and video content for the site, and served as global Executive Editor from 2016 to 2022.
Hopefully it'll be marketed well.
And help get people's minds out of being Apple zombies!!!!!!

good work samsung on the video, it actually made me want to buy it!
It truly shows, not just that desktops will soon be insignificant, but also the immense commercial & corporate possibilites of tablets

Desktops will never be insignificant... There'll always be power users that require the computing power or flexibility of a desktop, and desktop hardware will invariably always be more powerful... Simple physics. They may be somewhat of a niche/professional market at some point, but never insignificant.

for most of people "niche/professional" will be insignificant to them, e.g. the wider community (most people) won't go out and buy an Intel Core i7 3960X and build themselves a desktop. They will instead go into best buy or some-other retail store and buy the latest hp or mac laptop... From there perspective desktops will soon be insignificant (niche/professional.. whatever you want to call it) as the tablets will have the capability to facilitate most if not all of their needs, which the next generation will feel completely comfortable with.

I usually loathe Samsung's approach to Android software mods, but I gotta admit that demo was rather impressive... Even if multi tasking only works with built in apps, the optimization and integration of the pen input looks very appealing. Hopefully the price isn't exorbitant, hardware specs are actually rather conservative (same old Exynos quad, no quad S4, no 1080p), so I'm cautiously optimistic it won't be more than $500 for the basic 16GB/Wifi version. If it's any less they'll hit a home run IMO. I'd love an 8.9" version.

Samsung doesn't use Qualcomm unless they need to for LTE compatibility. Exynos 4 is a very decent SoC. Why waste resources writing drivers for another SoC when they can easily use the same from SGS3? Also Samsung can really optimize Exynos much better compared to S4 SoC. This is about the software now rather than the spec-pissing contest. This Tab (or Note like they want to called) has a value proposition w.r.t software and S Pen that they included. There is also a good deal of apps being developed for this. What matters is how well it performs. Will wait for reviews. You can see a few here: http://www.youtube.com/watch?v=sVubWgnP5Ow
http://www.youtube.com/watch?v=wVtQqNbTS_g
http://blog.androidsuomi.fi/2012/08/ennakkokatsauksessa-samsung-galaxy-n...

amazing video. I'm really impressed :D

Very impressive in deed... If it works as well as on the video, it's a huge step forward as far as tablets are concerned. I can see them being hugely popular with students...once others around them see everything they can do that their ipads can't. I hope that Samsung patented the shit out of it, to prevent Apple from "innovating" and copying the ideas and releasing a "magical" and "amazing" device.

Here we go now apple is going to sue for Samsung writing the word apple in this commercial!!!

Impressed, but you can see Samsung going, "Starting price, at only $899....."

That is fucking impressive as hell. Can your iPad do that?

I'm not usually a fan of any kind of manufacturer skin on Android (I like it stock as it can be), but I have got to say that this is really impressive! If I was still in school and needed to take notes a lot, I would be all over this, but it's got a lot of bells and whistles I just wouldn't use (except photoshop, which I prefer on a desktop anyways.) However, I do have family members who would find this very useful. Good job, Samsung!

I agree with everyone else here that the vid is quite impressive and the tablet design looks slick too (I notice they use a white one to splash Apple a bit more). With the coming MS Slate and other tablet options (Asus Transformer, etc), the choices will be more difficult. However Sammy has done a VERY nice job with the S Pen implementation making this device very powerful. I also like the multi-tasking set up with split screen and being able to move the keyboard to one side.. The big question will be: HOW MUCH???

If it's under $500 ($499 will do) I will have one on the first day. I really liked the Galaxy Tab 10.1, and I also liked my Tab 7.0 Plus, but something was always lacking about them. I eventually sold them both when I purchased the G-Note 5.3, and stopped carrying two devices. I use the Note 5.3 all day in meetings for taking notes, but using this 10.1 device for taking meeting notes would be incredible. I wonder if they built in a way to sync the S-Memo & S-Note apps between the 5.3 and 10.1 Galaxy Notes, so that what you do on one device is available on the other? That would be amazing!

Okay Alex and Jerry, here's the million dollar question: did Samsung botch the file transfer and other basic features on this like they did on the Galaxy tab? My GF, despite my recommendations toward the xyboard or the TPrime, got the 10.1 and used it for a few months before coming to me. Now she has photos on her Nikon and her Nexus that she wants on the tablet, stuff on her tablet that she wants to back up via my pc and stuff on the pc that she wants on her tablet. Without rooting an spending hours tweaking/chasing shat around or trying one of the bluetooth apps and waiting blog only knows how long, you can't just plug in the USB, copy and paste. This is one of the major reasons I never went apple, and I still can't believe that they made an android device that can just fv(king plug and play to copy files over USB. Do you know if this is going to be the same on the note 10.1? If so, it might as well be an IBrick or an IPon.
Android Central Newsletter
Get instant access to breaking news, the hottest reviews, great deals and helpful tips
Thank you for signing up to Android Central. You will receive a verification email shortly.
There was a problem. Please refresh the page and try again.