Samsung reminds us all the Galaxy Tab 10.1 is coming June 8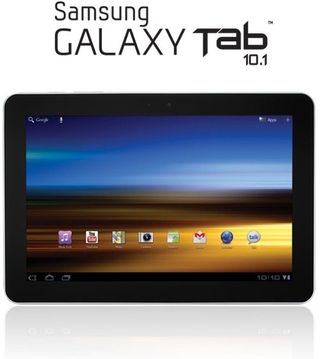 Although it's been quite some time since we heard rumblings from Samsung about the Galaxy Tab 10.1 it appears their marketing teams are now looking to once again shake up interest in the 10.1-inch tablet. The registration page is up on the Samsung website, accessible to anyone who is looking to stay up-to-date on the when and where's of how to purchase the yet to be released Samsung Galaxy Tab 10.1 that hits stores June 8.
We've already given it a look or two already in the past but we'll gladly give it another go come closer to release. If you're wanting to stay in the loop, hit the source link for more details and sign up to be notified of its release -- or, you could just take Jerry's blatant NSFW word for how good he thinks it is.
Source: Samsung (opens in new tab)
Congrats! I only wish Neil Armstrong uttered the same thing when he first stepped on the moon, instead of his own silly choice of words. He could learn something from someone as mature as you.

lmaoooooooooooooo priceless

This is probably the only tab im actually excited for. There's just something about it. I dont know what it is. Its just looks sleek and sexy. Plus its super thin. Can't wait till it comes out so I can test it out.

I am looking forward to possibly replacing my iPad 3G with one of these new Android Tablets. As much as I like the iPad, and even the iPad 2, there are some things that I can do in the web browser for work that the iPad simply is incapable of doing. Both the G-Slate and the Xoom have been able, whereas both iPads have not, so when the battery life matches what the iPad gives I will switch.

I had the original iPad (WiFi) and sold it to buy the Xoom (WiFi). I can tell you, from my personal experience, that the Xoom has nearly identical battery life as the original iPad. That is, 8 - 10 hours, depending on what you're doing.

Asus Transformer. around 9 hours on it's own and around 16 with the dock

I am sure they will price it out of sight like they did the 1st galaxy tab . EPIC FAIL if they do as usual from Sansung

It'll most likely be priced similar to the Xoom, which would be between $500 - $600, depending on the storage capacity. After all, they have to remain competitive.

The prices are 569 for 16gb and 599 for the 32gb. Now give us the date for the 8.9. As per the web site touchwiz will come with a later upgrade...it looks like it will be optional?

Where are you guys getting your prices from??? Release date and pricing has already been announced.
499 for 16gb 10.1" version
469 for 16gb 8.9" version

I would return my XOOM for this but idk when they're getting a 3G carrier version. Any ideas?

Damnit... I was planning on returning my Xoom to costco and picking up the 10.1 on June 8th. Then yesterday I gave in and bought a transformer. Got really lucky finding one available. Now this one starts popping up the very next day lol. I really like the look of the 10.1 but the functionality of the transformer is great.
Android Central Newsletter
Thank you for signing up to Android Central. You will receive a verification email shortly.
There was a problem. Please refresh the page and try again.