Samsung launches new version of its Chromebook Pro with a backlit keyboard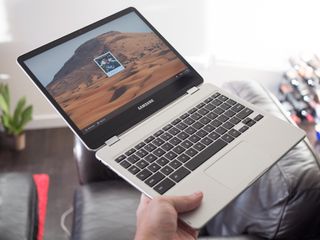 (Image credit: Android Central)
Seemingly out of nowhere, Samsung's taken its already great Chromebook Pro and made it even better by adding something that should have been there in the first place – a backlit keyboard.
Spotted by SamMobile, heading to the Samsung website will show a new listing for "Samsung Chromebook Pro with Backlit Keyboard." It costs $599.99 just like the previous version, and for whatever reason, exists alongside the non-backlit model with the same price rather than replacing it.
Aside from the backlit keyboard, however, this is the same Chromebook Pro that we've known and loved for over a year. There's a 12.3-inch 2400 x 1600 LED display with a 3:2 aspect ratio, Intel Core m3 processor, a built-in stylus, and a 360-degree hinge that allows for its 2-in-1 design.
The backlit keyboard-touting Chromebook Pro is available on Samsung's site right now, and if the $599.99 price tag is too much of an upfront cost, you can also pay $50/month with zero interest if you pay it off within 12 months.
See at Samsung (opens in new tab)
Joe Maring was a Senior Editor for Android Central between 2017 and 2021. You can reach him on Twitter at @JoeMaring1.
Too bad they couldn't fix all that dead space below the screen and above the keyboard. It really makes for an ugly tablet experience. Also, the extra height and the shortened width (tiny backspace key, etc.) make it really not great as a laptop either.

The screen is beautiful though and I dont really have many issues with key placement. I do however think the keyboard is meh to type on. Squishy and imprecise. Also 100 more for backlighting is a rip-off imho.

It's not $100 more, it's the same price.

While the MSRP may be $600, the pro has been discounted quite frequently:
https://www.androidcentral.com/e?link=https2F2Flink...

I bought my original Pro for 499. Wasn't the retail cost $550?

Lack of a backlit keyboard is my only complaint about my Chromebook Plus as well...

Same on my Pro. I find myself using my Dell Chromebook 13 more often because of that even though the res is much lower.

About fricking time! If one is going to charge that much for a hardware browser, it sure as heck should come with a backlit keyboard as one can buy all kinds of Windows laptops in that price range with backlit keyboards.

I got my Samsung Chromebook Plus for $340 delivered. If I was going to spend $600 on a chromebook, I'd get a Pixelbook new and sealed off eBay for around $800.

About time, this should have been present to begin with and is the reason I did not purchase one. Too late to do it now without any of the other specs upgraded.
Android Central Newsletter
Thank you for signing up to Android Central. You will receive a verification email shortly.
There was a problem. Please refresh the page and try again.