Samsung issues 'urgent update' to fix Device Quality Agent error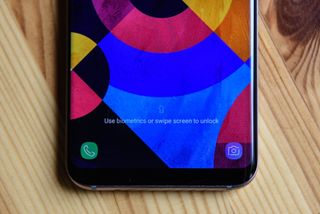 Samsung has issued an "urgent new software update" to fix a problem some of its Galaxy S8 customers were experiencing with a software component called Device Quality Agent, or DQA.
After downloading a day-one software update, many Galaxy S8 owners in the U.S. and Canada began seeing an error every 30-seconds to a minute with the notice that "DQA keeps stopping." DQA is that Device Quality Agent, and it keeps tabs on Wi-Fi quality throughout the device. The temporary fix was to Force Close the DQA app itself, or to disable Wi-Fi, but neither were long-term solutions. Thankfully, Samsung issued the small urgent update through its Galaxy Apps store starting April 24, and it should roll out to all Galaxy S8 owners in due time to fix the issue.
This is the second time in a week that Samsung has had to deal with a small but vocal minority of customers complaining that a bug had beset their new smartphone. Previously, Samsung announced that it would issue a software update to correct a red tint problem on some of its AMOLED displays.
Did you experience the "DQA keeps stopping" bug? Let us know if the update fixed the problem!
Daniel Bader was a former Android Central Editor-in-Chief and Executive Editor for iMore and Windows Central.
I have it and don't see it in galaxy apps.

Have to go to system apps

I received the update last night. I never had the DQA problem but it's good to know they fixed it for those with the pop ups

I did and it's annoying as poo

I've thankfully not had this issue.

I have not seen this error.

Just got an update. I'm on T-MOBILE. However my update size is 382.14 MB! Never mind... This is the April 20th update I'm just getting for some reason. Seems this updated when I got the phone.

I got it late last night too. I wonder why it came so late. I even checked for updates on the 20th and it showed there weren't any

Nothing like putting the cart before the horse.

I can't find the update. Will it update automatically by chance?

Nope, you're outta luck and will have to bring the phone back to the store

It's an incremental rollout. Tyner update was released on 04/24/2017 and I didn't get it until about 2am 04/26/2017. You'll get it eventually

I didn't have the issue, but received the update. All's great with the S8+ so far -- just learning/relearning things particular to the Samsung skin.

Wife's s8 had a notification for it last night. She never had any errors prior.

I'm still getting the error and still haven't seen an update for it. I hope I get it soon this every 30 sec. error is driving me crazy.

oh thats too bad.
I think update pop up will be noticed to you also.
I hope hear the problem gone!

I got it yesterday and it was a really weird update. It seemed to be sent apart from the normal software update, almost like it was through the Galaxy apps, maybe something akin to Samsung's version of Google Play Services. I was worried it was malware at first.

It was through Galaxy Apps

i haven't seen this error on my S8+, but it sounds awful!...every 30 seconds?!
glad these people are getting an update to fix it. hope the update to fix my pink screen is next.

It's coming, but you can also manually adjust it in the Display settings

Have it here on mine. You're lucky.

I thankfully never experienced the DQA error, but did receive the update. So hopefully I'll never experience it 😋

So how is it that those who don't have the problem got the update and those who have the problem don't? Lol. I have this annoying problem and have not received the update nor can I find it!

cant find samsung app store anywhere on phone...never got update..phone unusable... how can i get samsung app store on phone at least to try and find it?

The app name is Galaxy Apps on my Note 4, it might hg to h have changed by now but just check to see if you don't have the Galaxy Apps application in there.

i know what its called, not on my phone. Tried to DL the apk file from internet and keeps saying corrupt file no matter where i DL it from. what a mess.

Did you install package disabler or something similar?

It's in the Samsung folder at the front of the app drawer, right next to the Google folder. It's not possible for a new Galaxy phone to not have that app without rooting and custom ROMs

yes i know that. Its not there. Phone is fresh nothing crazy done to it.

I have been plagued with this problem. Got an update on my pre-ordered Galaxy S8+ on Saturday and the "DQA keeps stopping" error kept popping up every 30 seconds. Still no fix applied to my phone. Meanwhile, those without the problem get the update. It took some hacking to get the DQA error thing to back off, but it still pops up occasionally. The S8+ is a wonderful phone. Stuff happens.... I just hope the update hits my phone soon. Fortunately, I haven't had the screen red tine problem, like others have had.... or phones catching fire....

Aaand we continue with downplaying any issue, and what is basically a condescending attitude toward consumers who have spent their money to purchase the phone, and are unfortunate enough to experience the issue or issues. You people have an awesome way with words. Good job AC!

I read that Samsung rushed this phone through engineering in 4 months in an effort to stop the bleeding after the Note 7 debacle. Seems they went light on the QA, as many elements of the phone are not ready for prime time. Oh well, they can count on AC to run cover for them while they iron out all the glitches they missed.

I doubt that Samsung has rushed this phone to bring it to the market. It is already later than other S-line devices. True as a device coming with big changes than ever before there might be issued. But they seem to be responding relatively quick too.

You are making it sound like the device is having hundreds of glitches , how many actually are there ?

Where the heck in Galaxy apps do you see if there is an update waiting? I just see how to download Samsung apps.

No issues with any tints or DQA...but did get the update, better safe than sorry.

Samsung needs to be careful...people are finding out they are, in fact, capable of pushing fast and regular updates. Shh, Samsung says. Stop finding bugs! We can't be exposed!

I haven't received any updates and I get the DQA pop up every 30 seconds or so. I've tried all fixes and nothing. I've rebooted several times today and still no update. Very annoying for a phone I've had less than one week.

I'm a cell tech. Per Samsung tonight...there is no fix..yet.

"a small but vocal minority of customers complaining" Yeah, Just EVERY new S8 & S8+ customer. You know, the 'Flagship' of Samsung phones. "Sir, taking on water, Aye, Aye, Sir!"

It's a small amount of people. Most of the people that ordered them are still waiting for the shipments, since Samsung didn't make enough pluses

" ...in due time...." What's that mean?

There are plenty of good phone manufacturers out there, Samsung just isn't one of them.

The update came up and installed. It has been about 15 - 20 minutes, and no DQA error. It was constantly coming up, prior to the update.

I don't have the DQA issue, but am having trouble staying connected to wifi. It disconnects sporadically. Did all the troubleshooting that Samsung sales rep recommended, including factory reset, still having the same problem.

I guess my wife and I are the fortunate ones to never have experienced the DQA problem in this first week we have had our G8 phones, so I was unfamiliar with the term 'Device Quality Agent' when I saw the update message appear. Not knowing what it was, and forced to choose between Update and Decline, I chose Decline. Now that I have arrived at this page and learned the DQA update is legit I can't figure out how to be asked again about the download so I can accept it. There does not seem to be any way to request the update. Samsung Galaxy Apps (as a single entity like it appears on the phone) does not show up in Google Play Store, and opening the app itself on the G8 phone and viewing its Settings does not provide a way for me to request software updates. I may not have experienced the DQA problem (yet) but I want the update to be on the safe side but am at a loss for how. Samsung Push Service does not have a way to tell it to check again and push the message to my phone.

I don't have my Galaxy on me at this moment but software updates should be under Settings-About Phone/Device- software update. Alternatively you could just use the in settings search and type in "Update" .
Android Central Newsletter
Get the best of Android Central in in your inbox, every day!
Thank you for signing up to Android Central. You will receive a verification email shortly.
There was a problem. Please refresh the page and try again.