Samsung Hercules shows up on TELUS one more time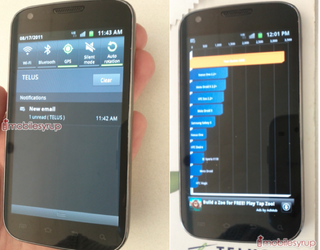 Canadians, eh? They seem to be having quite a bit of luck these days with getting their hands on new devices. The Samsung Galaxy S II has been available in Canada for quite some time already in a number of variants but this one, the TELUS version matches that of the T-Mobile version we saw a number of times already. This also isn't the first Telus sighting either, nor is it likely to be the last. Still no pricing or date to go along with it but just when you thought the Samsung Galaxy S II couldn't get any better -- they drop this 42Mbps beast on us. Glad I've not yet picked up a SGS II.
Source: Mobile Syrup
I want this so badly. My contract just started in march.

Wow I love that curved design.

This looks like one sexy device... Would prefer this design over the current GS2 design

sighh... still doesnt look anything like the SGS2 that has been released already, now THAT is a hot phone, this looks no different then any other samsung that has been released -cough- nexus -cough- every gs1 device

ps
before any of u say something about apple, apple is already sue happy because they can only litigate there way to the top, so either way apple has nothing to do with it.

I am not even gonna lie, this phone is sexy as hell. I really never liked samsung designs at all but this I would buy.

Even though im not a big fan of Samsung touch-wiz and the way they update their devices. This is one SEXY BEAST!!! Glad to see T-Mobile getting it:)

Samsung is losing more and more potential buyers each day because the closer we get to a Nexus Prime announcement, the more people will decide to wait for it. I'm obviously referring to the techies out there who actually know about an imminent Nexus Prime arrival, but still, these are people who can potentially purchase the Hercules instead. Too bad it took them so long...I was REALLY excited about this phone. More thoughts on the Hercules on my blog: http://wp.me/p1BlyQ-4Y
Android Central Newsletter
Get the best of Android Central in in your inbox, every day!
Thank you for signing up to Android Central. You will receive a verification email shortly.
There was a problem. Please refresh the page and try again.