Samsung Gear S3 vs. Gear S2: Which should you buy?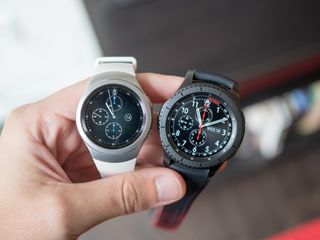 With the launch of the new Gear S3 Frontier and Classic, Samsung has decided to keep its year-old Gear S2 and S2 Classic around as viable options with lower prices, smaller sizes and similar functionality thanks to software updates. It's always tempting to just buy the latest version of whatever product you're looking for, but in this case there are some viable reasons to choose last year's models.
If you want a smartwatch from Samsung, you have a couple choices. Let us help you make the decision between the new Gear S3 and last year's Gear S2.
Design and size considerations
Between the Gear S3 and S2, you effectively have three designs to choose from depending on your style. The biggest and boldest of the bunch is the Gear S3 Frontier, which has a strong black on black finish, large gnarled bezel and textured side buttons — it definitely stands out. Then you have the standard Gear S2, which has a slick and almost sport-like look, with smooth metal and a sculpted band that flows right into the watch face to give the appearance of a single piece. Perhaps not surprisingly, the Gear S3 Classic and Gear S2 Classic have very similar designs — two-tone mirrored metal finishes are accented by more "classic" design elements like a simpler bezel and understated buttons, finished off with a leather strap.
Exterior design cues don't tell the whole story, though: you also have to consider the size of these watches. The new Gear S3s are significantly larger than last year's watches, with cases that are 46 mm across and 12.9 mm thick, attaching to 22 mm straps. The Gear S2 is just 42 mm across and 11.4 mm thick, whille the Gear S2 Classic is only 40 mm across; both have 20 mm straps. There's also a matter of weight, with the Gear S3 Frontier coming in at a hefty 62 grams and the S3 Classic at 57 grams, much heavier than the 47 and 42 grams of the Gear S2 and S2 Classic, respectively.
Obviously when we're talking about millimeters and grams it's tough to conceptualize how much these differences matter, but remember that this is something being worn — and if it is cumbersome or doesn't fit right, it won't be enjoyable. The Gear S3 Frontier and Classic are really large by analog watch standards, particularly in thickness, and just won't be comfortable for many even with average wrists. This fact alone may push many to consider last year's Gear S2 and S2 Classic, which are far more svelte.
Features and software
Since the Gear S2 and S2 Classic are still officially on sale, Samsung is updating the older watches with the same software experience you'll find on the Gear S3. The changes aren't all that major to start with, actually, but knowing that you're getting the same software no matter which watch you choose is important.
Considering the (within reason) identical software, the thing to consider here is what you can't change: the hardware. The new Gear S3s have the same processor, storage, screen resolution and IP68 water resistance, but have larger 1.3-inch displays (versus 1.2-inch before) and 768MB of RAM to the Gear S2's 512MB. The battery is also now much larger, a full 380 mAh compared to last year's 250 mAh, though battery life doesn't take as considerable a jump in most cases.
Beyond just the specs, the Gear S3 has standardized on including a speaker across models — useful for notifications and voice calls, if you wish — whereas you could only get one from the ceullar-connected Gear S2 Classic before. You also get GPS in both Gear S3s to keep track of your runs, which was again exclusive to the 3G-connected model last year. Samsung Pay makes a return in the Gear S3, but it's beefed up to let you pay at just about any payment terminal — like those you normally swipe a card in — thanks to new MST technology.
Price and value
Many folks will make their buying decision based on price alone, and there's enough of a gap between models to make this an interesting decision.
The Gear S3, whether you want the Frontier or Classic, will set you back $349. For the older Gear S2 models, you'll pay $249 for the Classic and just $229 for the standard model, which is a considerable drop in price for what are still very capable (and preferably sized) watches for most people. Yes you lose out on some updated specs, GPS and a speaker, but for most people those things aren't nearly as important as a $100+ savings on something that's still just an accessory for their phone.
If you're looking to save even more money and still get a bit of that smartwatch experience, you can consider a Gear Fit 2 instead. It offers excellent fitness tracking and many of the basic smartwatch features people are looking for, and costs just $145.
Get the Android Central Newsletter
Instant access to breaking news, the hottest reviews, great deals and helpful tips.
Andrew was an Executive Editor, U.S. at Android Central between 2012 and 2020.