Samsung Gear S3 vs. Gear S2: Which should you buy?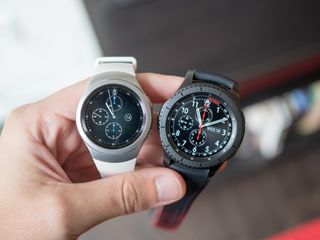 With the launch of the new Gear S3 Frontier and Classic, Samsung has decided to keep its year-old Gear S2 and S2 Classic around as viable options with lower prices, smaller sizes and similar functionality thanks to software updates. It's always tempting to just buy the latest version of whatever product you're looking for, but in this case there are some viable reasons to choose last year's models.
If you want a smartwatch from Samsung, you have a couple choices. Let us help you make the decision between the new Gear S3 and last year's Gear S2.
Design and size considerations
Between the Gear S3 and S2, you effectively have three designs to choose from depending on your style. The biggest and boldest of the bunch is the Gear S3 Frontier, which has a strong black on black finish, large gnarled bezel and textured side buttons — it definitely stands out. Then you have the standard Gear S2, which has a slick and almost sport-like look, with smooth metal and a sculpted band that flows right into the watch face to give the appearance of a single piece. Perhaps not surprisingly, the Gear S3 Classic and Gear S2 Classic have very similar designs — two-tone mirrored metal finishes are accented by more "classic" design elements like a simpler bezel and understated buttons, finished off with a leather strap.
Exterior design cues don't tell the whole story, though: you also have to consider the size of these watches. The new Gear S3s are significantly larger than last year's watches, with cases that are 46 mm across and 12.9 mm thick, attaching to 22 mm straps. The Gear S2 is just 42 mm across and 11.4 mm thick, whille the Gear S2 Classic is only 40 mm across; both have 20 mm straps. There's also a matter of weight, with the Gear S3 Frontier coming in at a hefty 62 grams and the S3 Classic at 57 grams, much heavier than the 47 and 42 grams of the Gear S2 and S2 Classic, respectively.
Obviously when we're talking about millimeters and grams it's tough to conceptualize how much these differences matter, but remember that this is something being worn — and if it is cumbersome or doesn't fit right, it won't be enjoyable. The Gear S3 Frontier and Classic are really large by analog watch standards, particularly in thickness, and just won't be comfortable for many even with average wrists. This fact alone may push many to consider last year's Gear S2 and S2 Classic, which are far more svelte.
Features and software
Since the Gear S2 and S2 Classic are still officially on sale, Samsung is updating the older watches with the same software experience you'll find on the Gear S3. The changes aren't all that major to start with, actually, but knowing that you're getting the same software no matter which watch you choose is important.
Considering the (within reason) identical software, the thing to consider here is what you can't change: the hardware. The new Gear S3s have the same processor, storage, screen resolution and IP68 water resistance, but have larger 1.3-inch displays (versus 1.2-inch before) and 768MB of RAM to the Gear S2's 512MB. The battery is also now much larger, a full 380 mAh compared to last year's 250 mAh, though battery life doesn't take as considerable a jump in most cases.
Beyond just the specs, the Gear S3 has standardized on including a speaker across models — useful for notifications and voice calls, if you wish — whereas you could only get one from the ceullar-connected Gear S2 Classic before. You also get GPS in both Gear S3s to keep track of your runs, which was again exclusive to the 3G-connected model last year. Samsung Pay makes a return in the Gear S3, but it's beefed up to let you pay at just about any payment terminal — like those you normally swipe a card in — thanks to new MST technology.
Price and value
Many folks will make their buying decision based on price alone, and there's enough of a gap between models to make this an interesting decision.
The Gear S3, whether you want the Frontier or Classic, will set you back $349. For the older Gear S2 models, you'll pay $249 for the Classic (opens in new tab) and just $229 for the standard model (opens in new tab), which is a considerable drop in price for what are still very capable (and preferably sized) watches for most people. Yes you lose out on some updated specs, GPS and a speaker, but for most people those things aren't nearly as important as a $100+ savings on something that's still just an accessory for their phone.
If you're looking to save even more money and still get a bit of that smartwatch experience, you can consider a Gear Fit 2 instead. It offers excellent fitness tracking and many of the basic smartwatch features people are looking for, and costs just $145 (opens in new tab).
See Gear S3 at Amazon (opens in new tab)
Andrew was an Executive Editor, U.S. at Android Central between 2012 and 2020.
Just got a S2 for $110. I was surprised to find out it was a Verizon version when it arrived. I guess I won't see the S3 features for a while tho.

That's a great deal for the Gear S2

It's worth it for Samsung Pay Alone, as long as your bank is supported. I also found the S2 to be a bit small for my taste, but I also like big watches.

Agreed. That's why I'm upgrading from my Moto 360 finally.

I love the design of my Moto 360 2nd gen, but Android Wear is pretty lacking for my usage and it drains my battery like no other.

I love my 360 and I've never had issues with my battery not lasting....Even on ot days. I just really want Samsung pay on a watch. I have really big wrists...So large watches aren't a problem for me. 360 looks normal on me.

I can't see getting anything but the S3 due to MST. Full Samsung Pay with any phone is awesome.

The Gear S2 3G is actually slightly thicker (0.5mm) than the Gear S3, so if anyone had that one, the Gear S3 will feel similar but better. This is because of the design the Gear S2 has for connecting the wrist bands makes the straps/watch sit up higher (no flexibility) and also, the glue/rubber at the connector falls apart. Had to superglue it back together twice. The Gear S3 has the S2 Classic's connector, so no problems and with the 22mm strap size, I can actually find straps to switch it out with.

If the Editor were genuine, he would have pointed out just as you have, the GS2 3g version being thicker than the Frontier w/3G. He also would have mentioned the GS2's notorious issue with the bands easily breaking. Instead, it seems he's trying his darndest to dissuade people from the GS3. Pushing the GS2 as the supposed alternative is probably the only case he could make given how much better Samsung's Tizen offerings are versus any Android Wear watch.

There's full Samsung pay on my S2, just the same way it is on S3. Works well with my Nexus 6P

The Gear S2 doesn't have MST, so you can only use Samsung Pay at the NFC terminals with it. The Gear S3 has MST, so you can use it at the mag-stripe only terminals, too.

NFC only isn't full Samsung Pay.

Only NFC. S3 works on any cc terminal.

I use my gear s2 T-Mobile version at plenty of terminals and Dunkin Donuts pretty much everyday.. Samsung pay works great and I have a LG G5 phone as well

The ability to use NFC in a large number of places really depends on where you live. When I go back home to small town up norht Minnesota I wouldn't be able to use an s2 at all. With the S3 I can continue to just walk out and not have to worry about grabbing my wallet or making sure my phone is even with me at the time I'm paying for something.

FYI. Don't order on Amazon. Just ordered direct from Samsung for $299 for the frontier.

Just a heads up, ordering from Samsung directly is usually a terrible experience. I still occasionally do it to save money when they have a good deal, but there have been timeS (yes, with an S) I waited over a month for what I ordered smh.

I'll keep that in mind. But I'll wait a couple weeks to save $80.

Amazon price just dropped to $299. Everyone is backordered. Canceled Samsung order and ordered thru Amazon.

I won't wait on an order. It needs to be in my hand when I walk out of the store.

I have the frontier but am switching to classic over concerns about easy scratches on the frontiers dark bezel.

I use the frontier and I've had it since release day. I work outside with a utility and it can get pretty rough with my things but so far no scratches on my bezel. Posted from my unlocked S7 Active/ Jet black iPhone 7+/ peerless Note 4/ or iPad Pro 12.9

I brushed mine against a doorknob the other day and it made a mark. I've been reading other anecdotal comments online and see youtube vids mentioning easy scratching too. But hopefully your results are the norm.

Worn my Frontier for a couple weeks now, including traveling and spending time swimming in the ocean ... no scratches to show for it yet.

Good to know, thank you. This has been my single biggest hold up as well.

I just picked up one at ATT and with my company's discount got the S3 for $227...

The "hold the back button" method is easy to use to activate Samsung Pay on ya gear s2..just make sure ya bank supports it

Gear S2 is missing GPS.... Really??? I must've bought a prototype last year then. Was the main reason I went gear S2 over Android wear watches was GPS.

Gear S2 w/ 3G has GPS. Just not the BT/Wi-Fi models. All Gear S3s have GPS now tho.

Didn't realize you had to have 3g for the GPS. That said, stand alone GPS is great. I use it all the time when I'm out riding around. When I stop to look at something, or while hunting, I can leave the phone back in the RZR since the watch's GPS does the same thing when in foot. Makes one less thing to carry.
Definitely something to consider. In my opinion, we'll worth the price.

If I get one of these, it will be the classic model, but I'm going to wait and see if Google introduces any new watches with the release of AW 2.0 first. I have a gear s2 classic 3g, and I enjoy it, but I'M just going to wait for the 1st quarter and check out CES, MWC, Google event, etc.

The S2 looks good on the willow thin wrist of the slightly man. It's too small for your average man. They improved it with the S3 in my opinion.

The S3 is great if you like wearing a hockey puck on your wrist.

Again not for man with child-like wrists. Though most children would choose the larger watch.

S3 feels like the perfect size to me. Not too big and not too small. Actually sleeker than my current Gshock. Can't wait to get one.

I have pretty big wrists.

Actually I wouldn't mind if the s3 was just slightly bigger. It wasn't quite the significant increase over the S2 i was hoping for. A slightly bigger screen size would be welcome to ease operation even more.

Where can I find the watch face that is in the last picture? I am finding it hard to get fairly "normal" faces.

I'm not sure either is really "viable." And the lack of market penetration for smartwatches in general seems to indicate most people feel the way I do. Too little value, too much cost.

There is many viable products that are not on the majority of the population's list of necessary items. I'm fairly certain they are making money off of these since way smaller companies make money on even more niche products.

I bought the S2 Classic the day Pebble made the official announcement it was dead (the refunds for the Time 2 would make the S2c only few buck more).
I jumped on the S2c because it's small and have most of the control on hardware buttons.
So far my only gripe is the lack of high-color ambiant light, a feature only found on the S3, bummer.

I can't believe that with the on board storage, music is the only thing that can be stored. Don't understand why calendar apts can't be stored on the watch so that when you're off BT, your apts still pop up on the watch.

If only it had MST like the 3

Yeah I love my gear s2, it has served me well.
I tried on the gear s3 frontier, it looked like a tire on my wrist. It actually looked really awesome.

Bought a Korean version S2 online about a year ago, and get updates before reading about it anywhere. Just had to change the default language, and delete 5 Korean apps.

Too bad they dropped support for the Gear live so fast. Still using mine and would love to see AW 2.0 on it....

S3 is nothing short of amazing. Current crop of aw watches will need resign and android pay to even start to come close. S3 had beautiful aesthetics and a kick butt os. Sync via WiFi is outstanding. The list goes on for this watch..

Just based on the size, I would choose the Gear S2. Don't want a watch that's to bulky and big. Something sleek and light it perfect. A droid a day keeps the Apple away

I purchased a Gear 3 Sunday for $249@ the ATT store

Not sure if I'd base the purchase on Samsung Pay. I have an S2 Classic and have been getting the run around for ~3months with Samsung since the device continually says it doesn't support Samsung Pay. Been send in to repair 3 times, still doesn't work and its on the latest (as of Nov) firmware. I'd focus on the rest of the features which are well done on the S2 but having a GPS on the device would be nice.

Absolutely! Just picked one up on eBay for $100.00 and I'm extremely impressed. I've purchazed over a dozen smart watches and the S2 is at the very top. And no, I'm not buying that rock called the S3.

I've had the S2 Classic since launch and compared with the S3 recently. Its a significant size difference when put together. For me a speaker is just a battery drain on something that is not required ( apart from as an alarm so a beeper would be good). You keep loading up the functionality and result in killing the battery life. I'd like the S2 to get thinner ultimately, not fatter..

I had the S2 classic for roughly 2 or 3 hours before I decided it was too feminine on my wrist because it was so small. I guess everyone has their own thoughts on what a watch should look like on one's wrist. Posted from my unlocked S7 Active/ Jet black iPhone 7+/ peerless Note 4/ or iPad Pro 12.9

I understand what you are saying, but I think it is a pure generational thing. I'm in my 40's and still feel a chrono should be thin and not extend far from the wrist to protect it from getting hung up and scuffed while working. That's why I preferred the S2 Classic with a matching ceramic steel band. I do appreciate the fact that trend has gone away over the last ten years are so to where large watches are more in fashion for men. Oddly though, once upon a time, large watches on men were seen as too feminine or childish because it was similar to wearing clothes too big, lol. Times change.

Interesting. I'm actually in my 40's as well and I do remember a thin Citizen watch I had but I just took to watches more once they got larger.

I only want to find out how to get rid of sending disabledm

I was lucky. Got for 50.00 promo on Verizon. I had the Gear 2 prior. Like the GearS2. Being stand-alone is great.

Picked up the T-Mobile Gear S3 frontier for $260 locally. Decent deal given that I can't seem to find one at any store. So far working great with Pixel XL.

Yeah can't find one anywhere and I refuse to order one. If they want to sell something then it better be available to walk out with.

It better, huh? Oooooh. Scary

I had to get one from Tmobile even though my phone service is through Verizon. SMH at Verizon for not offering the S3. I had the S2 through Verizon and I would have to say the upgrade was worth every penny.

Don't worry, you will be able to afford them someday. Maybe.

I'm not pleased that the Gear S3 Classic, when in ultra power saving mode, fails to connect with my Galaxy Note 4. Also that it doesn't function with Textra.

I have both the S2 Classic Platinum and the S3 Frontier. I have had:
Samsung Galaxy Gear
Gear Fit
Gear 2
Gear S and the S2 was the first watch that I was absolutely excited about it, it was exactly what I was looking for. A watch that actually looks like a watch and not a smartwatch, my only complaint was that it was smaller than I liked, personally, I prefer larger watches. When the S3 was announced and I saw the Frontier I knew that was exactly what I wanted and I love it. the size looks perfect on my wrist and I get so many compliments on it. I love that I can use Samsung pay even with a Nexus phone and I'm, through the roof, happy with battery life. I do charge it nightly but happy to report that when I take it off the charger it's off for about 16/18hrs at a time and I'm still at 60-70% when it goes back on the charger. The S3F is perfect and my wife is using the S2 and she loves it

When is this update finally dropping in the US for the S2 to get S3 features. It was announced but nothing for me on ATT yet. Did anyone else receive it?
Android Central Newsletter
Thank you for signing up to Android Central. You will receive a verification email shortly.
There was a problem. Please refresh the page and try again.