Samsung Galaxy Tab S6 has new keyboard with touch pad, Bluetooth S Pen and improved specs for $650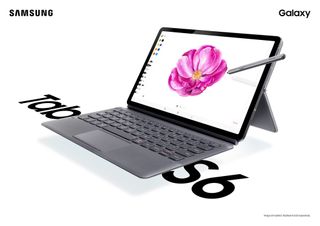 What you need to know
Tablet has new top-end Snapdragon 855, 6GB of RAM and in-display fingerprint sensor.
New keyboard cover has adjustable angle, laptop-like touch pad and function row.
S Pen includes Bluetooth functions from Note 9, charges wirelessly and attaches with magnets.
Android tablets may not be on everyone's mind in the same way phones are, but Samsung asserts that the market isn't dead — and the new Galaxy Tab S6 carries on its high-end tablet ambitions. Samsung's user research from the Tab S3 and S4 showed that buyers loved using the keyboard, S Pen, camera and productivity features — so the Tab S6 improves in each area, and takes things to a new level with higher-end specs.
Samsung's tablet lineup is a tad confusing, so I will say explicitly that the Tab S6 does not replace the Tab S5e. Samsung sees a three-pronged strategy with its tablets with the Tab A 10.1 (opens in new tab) at the base end, the Tab S5e (opens in new tab) in the middle and the Tab S6 at the top.
Image 1 of 3
Let's get the basics out of the way. The Tab S6 runs on the Snapdragon 855 processor, backed up by 6GB of RAM and 128GB of storage (or 8 and 256 for $80 more), plus microSD expansion. The 7030mAh battery is a slight downgrade from the Tab S4 (opens in new tab), but the screen is the same 10.5-inch Super AMOLED and it's still surrounded by quad speakers. It's also just 5.7 mm thick, and over 10% lighter than the Tab S4 — thanks in part to a move from a glass to metal back. There's also an optical in-display fingerprint sensor for quick log-ins, which is a small but completely needed feature.
Samsung insists that Tab S4 owners have actually made use of its camera on a regular basis, so the main 13MP camera is now paired with a 123-degree wide-angle 5MP camera for capturing things like documents and whiteboards in conference rooms.
The big changes start with the keyboard attachment, which is now even more laptop-like with the addition of a touch pad and function row (including a dedicated DeX launch button). The cover's hinge also has adjustability for a wide variety of screen viewing angles, which is something often missing from these sorts of tablet-based convertibles. Depending on how you feel about the usability of Android apps on tablets and Samsung's DeX experience, the keyboard changes alone could make this more of a competitor for Windows-based convertibles.
The core software experience is effectively unchanged, which shouldn't come as any surprise. This is Android 9 Pie with consistent One UI elements from the Tab S4 and Galaxy S10; plus DeX 2.0 for a more desktop-like experience when paired with that keyboard cover. Samsung says that a full 30% of Tab S4 users were regularly using a mouse, which lends even more weight to the idea of adding a touch pad to the keyboard.
The new S Pen isn't too different in terms of size, but it now integrates all of the Bluetooth wireless features introduced in the Galaxy Note 9. This makes even more sense for something like a tablet where you may actually be viewing it from more than an arm's reach away, letting you take advantage of things like a remote camera shutter, advancing presentations or moving through a photo gallery. And now that the S Pen requires recharging, you can charge it wirelessly on the back of the tablet where it attaches with magnets. It's still included in the box.
For all of these upgrades and a more laptop-like experience, the Tab S6 starts at $650 (opens in new tab) without the keyboard cover — and you can choose from Mountain Gray, Cloud Blue and Rose Blush colors. Add that in for another $180, and it's a spendy proposition — albeit an enticing one, based on what we can see here. Orders open up on August 23 (opens in new tab), with full retail availability from September 6; and orders prior to September 22 will get 50% off the keyboard cover. There will also be an LTE version available later this year.
Android Central Newsletter
Get instant access to breaking news, the hottest reviews, great deals and helpful tips
Andrew was an Executive Editor, U.S. at Android Central between 2012 and 2020.
Android central rips on android tablets all the time, but Samsung marches forward to improve them without Google's help. After all of the iterations, the high end Samsung tablets are finally a mature product with consistent performance with features that distinguish it from competitors.

They definitely make the best Android tablets. I recently bought myself a Galaxy Tab S5e and I love it. The problem is that Android itself just isn't great for tablets. It's basically just a huge Android phone at the end of the day, so that's unfortunate. I wish Google would give Android on tablets some much needed differentiation.

I wrote a paper using only DeX on an external monitor with the tab s4 as a second screen. It works shockingly well. So much you can do. They just really need to open multiple instances of a single app. The tab line is way more powerful than anyone will know because not meant of us have the patience to figure it out.

I'm so excited about this new tablet S6 from Samsung. I currently have the S3, but didn't want to buy the S4 exactly because of the things that have been improved with the S6: top-notch processor, vastly more storage and RAM, and in particular infinitely better keyboard solution. And with metal back, as it should be. Samsung hit all the right notes with this one, it seem's to me. The new wide-angle camera is welcome, I can see a use for it taking pictures of documents and such. The keyboard solution (provided it attaches firmly) is superb: you get a kick-stand like with a Surface 2-1, you can use it with or without the keyboard, or take it off all together and have a very light tablet for reading. Super flexible solution! I envisage that you can really use this device both for full productivity/creativity and for entertainment. Thanks to Microsoft I can use all the productivity tools that I need in my work and thanks to Google I can play, listen to music, read and much more when I'm off. S-pen on the back seems a little weird, but I can live with that getting much improved functionality - and contrary to both Apple and Microsoft Surface you get the pen in the box, without having to shell out further 100 US-dollars.
I see nothing not to like. Even the new colour scheme is brilliant - no limitation to boring grey/black here. However, I'm sure that all reviews will once again claim that Android on tablets is a waste of time compared to the Ipad. I have used Android tablets for many years, and I have never ever experienced this as any problem at all. We will also hear reviews stating that the Ipad has a much more powerfull processor, which is technically true but in my view of no importance if you have all the power you need to do all the things you need without hiccups. And you will have that with the S6.
Thank you Samsung for having the courage to stick with Android tablets and innovating such a great device. I will certainly use the pre-order possibility as soon as possible.

Ooh another Samsung fanboy. Samsung is the reason I'll never buy an Android tablet. Google leaving the Android tablets space sealed it's fate.

Jeez dude. Just because he's excited about 1 product and is explaining all the reasons doesn't make him a fanboy. As an Android Developer, I stray away from samsung devices but this tablet looks legitimately great and I'm going to get one for myself once the LTE version is available. I'm not a huge apple fan but you'd have to pry my macbook pro from my cold dead hands. You can like a product without being a fanboy. And in the tablet space, if you want to stick to android, samsung is the only legitimate game in town. Calm down a bit

Beno51079, . Samsung is doing some really great things with it's products. If you need to hate on people who use a different platform in order to feel better about yourself then you need to reevaluate your life. Each platform has different pros and cons. Look up "It's Time To Stop Hating On Apple Users" on Youtube and watch the video from Apple Explained. It applies to all platforms. I personally love Android. Samsung is still trying to make Android tablets work. I still use an Android tablet for media consumption.

I must be in the exception here-- I use my Tab S3 for hours every day, but I've used the S Pen maybe once in the last year, the camera exactly one time, and I never bought a keyboard.

I love high end Samsung tablets, unfortunately it's not the tablet but rather the apps. Just not a good experience when phone apps have to be blown up to fit the screen. I mainly use an iPad for my media consumption and web browsing. I keep a Tab A 10.1 on my desk for those few things that work best on an Android tablet. An example would be, my Hulu app freezes on my iPad, but works flawlessly on my Android tablet.

I have the s5e, and love dex, didnt think I would even use it, but it's my favorite feature.

I'm super curious to see if the keyboard cover will work on the S5e. I have the S5e and it would've been amazing if they would've made this keyboard for that model also.

For me the moment Google gave up on Android tablets is the moment Android tablets died, Samsung is basically keeping Android tablets alive but only just and I wouldn't buy anything Samsung because I don't like their bloated UI, I'm an Android and Google purist, Android should be bloat free, clean and have no Android skin on top.

I used a Note 10.1 for 5 years (still works) at work. I took all my notes on it, so they were always at hand. I used the camera to add pics to notes that I could add dimensions to. By the time I could swing a new one (work wouldn't pay for it, I bought it on my own) they didn't really have anything I thought was better. I really wish this Tab S6 had a 12" screen. I almost bought the Note Pro 12.2 used, but even it was already "long in the tooth". And I refuse to buy Apple, so the iPad Pro is out. I went with a Windows 10 convertible with Active Stylus, but I really miss the smaller profile and rear camera. Plus Android apps. I don't know why people get all worked up, I've never had an issue running apps on the Note 10.1, other than when it was showing its age...
Android Central Newsletter
Get instant access to breaking news, the hottest reviews, great deals and helpful tips
Thank you for signing up to Android Central. You will receive a verification email shortly.
There was a problem. Please refresh the page and try again.