Samsung Galaxy S9+ unboxing!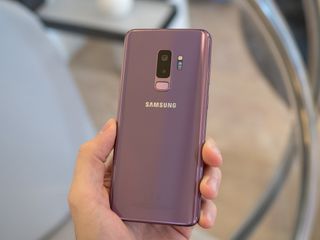 Fresh from the announcement event in Barcelona, we've got a Galaxy S9+ in hand and have decided to dive right in and take a look. This is the retail packaging for the Galaxy S9+, so its contents are going to be nearly identical to your version. There are obviously some small differences between different countries and mobile carriers, but for the most part what you see here is what you are going to get when these phones start shipping on March 16.
Check out our hands-on preview for more thoughts on the Galaxy S9!
With pre-orders expecting to start on March 2nd, you've still got some time to decide on which size Galaxy S9 you'd prefer, and then of course which color out of the impressive options available this year.
We're going to have a lot more to talk about on this phone very soon, so be sure to drop your questions and thoughts in the comments!
Russell is a Contributing Editor at Android Central. He's a former server admin who has been using Android since the HTC G1, and quite literally wrote the book on Android tablets. You can usually find him chasing the next tech trend, much to the pain of his wallet. Find him on Facebook and Twitter
As an s7edge owner in need of a new phone, I am very excited. If I were an 8...not do much. May even consider an 8 or note.

Go the note, better specs than the 8

Just picked a note up. Love it. The thing is perfect.

Better than another PS4 article or a mattress "Ad"

Don't remind me, I don't think I can look at a play station or a mattress the same way again. I'm gonna have to go to therapy because of those random articles

"The way Android normally does things" (back button on the left) The very first Android phone, the G1, had the back button on the right. I'm used to it being on the right. I once had a phone with it on the left. I lived through that experience. Amazing, I know.

Look how blue that display is! (Pixel 2 XL owner here, so I had to say it). Yes, yes, I realize the white balance is probably off on the video and it doesn't look like that in real life. Crazy that Samsung hasn't improved their adaptive fast charging yet (still based on Quick Charge 2.0).

What's inside the S9 box? A generic looking, massively overpriced mobile phone. Do I win?

Only if you don't buy one ;)

Nice device...like the Note8 before it, but get comfortable with that version of Android out of the box as you will be running it for a long long time...

Yeah, this time next year. Literally.

Especially because Project Treble is just buzz words and won't actually make a difference.

Yeah, because the next version will be SO different.

Quick charge 2! I've got quick charge 3 on 2016 Xiomi Mi Mix, come on Samsung!!

Can't wait. I'll have mine in midnight black with a simple slim, clear case. Upgrading from a very unforgettable LG V20.

For a moment, I was tempted by the S9+ but I'm a stock Android and Google lover and have my heart set on the Pixel 2 XL, my current Chinese phone (Oukitel K6) is pretty much stock Android and I'm using the Pixel 2 Launcher, yes Samsung make the best hardware in the business but until their software is bloat free, clean and close to stock Android then I'll continue to a Pixel owner (when I get my Pixel 2 XL) the smooth, clean, uncluttered experience is amazing with hardly any lag plus the quick updates and being first in line for the latest version of Android has a kudos that nothing comes close and Samsung are unlikely to follow the Google way which I believe is what Android should be. But I love the Samsung implementation of their emojis (AR Emojis) though.

Nice phone as always. Am I the only one that gets pissed that Google never includes a headphone with their units but other manufacturers do. C'mon Google Pixel 2 XL needed that premium love.

When will Verizon get the 9+? Anybody know?
Android Central Newsletter
Get the best of Android Central in in your inbox, every day!
Thank you for signing up to Android Central. You will receive a verification email shortly.
There was a problem. Please refresh the page and try again.