Samsung Galaxy S9 vs. Galaxy S9+: Which should you buy?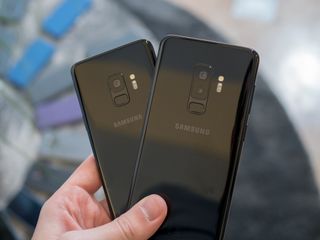 Samsung's seen serious success with launching its yearly flagship in two sizes. In the last couple of years, the larger version has become the more desirable model while the smaller turned into the solid, default choice at a lower price.
Unlike the Galaxy S8 release, the Galaxy S9 and S9+ have more differences than just size: you get a few feature and spec improvements as well, offering a bit more to justify the higher price.
So when you go to get a new Samsung flagship, you have a choice: should you buy the Galaxy S9 or Galaxy S9+? Here's what you need to know to make the best decision.
What's the same
Image 1 of 2
When it comes to design, Samsung doesn't discriminate between its two flagship sizes. Whether you get the compact Galaxy S9 or larger Galaxy S9+, the materials and proportions are identical. Neither size has an exclusive color or hardware feature. When it comes to the core experience of using the phones, you won't notice a difference beyond the size.
The screens are of course different dimensions, but the resolution and quality of the panel are the same. Yes, that means that the Galaxy S9 has a slightly higher pixel density, but in real-world use you'd never notice the difference — particularly if you leave the phones set at the 1080p resolution they are out of the box.
What's different
Image 1 of 2
The Galaxy S9+'s differences come down to a larger size, two spec changes and a camera addition. The most important ones to consider are about size: moving up to a 6.2-inch display gives you more room to work and play, but also makes the phone larger and relatively tough to manage in one hand. The Galaxy S9+ is about 10 mm taller, 5 mm wider and 15% heavier than the standard Galaxy S9 — that's nothing to sneeze at.
But to go along with that increased size is, of course, a larger battery, which at 3500mAh can help you get through a full day without worrying about charging. The capacity is over 15% higher than the Galaxy S9's 3000mAh, but the larger display certainly doesn't use that much extra power — so you'll be able to do all of the same things for longer on a charge. Battery life hasn't really improved from the last generation, so the Galaxy S9 once again is likely to leave heavy users in need of charging before the day is done.
The primary camera on the Galaxy S9+ is identical to the Galaxy S9, and that's a great thing for everyone because this camera is great. But the larger chassis in the GS9+ afforded Samsung the room to add in a secondary camera that mimics the Galaxy Note 8's. That means it has a longer "telephoto" focal length, roughly twice the length of the main camera. The secondary camera lets you seamlessly zoom in without losing resolution at 2X, and enables Samsung's "Live Focus" portrait mode that artificially blurs the background behind your subject for a dramatic effect.
The secondary sensor isn't the same type of "Super Speed" Dual Pixel that the main camera is, so the quality isn't the same. And as we saw with the Note 8, those extra features of zooming and Live Focus aren't something that completely changes the camera experience. The main camera's improvements in this generation are far more important for daily photography — you just have to decide how much you want the zooming and Live Focus, because you just don't get them on the Galaxy S9.
Samsung Galaxy S9 and S9+ specs
The least consequential addition in the Galaxy S9+ is more RAM, which Samsung bumped up to 6GB to match the Galaxy Note 8. Considering it left the standard Galaxy S9 with 4GB, and the two phones run identical software, it's hard to think that Samsung's done much optimization to take advantage of that extra RAM itself. But the extra memory will, of course, help you hold just a few more applications in the background, and give you more runway into handling future software updates and more powerful apps. This is absolutely a "nice-to-have" and not a necessary feature.
Bottom line: Which should you buy?
As I said from the start, the Galaxy S9 is the default choice for so many people when they walk in the store simply because it's less expensive. If you're unsure about whether you want a "big" phone, start by using the standard Galaxy S9 — you won't regret the size, and it can do almost everything the larger Galaxy S9+ can.
But by moving up to the Galaxy S9+, you get a better overall phone. To choose it, you have to know you want a bigger device — maybe you want the extra screen space for everything you do, or need the extra battery life. But you also have to know you can manage the extra size and give up some one-handed usability. If you want to take that trade-off, you then also get the bonuses of more RAM and a secondary camera for extra photography choices — I very clearly put those two additions below the decision regarding screen size and battery capacity, which have clear benefits in everyday use.
Finally, remember the cost involved. To get that bigger screen, larger battery and couple extra features, you have to pay about $120 more for the Galaxy S9+. Over the course of a two-year payment plan, it's about $5 more a month, which is easy for a lot of people to handle — but everyone has their own threshold for how much they'll pay for a new phone, especially when it's just incrementally better. If you can afford it, and your hand can manage the size, the Galaxy S9+ is the better overall phone — and if you can't, the Galaxy S9 gets you most of the way there for less.
Update July 2018: Changes made to reflect our further use of the phones and our opinions of their strengths.
Android Central Newsletter
Get instant access to breaking news, the hottest reviews, great deals and helpful tips
Andrew was an Executive Editor, U.S. at Android Central between 2012 and 2020.
Is there an active variant in the pipeline?

Neither. Too much and updates are scarce. Not worth it no matter what anyone says. End of story.

Sales tell a totally different story

People bought Pintos too. More educated the buyer, usually means no go for Samsung due to security issues and lack of support.

Not always. For some, the hardware wins out

The Pinto was for a less elegant crowd and the reviews came back and people stopped buying it after the BOOM. Besides that's really bad logic, comparing a car to a phone.

The Note would be a better comparison, as both it and the Pinto were really "hot" pieces of tech. There haven't been many reports of the s series bursting on fire.

I hear ya. However, to me, OS updates are overrated. The updates over the years haven't changed how I use the phone in any meaningful way. I only care about security updates. For sure, if you want timely updates, buy a Pixel or an iPhone. The rest of the OEMs do a piss poor job anyway you look at it.

Only 11 posts related to the S9/S9+ at launch? And you call that coverage?

You were impatient. BTW, this is par for any major release.

It's not a terribly exciting phone. For all practical purposes, it's just an improved S8. Hence, the lack of buzz.

Was a tough decision on the preorder. I just don't think I could handle a 6.2" phone. I don't take that many pics, so the telephoto is not very useful.

That's what she said lol jk I get what you're saying but what about the bigger battery and RAM. I think that alone makes it worth it. The videos look amazing on that 6.2 screen btw. I can definitely see myself using my phone lot more for media on the S9 +

« Neither size has an exclusive color or hardware feature« A second camera is kind of a hardware feature :) And both phones are not really one handed use friendly, one is just even less friendly than the other

So you get the raw deal in the US. Not only do you have to wait nearly a week before the UK but you also don't get the S9+ in 128gb storage option. That definitely swung it for me especially as it was the same price as the Note 8. Didn't need the stylus but more storage always handy. There was no 64gb S9+. I cannot wait for this on Friday 9th.

Or since you don't want the stylus you could get a Pixel 2 XL with 128GB of storage and a superior software experience and keep the phone for three years.

Two and a half now. But Verizon has a great offer on the Pixel right now, so that makes up for it

Superior software experience is completely subjective. I was a stock Android fan for many years until I tried Samsung TouchWiz. Now I realize I was missing out on so many useful features Samsung phones offer over snappy, faster updates, boring stock Android. Never going back thanks! I strongly believe Samsung is leading in innovation over stock Android. You can already see it in the future update in Android P. Many of those features Samsung is already had them, they're just copying them lol see for yourself! https://youtu.be/pO3ZwBU1wqw

You can keep the Galaxy for 3 years as well and actually be able to do things with it. Not to mention wireless charging, SD card and waterproof

Who keeps a phone for 3 years lol the $#@&?!?!

The phones are too narrow and too fragile. The curved display serves no purpose and the screen ratio is terrible for media content. I'll pass on this and most phones this year due to one of these issues or the dreadful notch everyone seems to love. I am pretty much done with flagship phones due to the screen issues. Thankfully mid-range phones for the most part are all still normal.

And you can get Android One in that mid-range price.

The curved screen does serve a purpose for those of us who use it. The rest is pretty accurate. I'm on JOD and I'm going to try it out, if I don't like it, I'll go back to the iPhone, which is very good IMO.

I have upgraded my wife to s9. Coming from s7, the 'plus' was simply too big for her.
And my choice would be the bigger one, and most probably Pixel 2 XL😁

I've had hands on with s9 at T-Mobile and I own an s8+. Not worth it. It is basically the same and with the upcoming update for the s8 it really isn't worth buying it. I would Buy and iPhone x before I buy a s9

It's not meant for you anyway

I use the s8+, at first I thought is was gonna be to big. It's tall but it's a lot more compact than I thought. Especially it's great for viewing video's. I'm thoroughly enjoying it!

I'm not going to read the article.. but I will nail his/her conclusion here: "it depends on what you want. if u want a bigger screen choose the Plus." nailed it!

Liar, you definitely read it. There's no way you could've known that without reading the article

lol. can't tell if you're joking. I didn't read it before I posted that comment.

Strange how you used sarcasm in your post, yet failed to detect the sarcasm in their post.

S9+ also has more RAM, a higher-capacity battery & dual cameras.

I really like the s9 &plus, but I'm anxiously waiting for the note9. This time I will pull the trigger. Never had a note before and the stereo speakers and bigger battery holds my interest! But if i don't like the note my s8+ could easily go another year, still the best phone I've ever used, especially the SOT, 6to7hrs, i enjoy that!

Really ? Same articles over and over ...buy what you like ..research yourself and make decisions

I always ask is it that much better than last year's phone.
I actually did a video about that, check it out
https://youtu.be/y8B-OGKRPWY

I went with the plus variant after having the regular 9. Very happy with my choice. Way better battery and camera. Definitely worth the money

Neither.. Go for a Pixel 2 or Pixel 2 XL :-)

Neither, they're both too large.

I have the S9+, but I'm looking forward to the N9. Hopefully when the launch hits the Samsung guy stops by the store with one in hand so I get my hands on it.

I have the S9+ and really like it. I came from a BlackBerry PRIV, so this was a huge upgrade (except for losing the PKB). It is a bit large, but I have gotten used to it. It is also heavier than I am used to, but without a case, it is not too bad. A shame however that I cannot go without a case, but I am too afraid of what might happen if I drop it...

C'mon Andrew... Your persuasive super powers, without doubt, will favour the Google Pixel (your true love) in the two phone battle between S9 and S9+. Here is some help, if needed. https://lifehacker.com/5886571/brainwashing-techniques-you-encounter-eve...
Android Central Newsletter
Get instant access to breaking news, the hottest reviews, great deals and helpful tips
Thank you for signing up to Android Central. You will receive a verification email shortly.
There was a problem. Please refresh the page and try again.