Samsung Galaxy S9 shows up in mysterious hands-on photo (Update)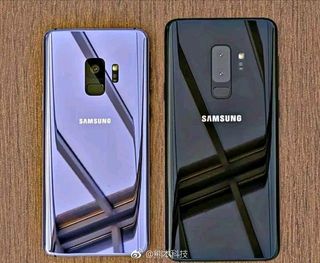 Updated 10:00 – Since posting this, it was discovered that the image is a slightly modified version of a render that Concepts-Creator made up in late December. Sorry for the confusion on this one!
Original Post
2018 is officially underway, and one of the first big flagships we're expecting to see is the Samsung Galaxy S9. A recent FCC certification suggests that the phone could be announced as soon as February, and leading up to that, the first hands-on photo of the phone has just been leaked.
The image comes from Chinese social network Weibo, and as such, we recommend approaching this with some restraint. We've seen legitimate leaks come from Weibo in the past, but there's also been a fair share of garbage shared on there as well.
In any case, the photo shows both the Galaxy S9 and S9+ next to each other. The S9 on the left has a single rear camera, whereas the larger S9+ has dual rear cameras (something we were already expecting). We can also see that the fingerprint sensor has in-fact been moved below the camera housing, and the back is once again made out of glass.
What we're seeing here lines up nicely with a CAD render that was discovered in mid-December, and while the S9 and S9+ will likely end up looking very similar to what's being shown off here, it's too early to say for sure whether or not this is actually the real thing.
In addition to the similar design compared to the S8, we're also expecting the S9 to keep the 3.5mm headphone jack, slim down its bezels even more, have an improved iris scanning system, and possibly ship with a whopping 512GB of internal storage.
Do you plan on buying a Galaxy S9 this year?
Samsung Galaxy S9: Rumors, Specs, Release Date, and More!
Joe Maring was a Senior Editor for Android Central between 2017 and 2021. You can reach him on Twitter at @JoeMaring1.
Yes I'll buy a S9 as long as my Samsung forever plan let's me lol

This has already been proven as FAKE .. https://www.phonearena.com/news/No-this-is-not-a-leaked-Samsung-Galaxy-S...

It's weird, but look wise, I like where the finger print sensor was on the S8 series, but the functionality of where it is on the S9 series.

Fake or not, please Samsung stop with the glossy glassy thing on the back. Bring us mate/brushed metal premium feeling rather than this fragile thing that keeps cracking at first drop

Glass won't go away unless Samsung stops offering wireless charging.

Wrong. Wireless charging worked just fine with the previous plastic backed phones. Conductive metal is the only thing that should not appear on an inductive charging surface. Glass sure looks pretty the first time out of the box, but a texture of some kind helps the phone actually stay in your hand... Of course, I think that Samsung knows that everyone will put a case on the phone, so the glossy factor on the back really doesn't matter

You obviously didn't read the OP post and why he responded about glass.

Joe you seriously need to research your articles much better.

Kinda lame you only put (UPDATE) on the title instead of completely changing it to "Fake photo is not real GS9". Continue on with clickbait...

I will purchase the s9+. I like the idea of a better FPS placement. Duel camera's & 6gb's. Looking forward to its release. Maybe a larger battery. 4000mamp would be nice!

Something is wrong about the camera lens. Kinda ugly.

Good this is fake.
Otherwise it'll be tremendously stupid of Samsung to start discriminating features between the S9 and S9+.
That would only make sense if the S9 came in a normal size (5" or less). But since it doesn't and it comes in the same oversized cricket bat format as the S9+, discriminating features will just explode in their hands like a Note 7.

Who needs a 512 Gb variant? Isn't Samsung exaggerating?
Android Central Newsletter
Get the best of Android Central in in your inbox, every day!
Thank you for signing up to Android Central. You will receive a verification email shortly.
There was a problem. Please refresh the page and try again.