Samsung brings back the mute button in latest Galaxy S5 software update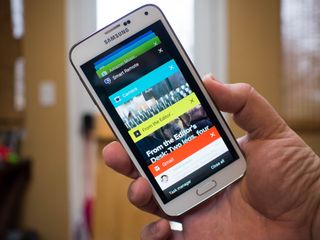 Samsung has released a post-Lollipop update for the Galaxy S5, re-introducing the silent mode (or rather, the mute button). It's a feature that was missed by many once updated to Android 5.0 Lollipop. As reported by SamMobile, the G900F variant of the Galaxy S5 is currently receiving the build (G900FXXU1BOB7) in the UK. The mute button has been placed among quick settings, just below the notifications tray.
We expect to see the update roll out to other snapdragon-powered Galaxy S5 owners across Europe in the near future. Be sure to check for updates in the settings area, should you reside in the UK with the affected handset. Fully updated? If so, do let us know how the Lollipop update is treating you.
Source: SamMobile; thanks, Peter J., for the tip!
Samsung listen, Samsung resolve! Posted via the Android Central App

Great, now bring it to the S4 - Kira

The s4 has a mute button though? ( at least mine does) Posted via the Android Central App

If you push on Notification Panel on Sound (2 fingers down from top) you will have Sound-Vibrate-Mute. How strange to have a phone from 2 years ago and do not be familiar with it.

Just installed the update 24/02/2015, and it went faultlessly this time, unlike the last one which required a factory reset to get my phone working efficiently. For those still having problems after the first update, a factory reset will solve the problems, although it does take a fair amount of time, but very worthwhile in the end.

What problems did you have the first time around? This update came in and now my battery power is draining so fast, previously I didn't have to charge my phone during day time, it would last, now i'm charging 2 and 3 times per day; i also get a "contacts have stopped working" error every time i wake up the phone

Hi Sue - the same as you. Very fast draining battery, overheating, and generally slow "sticky" response to touch. Doing the factory reset solved these problems, however I do get the contacts message which I've just ignored, It doesn't seem to make any difference to receiving/making calls. The phone, after these two updates, now works better then ever .
Best of luck
Stuart

Does the factory reset remove all the apps that have been down loaded and so you have to start again installing them all etc? thanks

Hi - the apps from the Play store are re-installed when you log back into your Google account. I had to re-install a few other apps. You also have to re-enter passwords, ID etc for personal accounts, e.g. banking. It takes a bit of time, but the end result is worthwhile.
Stuart

When I updated my TMo s5 to Lolipop Sunday I already had the mute button back. Perhaps it is because I updated using Kies? Posted via the Android Central App

It's good to know that they listened to the customers but I kinda wish companies would stop folding under pressure and back tracking whenever people complain about something. People will be upset initially but after a while they'll get used to it. Cry babies don't want to have to do anything they've never had to do before. I think it stalls tech as a whole

Sadly, it's a no win situation for the manufacturers. If they do listen, they're inconsistent, if they don't listen then they're a-holes. Damned if you do, damned if you don't. Posted via the Android Central App

I agree with you. That's kind of my point though, when you can't please everybody, just do what you want.

Meh, go get an iPhone if you want your choices dictated to you.

Because the phone you have only contains things that required you input first?

I got the update OTA a week or so ago...I can confirm that I already have the MUTE button functionality. I access this feature by hitting the button (pictured above) twice. I hit it once and the phone goes to VIBRATE ONLY, hit it again and it goes to MUTE.

Just like my note 4, which is running 4.4.4. Hopefully when I get the ota for my N4, it will retain this crucial functionality. Posted via the Android Central App

Just like S4 running on 4.4.2.

Which app was removed? There's a space on one of my menu pages Posted via the Android Central App

Good for Samsung owners, still crappy for everyone else...bring to Nexus 5 please!

But that is not pure Google then... Oh wait.. Posted by my soon to be retired Note 3

It can be, there's an app for everything. Posted via the Android Central App

Hahaha, NoNexus. That's one hell of a comment, bro. Posted via the Android Central App

And after updating I still don't have silent mode Posted via the Android Central App Hmm turns out I've only just updated to G900FXXU1BOA3 lol

I hope other manufacturers do this also. Posted via AC app on my X 14

I'm sorry, what was that you say?

So, there must be more to it than just adding mute, 323mb update, anyone know what else has changed? Posted via the Android Central App

Faster updates than Google pushes out. Nice that they listen to what their customers want.

My sprint gs5 with lollipop has this already... Posted via the Android Central App

There's an app for anyone else who wishes to have the mute button back. No need to wait for an update. This one is pretty nice and does not need root https://www.androidcentral.com/e?link=https2F2F... Next-us

Am I the only here who already has this feature and the swipe away popup notifications? Posted via the Android Central App

Thank god. Posted via the Android Central App

Got the update which was over 300mb - just to bring the mute button back? I am sure there were other improvements too but haven't noticed them thus far.
Also, like other posts would recommend to everyone that has the lollipop upgrade to do a factory reset. All the lagging and poor battery life issues will be resolved. Posted via the Android Central App

Hmm, my Sprint S5 running Lollipop already has the Mute button on the quick settings - what I do miss is the Mute when holding down the power button...

I'll be sure to get that update donated on my AT&T variant. Oh, wait. Posted via the Android Central App

I don't know what the hell they're problem is, but when they finally push out LP to the S5 and note 4 they better be the most stable versions available Posted via the Unrivaled Note 4 or Tab S 10.5

+1 Posted via the Android Central App

Since my S5 G900f updated it have no out going incall sound unless I use speaker function. HELP!!

Samsung should "think" then "check" before trying to resolve the mistake they made!

So, I installed the update on my Galaxy S5, and immediately noticed the battery drain, phone getting hot, lag in processing speed pretty much immediately. I followed suggestions and preformed a factory reset, and it helped tremendously. For a little while. Now, a week and a half later, I have all of the same issues PLUS my phone will lose it's network connection (and then re-find it fairly quickly) and a few apps don't respond very quickly (Facebook, Messaging, my photo gallery). Does anyone have any suggestions?

My Galaxy S5 keeps giving me the contacts stopped working error message and when I am texting sometimes it just closes for no reason. It done the update on 2/20. WHAT'S UP WITH THAT??????

When oh when will the update happen on my galaxy so I get my mute option back on my phone - living in Ireland............. checking daily but nada!! I need the mute!

My first update to lollipop (G S5) was terrible! Battery drained, sluggish performance, battery indication function didn't work, the works.. even after restarting the system with the short key strokes, and clearing the cache, it still had a sluggish performance!! With the new update 5.01, everything is incredible.. What a difference.. I will have to see if the battery performance is better, but it looks like a lot of things were corrected!

How do i put my Samsung Galaxy 5 on silent?

There at least two apps that somehow solve the direct access to mute during screen lock problem, both will display buttons in the notification area even if the phone is locked (naturally, notifications need to be enabled during screen lock): 1. Power Toggles (free): you can configure it to have a button which would switch between volume settings (I managed to have it switch between two options only). It also has many many more features and it's FREE. 2. Lock Screen Mute for Lollipop (Paid): This app has just 3 fixed buttons which toggle between "Normal"/"Vibrate"/"Priority" modes. (Disclosure: I wrote this app being unhappy with power toggles, but if you don't feel like paying for it, Power toggles is a great free option). There might be other apps of course.
Android Central Newsletter
Get the best of Android Central in in your inbox, every day!
Thank you for signing up to Android Central. You will receive a verification email shortly.
There was a problem. Please refresh the page and try again.