Samsung Galaxy S5 on AT&T, Verizon and Sprint lacking Download Booster feature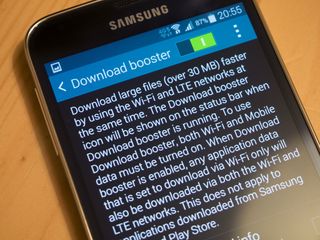 Only T-Mobile and U.S. Cellular in the U.S. offering the Wifi and 4G LTE combined download tool
One of the many features Samsung crowed about when launching the Galaxy S5 in Barcelona was Download Booster. A hybrid of your Wifi and 4G LTE data connection, it's there to help you download large files faster. The good news if you're a T-Mobile customer is that you'll be able to use it. The bad news for folks on AT&T, Verizon and Sprint is that you can't.
We've got the AT&T Galaxy S5 in house, and sure enough there is no trace of Download Booster. Verizon and Sprint phones don't seem to be landing in hands until April 11 at least, but a little digging shows that both carriers won't be supporting it either right now.
Verizon outright confirms as such on its Galaxy S5 Q&A section on its website. Sprint isn't so forthcoming, but taking a look through the complete user guide for the phone brings up absolutely no mention of Download Booster. So it's probably safe to assume it won't be there.
It's not entirely surprising, but for anyone who was keen to put this to work it's sure to be a bitter blow. At least you're OK if you're on T-Mobile.
Update: We've been tipped to let us know that folks picking up the U.S. Cellular version of the Galaxy S5 should be fine, and the carrier hasn't disabled it. Thanks Nick!
More: Samsung Galaxy S5 forums
Get the Android Central Newsletter
Instant access to breaking news, the hottest reviews, great deals and helpful tips.